Throughout Pandemic, Volunteer Serves at COVID-19 Testing Sites and Local Food Bank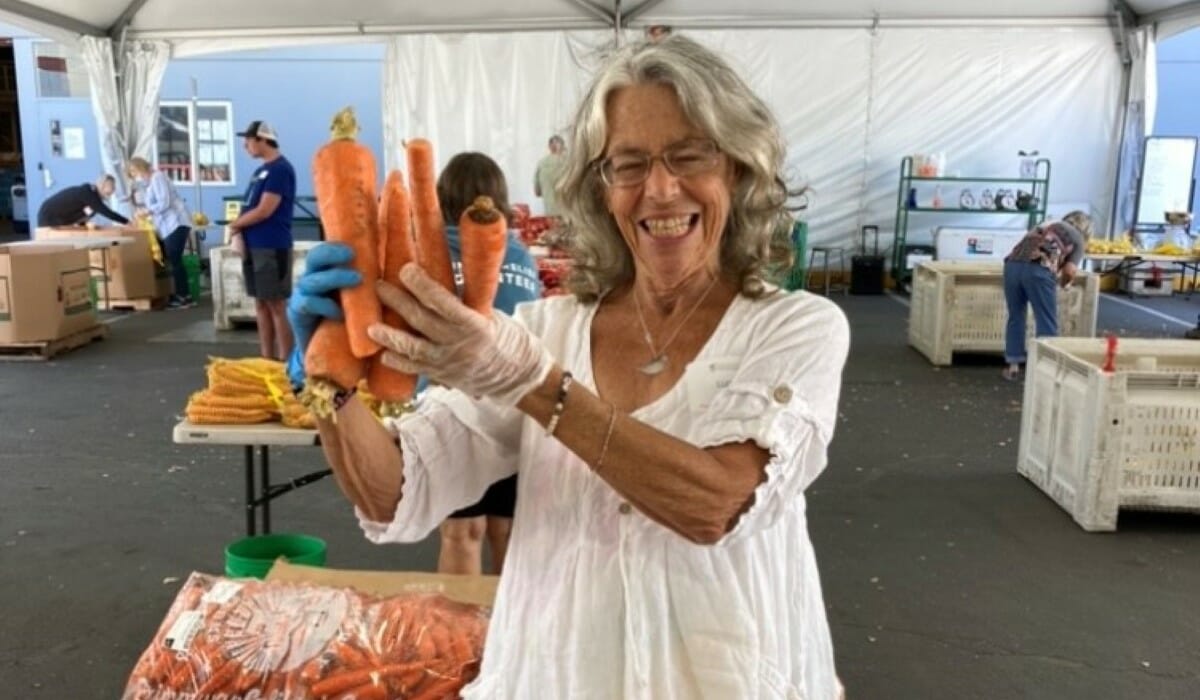 Meet Daily Point of Light Award honoree Lucy Harris. Read her story and nominate an outstanding volunteer or family as a Point of Light. 
Lucy Harris has long been acquainted with social justice issues. As a child, her union organizer parents took her along to peace marches and civil rights protests. She later served as a social worker for 40 years. So when the COVID-19 pandemic first broke out, she fell back on her history of service to help out in any way she could. 
Lucy began volunteering at the Redwood Empire Food Bank in her Santa Rosa, California community, helping to sort food that would be distributed to people in need. Once she received her own vaccine last March, she also signed up to assist at COVID-19 vaccination and testing sites with the Center for Volunteer & Nonprofit Leadership. She travels to sites across Sonoma County to help greet visitors and assist with registration. Lucy can most frequently be found at sites either within Santa Rosa's Spanish-speaking neighborhoods, where she utilizes her bilingualism, or at elementary schools, so she can make use of her long professional history of working with children. 
Describe your volunteer role with the Center for Volunteer & Nonprofit Leadership.
Essentially, I'm there to help ease people through the process from the time they arrive. They check in, they have to fill out forms, identify themselves, and identify their physical health and so forth before they can be vaccinated. Particularly in the places where [people are] Spanish-speaking, I assist them with understanding what the questions are and how to answer the forms they are given. … I sometimes do the registering, and I sometimes take people's temperatures, but most of the time I'm explaining in English and Spanish how to answer the questionnaires.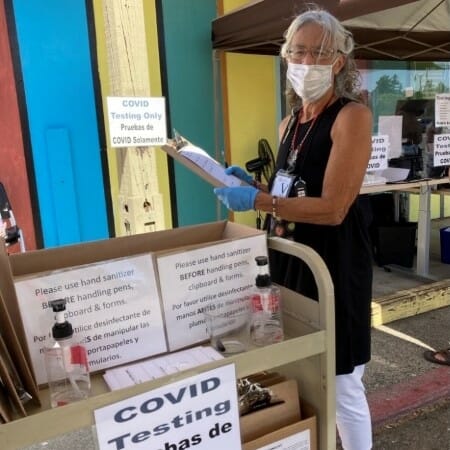 Why is it important for testing and vaccination sites to have someone in this role?
My hope is that somehow by being there, I can move the process as quickly as possible, get people in and out. We've had parking lots where people have stood for an hour or two waiting to get in to get a test. They have to take off from work, they're there with their kid, or the kid is out of school because they can't go back to school until they get tested. Anything we can do to help make the process move smoothly and quickly, I feel like I'm happy to help with that. 
Describe your volunteer role with the Redwood Empire Food Bank.
They have distribution sites where the food is actually distributed to the people or organizations who come to get it. Before the food goes to the distribution site, there's a warehouse. Large trucks full of veggies and fruits come and deliver large quantities of food, mostly produce, to the warehouse. They need people to put those into proper-sized containers or bags in preparation for giving them out to the families who need them. That's what I do. I just came from bagging maybe 500 pounds of sweet potatoes. You name it, I've done it — sweet potatoes, corn, broccoli, cauliflower, carrots, apples, oranges, plums, pears, everything. 
What inspired you to start volunteering in these ways?
I have three sons and a son-in-law, and when the pandemic first happened, they all lost their jobs. I became personally aware of food insecurity in a way that I hadn't really been before. Before it was more philosophical and about inequality of resources, but then I was able to actually feel it in a personal way. That's when I decided to go work in a food bank. Meanwhile, my grandkids are out of school because of COVID. All I wanted to do was find some way, once the vaccine was made available, to help the distribution of the vaccine. Anything I could do to contribute to that distribution as quickly as possible for people who wanted it, so we could particularly get kids back in school and get all my kids back into their jobs. That was personal. It wasn't just an ethical thing for me.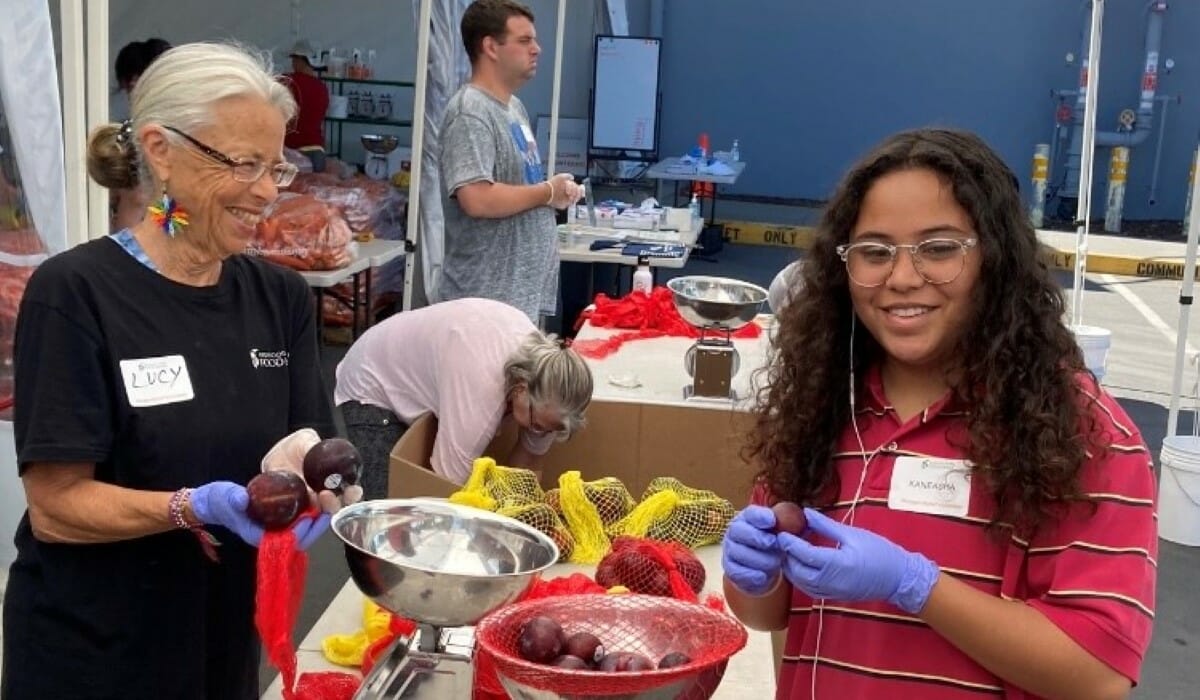 Why do you think it
'
s important for others to give back?
It's great for me particularly, the feeling of being connected to other people and not feeling isolated, especially during the pandemic. That's one reason that I'm really grateful, now looking back on this experience. From a personal point of view, I think it's important for people to feel connected, and this is definitely an activity where you can feel connected while you're giving back. I think we're in danger of losing a feeling of connection to each other, and particularly of being able to care about what other people experience, what other people's problems and difficulties are. This is a way for me to feel like I'm aware and I'm trying to make things a tiny bit better for people who are less fortunate. 
What's been the most rewarding part of your work? 
I enjoy feeling like I'm making a contribution, being part of the solution and not part of the problem. That's really important to me, to feel I'm doing something. It's been a big deal, having so many people so sick, and people working so hard to try to save their lives. I felt like I wanted to do something. It made me wish I was a doctor. Just wanting to make a contribution and feeling like it's very small, but at least I'm making an effort to use the time that I have to try to help — whether it's food for folks, or getting them vaccinated and tested in a friendly space. 
What do you want people to learn from your story?
I think people who don't have enough to do should go out and volunteer. Find something that you like to do. I think it's great for connecting with people and feeling less isolated, but I think it's also really good for our mental health to feel like we're making a contribution to something larger than ourselves. It can only make you feel better about yourself. 
Do you want to make a difference in your community like Lucy? Find local volunteer opportunities. 
Share this post