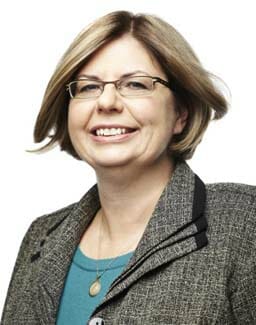 Meet Tricia Baker, today's Daily Point of Light Award winner and a 2013 Women of Worth honoree. Read her story and nominate someone you know as a Daily Point of Light. (See below for more about Women of Worth.)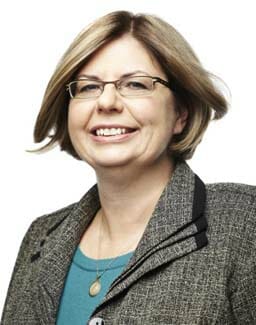 Tricia Baker
When Tricia Baker's son Kenny was in high school, he was diagnosed with severe depression. Often overwhelmed with anxiety, Kenny would disappear for days. And because of the social stigma surrounding mental illness, he hid his condition from friends and classmates for three years, telling people he had mononucleosis.
Shortly before he would have graduated, Kenny committed suicide. For his family, the grief was compounded by continued social stigmatization. The school even tried to have Kenny's photo stricken from its yearbook.
Baker, of Plainsboro, N.J., was an executive with a top financial firm. With support from her husband, she left her job and founded Attitudes In Reverse (AIR) in 2010 to educate youth about mental health and suicide prevention through the Coming Up for AIR program. In the years since, Baker and a small group of Attitudes In Reverse volunteers have made presentations to more than 11,000 students in New Jersey and New York – from middle school to college age – about the prevalence and warning signs of mental illness and stereotypes associated with it.
While an estimated one in four people is affected by a mental health disorder, fewer than 40 percent seek treatment due to stigma and the fear of ridicule. Coming Up for AIR Presentations also emphasize the warning signs of suicide, which is the second leading cause of death on college campuses and the third leading cause of death among high school students.
Attitudes In Reverse has also worked to change school and government policies pertaining to mental health, distributed more than 20,000 educational brochures in English and Spanish about mental illness and holds community events such as walks to raise awareness about mental health issues. The group also distributes wristbands and T-shirts to motivate youth.
Baker says she was moved to create Attitudes In Reverse in part because of the negative impact that school and community reactions to her son's death were having on her daughter, Katelyn.
"Katelyn was a student at the same school, and received no support from school counselors," says Baker. "She was now being judged because of her brother's illness and the way he died. School became overwhelming for her and she started to struggle with going each day. My fight went from trying to save my son to trying to save my daughter. Attitudes In Reverse was born from conversations with Katelyn."
In 2012, Attitudes In Reverse launched a new program called AIR Dogs: Paws for the Mind. Based on research that dog ownership has a positive effect of mental well-being, AIR Dogs hosts monthly meetings that enable people to meet and play with dogs from local shelters. Many good matches have resulted from AIR Dogs meetings.
Attitudes In Reverse is currently working to expand its educational presentations to more states. It also reaches people in multiple countries via its website and offers information and resources through a Facebook group that now has more than 500 members.
"No other child should be embarrassed or afraid of saying that they have been diagnosed with a mental health disability," says Baker. "No other family should endure the pain of losing a child and then have to face judgment. … Attitudes In Reverse is what helped us as a family pull ourselves out of grief and despair. Attitudes In Reverse is what allows our family to continue to heal."
Through the renowned Women of Worth program, Points of Light and L'Oréal Paris have partnered to celebrate women like Tricia Baker, a 2013 awardee, who are making a difference. Each year, 10 finalists are awarded $10,000 to support their extraordinary efforts to serve their communities. You can nominate yourself or a deserving woman in your life through June 25, 2014. Nominate and see the difference women around the country are making now by visiting WomenofWorth.com​.
Share this post