Triple the Volunteer Power: Teen Sisters Serve Underserved Community
Meet Daily Point of Light Award honorees Kaitlyn, Ashley and Emily Berger. Read their story and nominate an outstanding volunteer or family as a Daily Point of Light.
The Berger sisters are multiplying their volunteer power as the 16-year-old triplets serve the underserved in their community through programs for seniors, families and children in need.
As middle school students, the Northport, New York Berger sisters started serving their community through Youth Directions & Alternatives, a youth program, and discovered the greater impact they could make with the power of three. Volunteering more than 800 hours in recent years, Ashley, Emily and Kaitlyn Berger, now juniors in high school, all give back to their community in their own unique way, and support each other in their service missions. Through 'Cooking for a Cause', 'Personal Care Gift Bags with a Smile' and "Personal Shopping for Children', their distinct initiatives carry a personalized touch, and have helped to make a difference for thousands in their greater community.
What inspires you to volunteer?
Emily: I volunteer with children because when I was younger, I really wanted to feel like I had the same clothes and toys that everyone else had. But what that really means is making sure children feel loved and supported, so through my volunteerism, we are doing that.
Ashley: I love that my dad got us involved in volunteer service. I'm very, very grateful for our experiences as volunteers because I would be so much less of a person today if I hadn't learned to help others and get involved in our community. Doing things for others has strengthened me as a person and I know we'll do even greater things for our community in the future.
Describe your volunteer initiatives.
Kaitlyn: Cooking for a Cause: I love cooking, and so I prepare meals for seniors and my sisters help me to assemble the meals. We've delivered over 7,000 servings thus far to people in need. Through our food deliveries, we've met a lot of different senior citizens. These seniors have made a difference in our lives. One, his name is Terry, is paralyzed from the neck down and he helped us to realize that we are making a difference. He encouraged us to keep serving no matter what challenges we face.
Ashley: Personal Care Gift Bags with a Smile: We started the Gift Bag program in 2016 when our local food pantry explained that personal care items were in demand. With help from my sisters, I shop, assemble and deliver gift bags containing personal care items to a community pantry, the VA and local senior citizens. Each bag contains eight items including shampoo/conditioner, soap, razors/shaving cream, toothpaste/toothbrushes and more. At the VA, we met a veteran who was very grateful for the items and he started telling us what he went through while serving, and how meaningful it was that people were looking out for him even after his service.
 Emily: Personal Shopping for Children: My personal pet project is shopping for young children. In 2016, after visiting a local day care center that accepts lower income struggling families, I requested a list of deserving families in need. My sisters and I shop for outfits and toys for children based upon their age, gender, size and interests. We've also delivered backpacks filled with school supplies for children.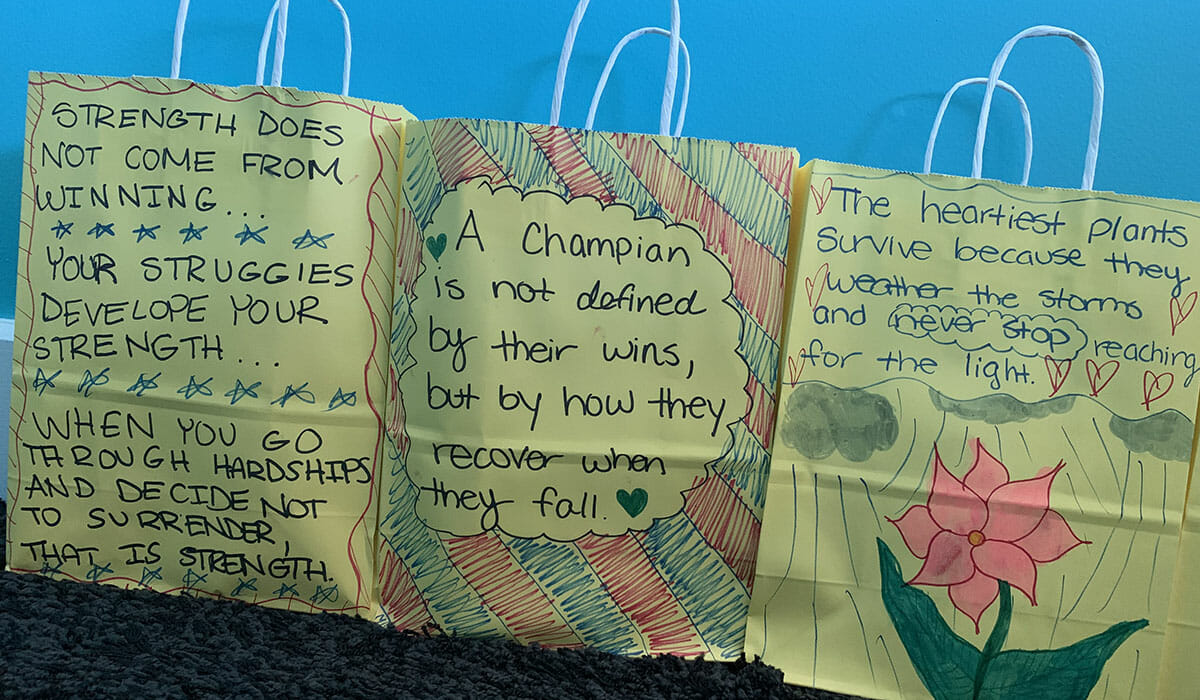 All of your deliveries carry an inspirational message. Explain.
Ashley: My sister Kaitlyn and I are the writers in the family. We decided we wanted to make bags to deliver our various donated items in, and personalize them. These are little notes to make the person receiving the items feel like its more personal and special to them.
Kaitlyn: We include a handwritten inspiring poem or quote that we've made up on the food bags, and the same for the gift and clothing bags. The recipients love the personal touch, we realized how special our messages were when people started sending messages back!
How does volunteering as a family impact the power of your service?
Kaitlyn: It brings us all together as a family. We all have our individual service projects that we are passionate about: Emily is children-oriented, mine is cooking, Ashley is gift bags of essentials, but when we combine our efforts, we all share ideas. By bringing us closer together, our joint volunteerism means we can do more and bigger things in the future.
What's been the most rewarding part of your service?
Emily: There are a lot of low income families in our area, so knowing that all of the children in our community are being helped is rewarding.
Ashley: Seeing the difference that you're making is rewarding. When you give these people donated items, you see the smiles on their faces. They don't have a lot going for them, they sometimes don't even have family. After they read our personalized notes, you see how very grateful they are, and that makes you feel so good.
Kaitlyn: Seeing how everyone reacts to our acts of kindness is rewarding. We were recently celebrated by the community for our volunteerism. Seeing their faces when we do things for them, they light up, and it makes us feel so happy to see that we're making a difference in their lives.
What does it mean to know that you are inspiring others to volunteer?
Ashley: Community service isn't as widespread as it should be. We want to encourage others to volunteer, because it's good to know that you're even making a little difference with your service.
What's a saying that you live your life by?
Ashley: Do good in the world. Be the change you want to see in the world.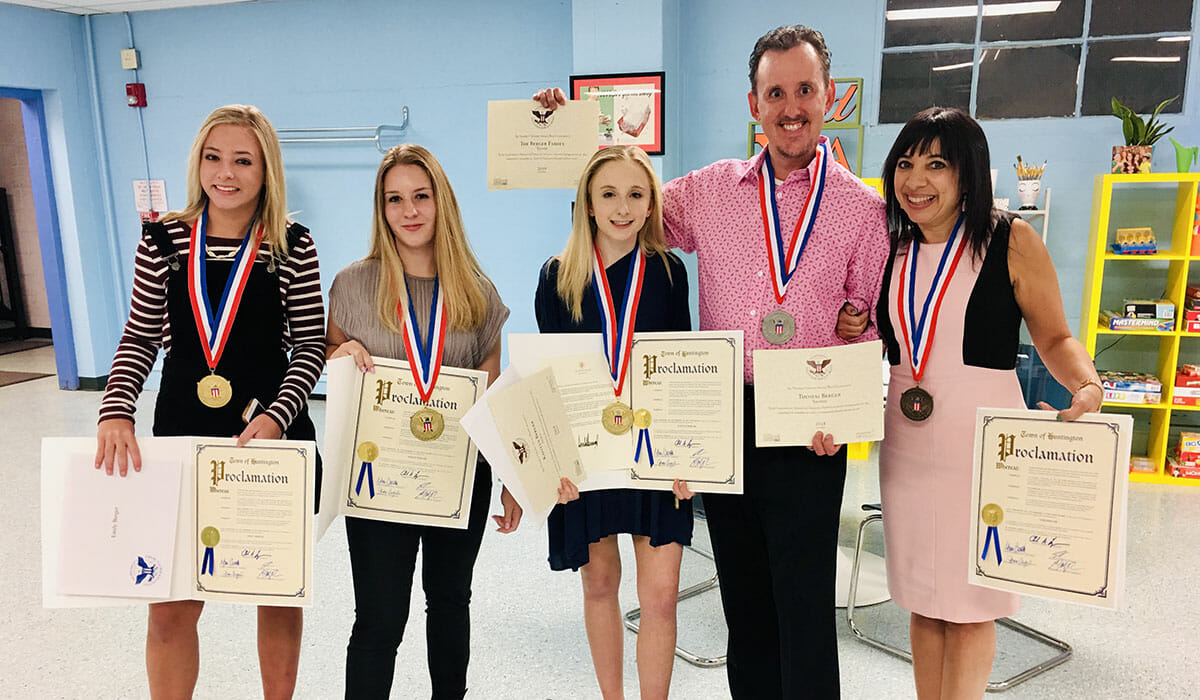 Describe what volunteerism means to you in one word.
Kaitlyn: Kindness.
Emily: Happiness.
Ashley: Love.
You are busy teenagers. What do you do for fun?
Emily: I'm a cheerleader, I also love to be around children and be with family.
Ashley: I like hanging out with my friends and learning how to drive. I try to spend as much time with my family as I can.
Kaitlyn: I'm a cheerleader, we cheer five or six days a week. I also like to write poems and do community service. I like to hang out with my friends, drive and go shopping.
How can readers help?
Please email Tom Berger at  for more information about the triplets volunteerism, or to find out how you can give back.
Do you want to make a difference in your community like Kaitlyn, Ashley and Emily Berger? Find local volunteer opportunities.
Share this post