Turning Passion into Purpose, Texas Family Quilts to Give Children the Gift of Warmth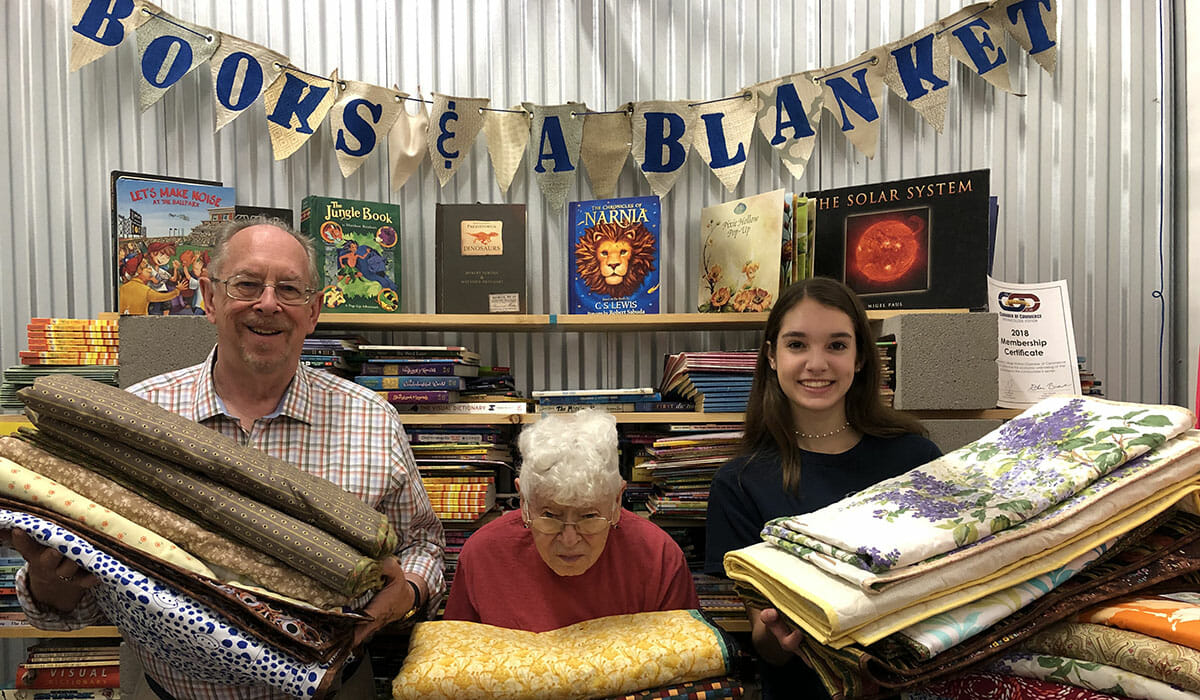 Meet Daily Point of Light Award honorees Charles Gilreath and June Goza. Read their story and nominate an outstanding volunteer or family as a Daily Point of Light.
When Charles Gilreath retired from his career as a university librarian, his wife, Ann, encouraged him to follow in his mother's footsteps and quilt. His mother, known as Grandma June, has sewn for as long as she can remember, but in 2012, she began to lose her sight and could no longer accurately cut the pieces of fabric needed for quilt making. Charles took on that responsibility and shortly after he began assisting his mother, he started to cut fabric pieces for himself. Before he knew it, they were quilting together as a family.
That winter, the family met the dynamic duo (and Daily Point of Light honorees!) Harper and Maggie Cunningham, and their quilting hobby found a new purpose. At 10 and 12 years old, Harper and Maggie started Books and a Blanket to promote childhood literacy and well-being in their Brazos County, Texas, community by giving a collection of books and a warm blanket to children in need before the winter school break.
Harper and Maggie had set up a stand at the church's alternative gift fair, which offered the community an opportunity to give Christmas gifts to people in need. The sisters were initially interested in gathering fleece blankets to add to their book collection, but when Charles showed them the quilts his family had made, they formed an impactful partnership. Inspired by Harper and Maggie, Charles and June turned their home into a quilt factory, and now donate 200-300 quilts to Books and a Blanket each year. The family has made thousands of quilts for the Cunninghams, and recruit others to join in on the creation of special, long-lasting gifts of warmth for children in the Brazos County community.
"We can't solve all of the problems of the world, but we can help keep a kid warm in the winter with what we create," said Charles. "And we can help do this by supporting Harper and Maggie, which is a true gift."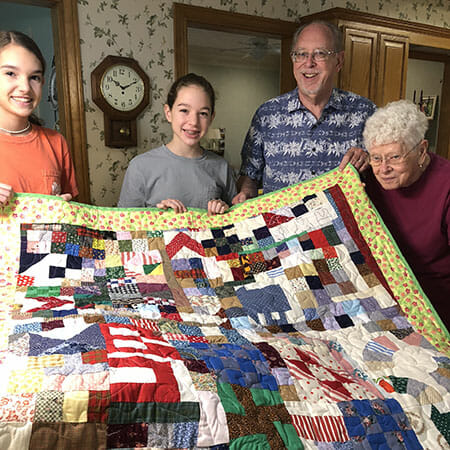 As a family, Charles and June host monthly quilt-making events for the community and members of the Brazos Bluebonnet Quilt Guild, where pre-cut fabric is displayed and pattern designs are prepared. People come to socialize and quilt, and their works of art are donated to Books and a Blanket once they are complete.
As a member of the quilt guild himself, Charles says that members are inspired by the impact of Books and a Blanket, and individually contribute to the organization after attending monthly quilt-making events.
"I'm so glad to know that what we're doing is helping the kids in the area, and that it's contagious," Charles said.
It's fun to have a creative outlet that produces something that's useful to others, Charles says. With an infinite variety of patterns and design challenges, quilting quickly became an integral part of the family's daily activities. Once the community knew that the family was creating quilts for Maggie and Harper, Charles has had no shortage in fabric donations. He says the experience has reinforced a sense of community, and it's incredibly satisfying to see everyone wanting to contribute to a good cause.
Working as a team, the Gilreath family has been an important part of the Cunningham sisters' success in distributing thousands of blankets and more than 103,820 books to 12,355 children, and they remain passionate about the cause. When Ann passed away in 2018, the family requested donations be made to Books in a Blanket in her name.
"You don't have to do anything heroic to do good," said Charles.
Share this post
---