Teenager Starts Volunteer Project to Promote Childhood Literacy
Meet Daily Point of Light Award honoree Alexa Grabelle. Read her story and nominate an outstanding volunteer or family as a Daily Point of Light.
When Alexa was just ten years old, she was inspired to found her own organization, Bags of Books, in order to provide underprivileged kids in the Camden and Philadelphia areas with books of their own in order to promote childhood literacy. For almost a decade, she has held numerous book drives and fairs, donating 154,000 books to kids from kindergarten to high school. Alexa has engaged over 1,000 volunteers, and once she starts college at the University of Pennsylvania this fall, she plans on engaging even more by focusing on Bags of Books' global ambassador program.
Describe your volunteer role with Bags of Books.
I am the founder and president of Bags of Books. I founded the organization when I was ten years old and I pretty much do all the different tasks required in planning and executing a book drive. I organize the book collections at different locations including college campuses, corporate offices, schools in more affluent communities, community centers, religious centers, really you name it. If it's somewhere that people are going back to time after time again, it's a great location to have a collection, but it also works to establish partnerships with the schools and organizations that are receiving the books whether that be a library at a community center, a shelter, soup kitchen-type place. Primarily we work with schools and after schools and summer programs to be able to reach our audience of preschool through high school students. I also work to train volunteers. In addition to having volunteers who collect books or help with sorting books, I run workshops with volunteers to write inspirational messages on the insides of the books, [and] create creative and pretty book marks that are distributed. I also arrange so that volunteers can directly attend the book distribution events. Now what I've been working on through our global ambassador program is training particularly dedicated volunteers so they can replicate collection efforts that I've been doing in New Jersey wherever they live. For example, we just had someone do this in Panama City, Panama.
Where do you primarily operate?
It's always been emphasis on my area. I live about 20 minutes from Camden, New Jersey which is a very in need, underprivileged community, so it started off with trying to benefit that area and then it grew into the west Philadelphia neighborhood particularly as well. Most of the collection efforts have been done directly by me or by organizations that are within the tristate area with the goal of benefiting those schools and organizations in Camden and Philadelphia. However, now that I am going to college in two weeks, I plan to start shifting and focusing more on global ambassadors because as a college student, it's not as feasible for me to manage inflow and outflow. Right now the books all go through my garage in my house, and I won't be living at home anymore so I won't be able to manage a collection like that. Not to say that a collection won't be run in my community — I have lots of contacts from people who want to do the same thing. But my goal is going to shift a little as I begin to support people who are replicating my efforts in new communities or expanding them in communities who have already implemented Bags of Books before. That's just because logistically it's hard to run a project that physically handles so many books in flow and out flow on a daily basis. Literally this morning I got a donation of books dropped off at my house, and it's just not as feasible in college.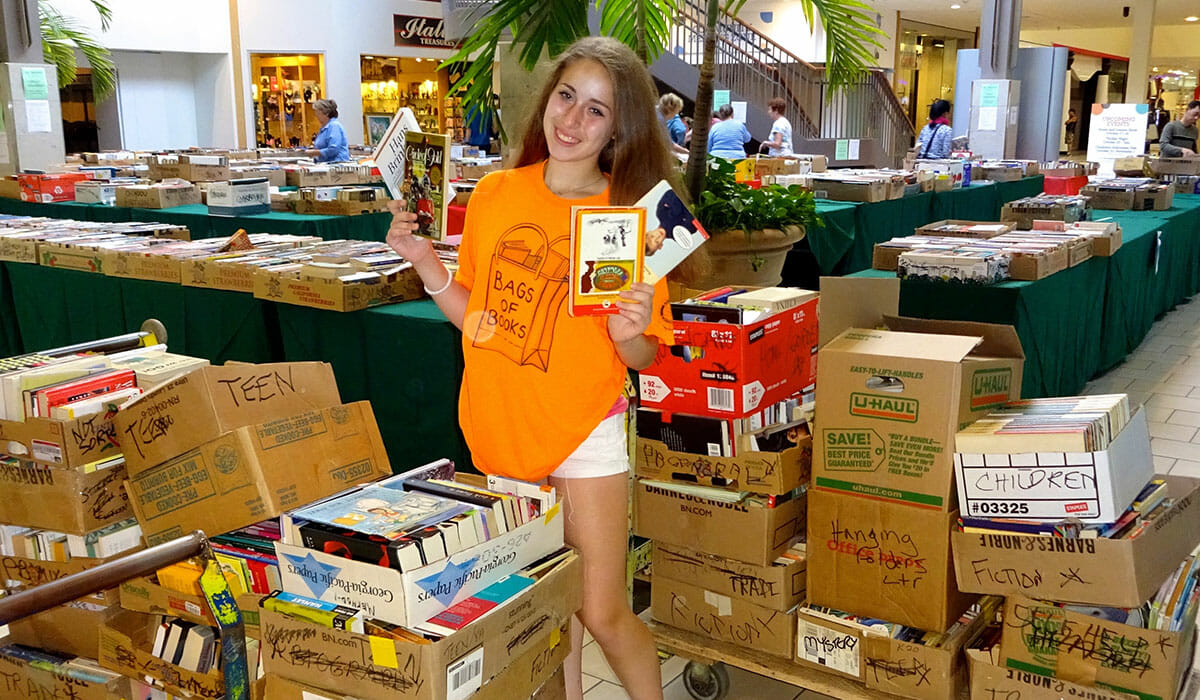 What gave you the idea for Bags of Books?
When I was in elementary school, I absolutely loved reading. I was always really fortunate that I have what I like to call a personal library of books that I own at home that I go to whenever I wanted to read. At the same time, I was attending school in my suburban town outside of Philadelphia and oftentimes we do things to benefit schools in Camden. For us, Camden is just a few towns over. … I just really cared about reading at the time. There was a teacher I knew, a religious school teacher in my area, who during the day taught art at a school in Camden and I talked to her about her experiences there and I found out that the school barely even has a library and most of the students don't have books of their own to read at home. That upset me. Right after that happened, it was the summer, and during the summer at my elementary school, we had a program where you had to read a certain number of books and you could get a prize. It was to prevent the educational summer slide. So the school sent us home with these packets about the summer slide that were supposed to be about the parents so the parents could learn what it is and make sure their kids don't get it. I was a curious child and I read about it, and I started to put two and two together and I asked what happens when kids don't have access to books. Research shows when students don't read over the summer, their literacy skills drop and then they're put at a disadvantage and this can be compounded year over year over year. So if the student doesn't have books to read at home and they're not reading on breaks from school, it ends up putting them years behind some of their peers of the same age in other neighborhoods.
So to try to combat this, when I was in fifth grade I started a book drive. My goal of the book drive was specifically to help combat the educational summer slide. I didn't expect it to blow up and be such a huge collection effort. My goal was to collect enough books for one class of students, 30 students, five books a piece. I was trying to get 150 books here so that these students could go home during the summer and have enough keep their minds active and running. We collected 2,000 books the first year which way surpassed my expectations. We did a program at the end of the school year for an entire elementary school in Camden, [grades] K through eight, and all the students were able to have books to read over the summer. It's turned into a year long, inflow-outflow effort of books. Because of that, we do distribution events for books, not just for summer break but year round, perhaps before winter break or any other time that students may leave school, but even just during an after-school program. Because when it comes down to it, these students don't have books of their own to read at home and any way that we can get them books that they're interested in, that they can take home and keep, it's going to have a positive impact on their literacy abilities and strong literacy skills are connected with career choices and so many different possibilities in life. One of the things we really pride ourselves in is when students come to the book distribution events, they're empowered to select books of their own choice. It's often found students might be reluctant readers or they don't like reading, but once you start accessing books that are related to topics you might be interested in, whether it be sports or history or science, the process just becomes so much more enjoyable and students' reading skills quickly progress.
Can you describe a typical book distribution?
It varies a little bit depending on which school in particular and the age group, but generally speaking we go into the cafeteria of the school which has a ton of tables. We'll put up these big signs that say which grade level is at which table. Volunteers, including teachers and other volunteers from the community and myself, take the books and spread them out on the table. We try to make it like a Scholastic book fair so kids can browse around and shop for the books they want. Once we have all the books spread out, we have volunteers hold donated bags. Sometimes they give them book bags but typically they're canvas bags or shopping bags that we get donated in kind from different companies. Oftentimes what the school does is they have different classes come down at different times, so it might be like first grade comes down at 9 a.m. and then second grade at 9:30 a.m. … When the students come down, the volunteers greet them at the door, we provide them with their bag. We tell them this is where you go, this is where the books are and you're able to take home whatever number we normally say, usually around five books of your own choice. You can fill up the bag, you can take them home and keep it. Then what we do is we place volunteers throughout the tables of books to provide assistance to the students. A lot of times the students have requests. … The volunteers really like to help students find a match with the book that they're passionate about and find the books that are related to the genres they care about.
The students go first, they get the books they want, and then usually what we do is there are usually books leftover based on pure numbers. We allow teachers to take books for their classroom libraries if they're interested. And beyond that, any remaining books get donated to the library at that school. Usually that process repeats for each of the grades. Sometimes the kids come in and they want to get a book for a sibling or a cousin or a friend that's in a different grade and we usually let that go and let them do that if they would like. Sometimes we've had events at schools that get so enthusiastic about the day that they play music and they have a big cake and they have a poster on the wall and everyone signs their name. They turn it into this big deal and emphasize how important literacy is. … We've also brought events like family literacy night, which is an event we held at a school in Camden where they had reading and linguistic specialists on site and they had dinner. Parents could come in, they could shop around for books for all of their kids, they could get help on how to teach their kids how to read, and they could also get a free dinner for the night and music and different activities. That's kind of similar to what I'll be doing at Philadelphia Literacy Day in September. That event is actually going to include author visits and all kinds of games and fun for the kids. It does vary but generally the basic thing is that we have these fun pop-up stores where children are empowered to select bags of books of their own choice that they can then take home and keep.
What kind of feedback do you get from kids, parents and teachers?
Seeing the smiles on the students' faces and the teachers' faces has been the most meaningful to me. I really love to see stories that I get in thank you notes or in person of how the students go on to share the books. A book is donated to a student and that student gets to read it and enjoy it, but oftentimes does not only that one student get it, but because they want to share it because they loved it so much, they might swap it with a friend or a sibling. Also what's been really meaningful and awesome about focusing in the south Jersey, Philadelphia area and being able to do so much work on my own, is that I've been able to return to the same schools year after year. It becomes a fixture at the school. They look forward to the event. One student told me it was their favorite day of the year, the 'thousand books day,' and seeing that impact is crazy to me. I never thought it would grow into such an established event.
Are there any future partnerships, programs, or events that you are excited about?
The biggest thing that I'm trying to focus on in the future is to launch a more organized, streamlined global ambassador program. As of now it's been kind of case by case. I had a call … with someone who found me online, emailed me and wants to become an ambassador. People reach out all the time with all different needs and ideas and abilities. I think it could be really cool to create a program that focuses on middle and high school students to provide them with leadership and community service opportunities in the sense that each month, they could have designated tasks or things to do in order to develop the students into more effective leaders and teach them a lot of the skills that I learned while running this organization from the ground up since I began, like marketing skills, communication. All of those business non-profit type skill elements as well as just getting involved in the community, engaging with communities in need where you live, recruiting volunteers. I really want to create some step-by-step program so that Bags for Books can expand it's reach through particularly passionate ambassadors who care about this to the degree that I do and have the capacity to create change in their own communities.
What's been the most rewarding part of your work?
I really think the most rewarding part of the work for me is when I go into a school, especially when it's not the first time I've been to that school, and how for the students that this is something that they're enthusiastic about, that they look forward to. Seeing these students literally race into distribution events, grabbing the books, getting so excited, wishing they could take even more books than they're already allowed to. Just reading the thank you notes afterward that are sometimes sent by students and how they rave about, 'I've read this book five times already' or something like that and knowing that these books are really appreciated and actually make a difference. That's the first thing that's really rewarding to me. But the second thing is knowing that simultaneously I'm helping to combat the illiteracy crisis and I'm helping these students develop skills that are really critical for their futures, for their future careers and education. Just knowing that I'm empowering them to pick books that they choose, they're becoming more engaged and passionate readers.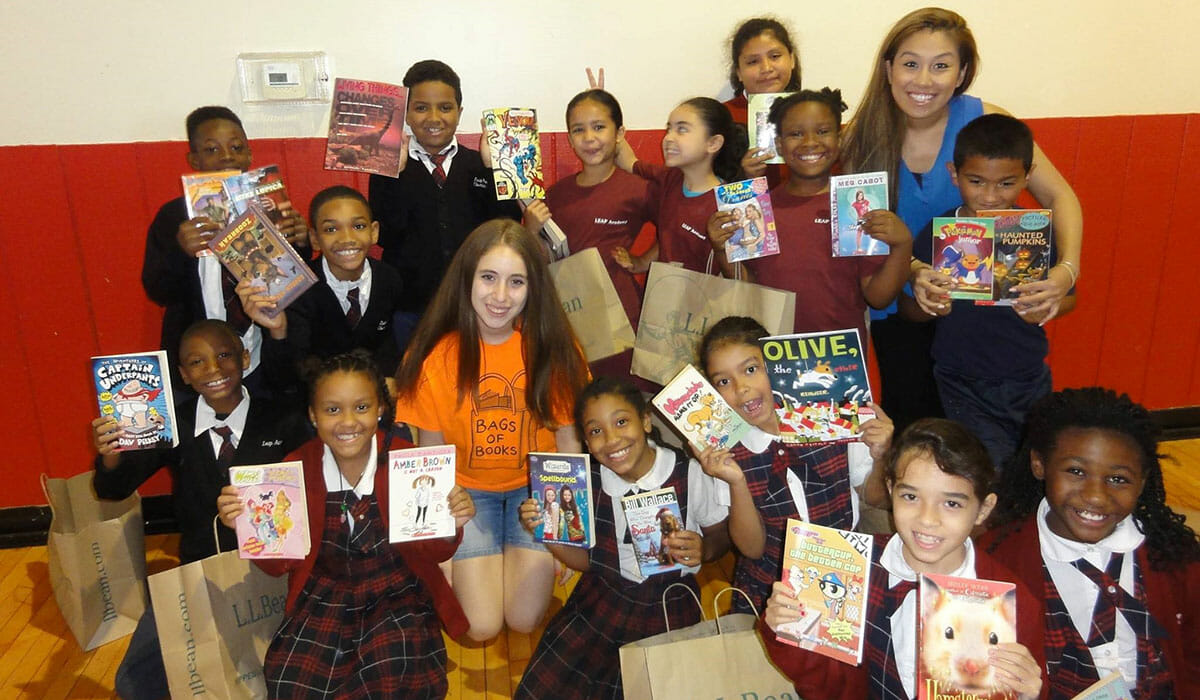 Why do you think it's important for others to give back?
I think it's important because everybody has some kind of passion that can be associated with a need in the community. I think it's great and wonderful that different people care about different things. It's critical that we each focus on the element of service or the area of need that we are most passionate about because then we will fill in the gaps that others are not covering already. I actually do a lot of speaking engagements. I do engagements at schools of different ages and I do some motivational-type speeches. When I talk about the importance of giving back, I'm not always imploring people to join Bags for Books, to necessarily launch their own collection. It's more about finding a need in your community and finding something you happen to care a lot about. For me it's that I love reading. I'm taking an urban education class this seminar when I start off in college this fall, because it's just something I care about so much. It's okay if for someone else, what they care about a ton is climate change or eradicating poverty, literally the possibilities are endless. But the most important thing is to match your passion with the need.
What do you want people to learn from your story?
I started this organization when I was ten and I don't think I even realized it was going to become an organization. It was something that felt natural, it was something that needed to be done in my community. And the biggest lesson that I've learned from my own work is never underestimate yourself. It doesn't matter if you're ten years old or 80 years old or anything in between. It doesn't inhibit your ability to make a difference. If you care about something and you put in the work, the results will appear. I think that can be applied to anyone. … It always motivates me to see what other people can do and to know that you're never too small and no effort is too small. It doesn't matter how old you are, you can do something that can make a change.
Do you want to make a difference in your community like Alexa? Find local volunteer opportunities.
Share this post