Making Strides Against Cancer, Kansas Woman Serves as Leader for "Relay for Life"
Meet Daily Point of Light Award honoree Connie Johnson. Read her story and nominate an outstanding volunteer or family as a Daily Point of Light.
After losing her husband's grandmother to cancer, Connie Johnson says she was spurred into action to support cancer survivors and caregivers.
Through a variety of events that benefit the American Cancer Society, Connie is a tireless volunteer in the fight for a world without cancer. The 46-year-old Burdick, Kansas resident organizes annual events to fundraise for ACS, including a golf tournament, annual soup and game night and year-round farm auctions. In addition, she serves as the chair of the Morris County Relay for Life, and team captain of the Burdick Bunch, helping to raise thousands of dollars for the ACS alongside her team members.
What inspires you to volunteer?
I always like to give back, and I like people to be proud of what I do. I knew that there was a need in the community to support cancer survivors and their family members, and so I decided to help.
Explain why you've committed to volunteer to fight cancer.
I've always been drawn towards the American Cancer Society and what they do. The closest person to me that had cancer was my husband's grandma. We were really close with her. It was after her death from cancer that I really got involved with ACS. I realized how many other people there were just in my community alone that have cancer that I really wanted to do this service work for.
Describe your role supporting America Cancer Society.
I mostly organize, that's the number one part of my job. I volunteer several hundred hours each year supporting ACS through different events.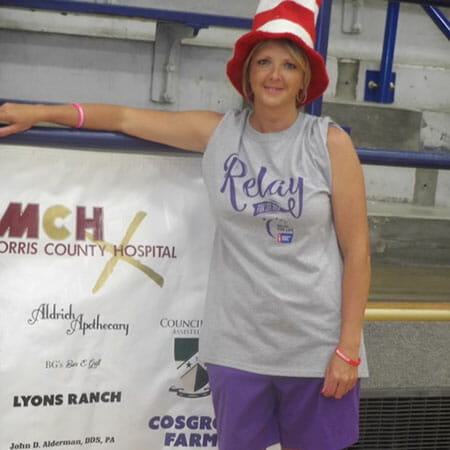 What's something that you've learned about American Cancer Society through your service?
People think American Cancer Society only fundraises for research, but they offer so much more. Hope Lodge is a service where cancer patients can stay for free while they're receiving treatment. They have a program that provides wigs to women free of charge. ACS offers many services and programs within their support system for cancer patients and their families.
What's been the most rewarding part of your service?
Knowing how many people are actually impacted by what I do. If I look at our impact beyond the county, and think about where the money we've fundraised goes and how many people it actually affects, that makes my heart happy.
What have you learned through your experiences as a volunteer?
That any time spent volunteering is valuable. Sometimes, I feel that I haven't done a very good job or that I haven't put enough time into a project, but everything always works out in the end. When you're devoting time to volunteerism, I remind myself that it's always going to work out, it's always going to be ok.
You are described as always serving with a smile on your face. How does that make you feel?
It makes me smile so much bigger, and feel like crying, because I'm just so humbled to know that I'm helping other people. And that's the thing that I like to do, I like to help other people.
Share one personal story with me from your volunteerism.
Several cancer survivors came up to speak with me at the Morris County Relay for Life and thanked me for the event. That makes me feel really good to know that I am a part of such an important event.
What do you want people to learn from your story?
I just volunteer, I don't think about it. I didn't have all of these different roles when I first started with serving with Relay for Life. The roles built on top of each other, once I got started, I just kept adding. You can start small with volunteering, and go from there.
How can readers help?
The Morris County Relay for Life will be held on September 1, 2019. Please check the website for more information on how you can give back.
Do you want to make a difference in your community like Connie Johnson? Find local volunteer opportunities.
Share this post