Turning Tragedy Into Testimony, Domestic Violence Survivor Gives Back to Neediest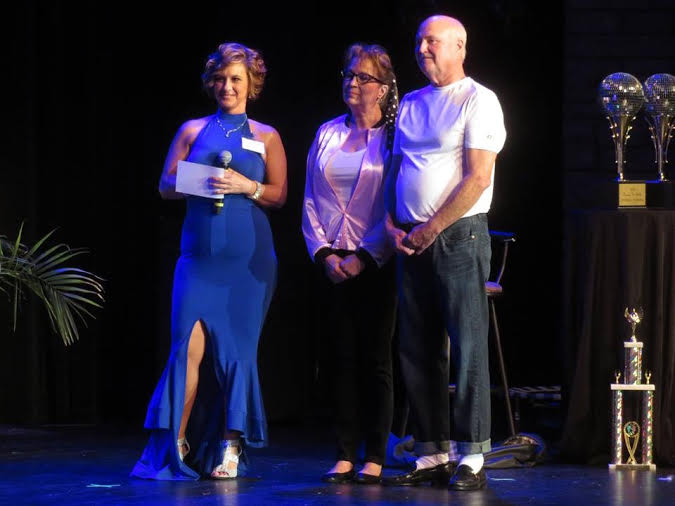 After years of abuse suffered at the hands of her husband, Gail Spradlin says the desire to protect her 3-year-old gave her ability to break the cycle. Embracing the courage to leave and strength from her faith, Gail says she knew there was a plan for her life. Gail is now sharing that hope and strength with others in her community who are enduring adversity in their own lives.
Living in Floyd County, Kentucky, where the economy has depended on a declining coal industry, the 45-year-old resident says she identified the need for a homeless shelter in her community to help those who had fallen on hard times. After more than two years of conversations with the community and planning, what started as a vision to help others is now a dream realized: the East Kentucky House of Hope is opening their doors to homeless individuals in mid-February.
Overcoming hardship in order to help change the lives of those around her, Gail is today's Daily Point of Light award honoree. Points of Light spoke to Gail to learn more about her work with the East Kentucky House of Hope.
What inspires you to volunteer?
It hits close to home. Being a domestic violence survivor, I left my house so many times. It's the feeling of, where am I going to go? It can happen to any of us, if we just miss a paycheck or two. As someone who has faced adversity, I know there are people out there that just need a hand up. They don't necessarily want a hand out, I didn't want a hand out when I was dealing with abuse, because I didn't want people know that I was struggling. Just offering time and service can make a huge difference in somebody's life.
Describe your volunteer role with East Kentucky House of Hope.
I am directly involved in everything from the physical work we needed to put into the building to ensure it was ready for our clients, to coordinating community meetings, outreach and volunteers, to fundraising. I currently serve as the president of the board for East Kentucky House of Hope, and volunteer anywhere between 10 to 25 hours of my time each week, depending upon what's going on. When everything started to fall into place, that's when you know you're doing God's work.
Why was there such a need for a homeless shelter in your community?
During the day, I run Hand in Hand Ministries, a non-profit organization in Auxier, Kentucky, which has a food pantry and facilitates home repairs for low income families. Every year, starting around September until May, the phone rings off the hook at Hand in Hand, or my Facebook page is lighting up with messages coming in in the middle of the night, advising of a young boy who was living in a tent on the creek bank, or that a group of 10 people are living elsewhere without shelter. While you don't see people in the streets like you do in the big cities, they're out there. East Kentucky House of Hope will serve 12 clients, and they can stay for as long as they participate in the program. We are partnering with Kentucky River Community Care for mental and physical health services. We want to break down any barriers they are facing that is causing them to be homeless.
How has the community supported your efforts?
So many people in the community have stepped up, we spent very little on renovations to the building. The board takes care of the facility, food and maintenance, but the community is supporting us to feed the clients. We already have private individuals, churches and restaurants registered to help provide food, and we've been able to raise about $50,000 for the shelter through the community. It's a small community, and people struggle, but they're always willing to give what they have.
Share one impactful story with me from your volunteerism.
The first time I encountered another woman suffering a domestic violence situation, she called me up and was screaming into the phone. I was able to go to her and walk her through the steps of everything she needed to do, because I had personally been through it. She was a young lady that had 3 kids and she lived here locally. He had complete power and control over her. To this day, she is out of that situation. While I was suffering from abuse, there were so many times I wished the neighbor had called the police, or that the person in the car next to us had called the police. If you witness or suspect domestic violence, step up and call somebody. Do your part. I am here to tell people that there is life after domestic violence. I am turning my tragedy into my testimony, and without God I would have never been able to do that.
What's your life's motto?
In his mind a man plans his course. But the Lord directs his steps.
What's one thing you want readers to take away from your service?
It doesn't matter your financial status. It doesn't matter where you are in life. You can help someone. You can be someone's miracle, whether it's a smiling face, a cup of coffee, or holding the door for them. A listening ear is sometimes one of the best things you can give someone. Let them speak and let them tell their story.
What's one event coming up you are excited about?
As part of our fundraising for the shelter, we hosted a Dancing for Shelter event, a take on ABC's "Dancing with the Stars". An attorney who I worked closely with to open the shelter is also a ballroom dancer. He invited dancers to our event, and we raised over $46,000 through the event. We are planning to hold Dancing for Shelter again in November 2019. Visit our website https://ekyhouseofhope.com/ and the Mountain Arts Center www.macarts.com for more information about the event and how you can help.
Do you want to make a difference in your community like Gail Spradlin? Visit All For Good for local volunteer opportunities.
Post written by Marlena Militana.
Share this post