Two Chicago Friends Create Volunteer Movement, Celebrate 25th Anniversary of Annual Serve-a-Thon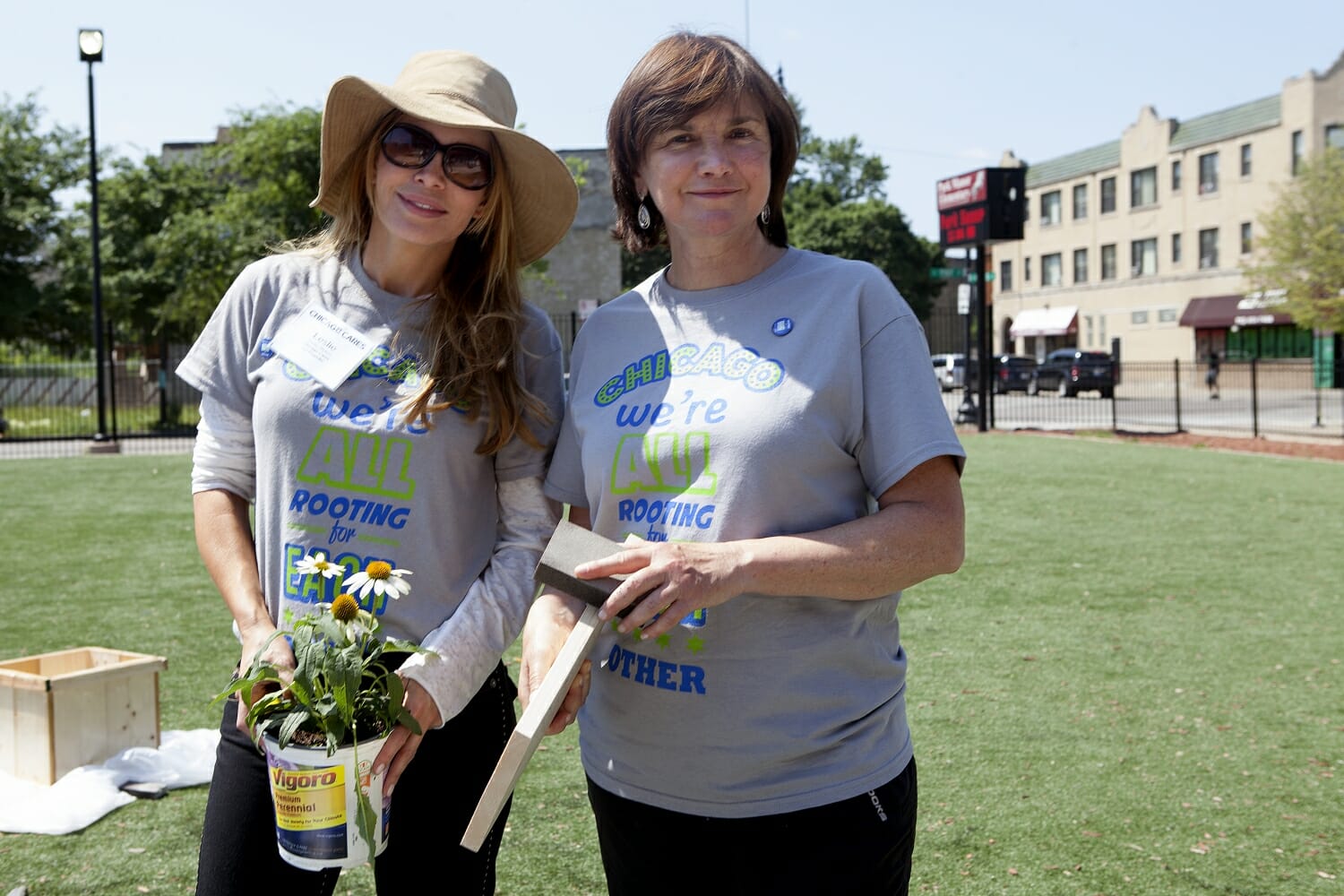 In 1991, Leslie Bluhm and Mary Prchal had a deep interest in volunteering, but found that Chicago lacked the channels to find volunteer opportunities. Together, they had an idea to bring diverse Chicagoans together through hands-on volunteer projects, completed on site in the neighborhoods that would benefit.
Their idea became a grassroots effort, one that eventually led to Leslie and Mary founding Chicago Cares, a nonprofit that mobilizes volunteers to build a stronger, more unified Chicago.
Now, Chicago Cares plans more than 200 volunteer projects open to the public every month and hundreds of corporate volunteer programs every year. The organization has mobilized volunteers from every zip code in the city, partnered with more than 1,000 nonprofits and schools, and become a Points of Light affiliate.
"Organizations like Chicago Cares are not a short-term intervention," said Leslie. "By providing regular and impactful opportunities for Chicagoans to connect, to learn and to engage, we are changing hearts and minds, and encouraging investment for the long term."
On June 23, Chicago Cares will also host its 25th annual Chicago Serve-a-thon, bringing together more than 5,000 volunteers on one single day to engage in hands-on volunteer projects around the city.
"More than 25 years ago, Leslie Bluhm and Mary Prchal recognized a need to bring people together through service, celebrate their diversity, and break down the barriers that divide us" said Jenné Myers, CEO of Chicago Cares. "We are grateful for Leslie and Mary's leadership, vision, and continued commitment to our work. Their idea has grown into a movement: since 1991, Chicago Cares has mobilized more than 600,000 volunteers to make Chicago stronger and more unified."
Leslie and Mary are still very involved with Chicago Cares. Leslie is a board member and leads the strategic direction of Chicago Cares, and is involved in fundraising for the organization. Mary now resides in San Francisco and continues to play a role in fundraising.
Both Mary and Leslie say being a part of the Points of Light network has given Chicago Cares a group of other nonprofit organizations to share best practices and ideas with, which was especially critical when they first started. "Points of Light brings volunteerism front and center to people's minds," Mary said. They recognize how important it is for others to give back. "In today's increasingly digital world, there is no substitute for the power of visiting communities in person and meeting new people," Leslie said. "By doing so, we can disrupt preconceived ideas and build a stronger, more unified Chicago. But it can only grow stronger through volunteers' hard work."
Chicago Cares often provides people their first volunteer experience. "We are creating future volunteer leaders," Mary said. And, she says the most rewarding part of her volunteer work is seeing changes in people's lives. "Seeing the happy faces and the results, that is the reward."
Leslie says the most rewarding part of her work with Chicago Cares is dispelling the myths and perceptions about communities by activating volunteers to see and work in different neighborhoods.
"People come to see the potential and assets in each community. They see that the neighborhood is much more vibrant and complex than the local news will have you believe. They make a connection and see the value of investing their time and making deeper connections."
Want to make a difference in your community like Leslie and Mary? Visit All For Good for local volunteer opportunities.
Post written by Karen Cohen.
Share this post