Today at the Points of Light Conference on Volunteering and Service in Atlanta, filmmaker, actor and philanthropist Tyler Perry received the Daily Point of Light Award. Read about how Perry has helped communities across the country and nominate someone you know as a Daily Point of Light.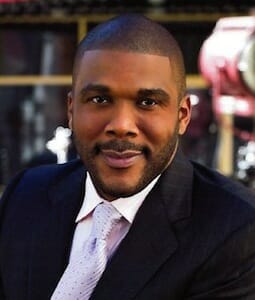 Though one of the most successful figures in entertainment today, Tyler Perry's early life was one of struggle.
He grew up in poverty in New Orleans, as a child suffering regular and severe physical abuse. Perry says his life changed when he heard Oprah Winfrey on television advise suffering people to "write it down." He began writing about his life, using fictional characters, and eventually developed a play.
In the early 1990s, he moved to Atlanta, hoping to become a successful playwright, but he was left broke and homeless when his first play failed. Finally, in 1998, Perry's play, "I Know I've Been Changed," became a hit, as did subsequent plays. By the mid-2000s, Perry was an A-list celebrity – the man behind the saucy matron Madea (whom he portrays in several films and plays), a catalogue of movies that blend comedy with drama and hit TV shows.
But he'd never forgotten what it meant to live in need. After Hurricane Katrina devastated the Gulf Coast in 2005, Perry funded the construction of 20 homes in New Orleans. The community has since been named Perry Place in his honor.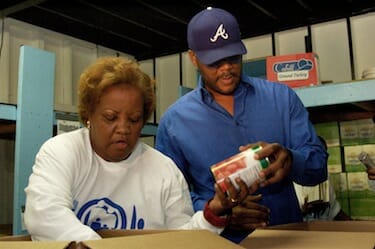 Tyler Perry helps unload food he donated to Hosea Feed the Hungry in Atlanta.
Through his Tyler Perry Foundation, Perry also donated $1 million for relief after an earthquake struck Haiti in 2010. The year before, he gave $1 million to the NAACP, which was commemorating its 100th anniversary. In 2012, Perry was a key benefactor of a project to buy and renovate the Dare to Dream House in Staten Island, N.Y. The house acts as a temporary home for children from around the world undergoing treatment for injuries sustained as a result of war and disaster.
Perry's philanthropy is not limited to such large-scale efforts. In 2013, he was scheduled by chance to appear for a local radio interview on the same day that the station was interviewing members of Atlanta's Booker T. Washington High School band. Mold at the school – the result of backed-up sewage – had destroyed the band's uniforms. Band members were trying to raise money for new ones. When Perry heard their story, he pledged $100,000 on the spot to their cause.
When asked by Atlanta's WSB-TV how it felt to help the students, Perry replied, "It's more important how it makes them feel. I want to make sure that I'm doing what I can to help people, so it's awesome that these kids are getting together."
In 2009, when Perry learned that a private club in Pennsylvania had revoked pool privileges for 65 kids because of their race, he sponsored a trip to Walt Disney World for the children.
"This is awful, and for anyone who has grown up in the inner city, you know that one small act of kindness can change your life," Perry later wrote on his website.
That same year, Perry donated $110,000 and a 15-seat van to Covenant House Georgia, an Atlanta homeless shelter that serves adolescents. Among many other charities, Perry has also assisted Feeding America, Hosea Feed the Hungry and Project Adventure. He has also funded the building of two churches.
Through his generosity, Perry is living the mission of the Tyler Perry Foundation, transforming "tragedy into triumph by empowering economically disadvantaged youth, seniors and families to overcome adversity by achieving a better quality of life."
Share this post