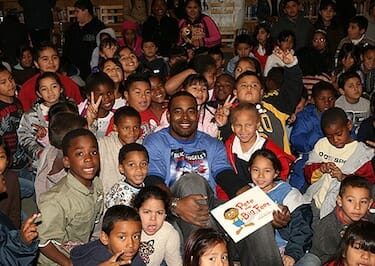 Today at the Points of Light Conference on Volunteering and Service in Atlanta, actor Lamman Rucker recieved a Daily Point of Light Award. Read his and nominate someone you know as a Daily Point of Light.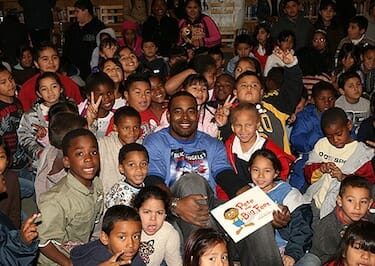 Lamman Rucker, center, visits kids at a Stephanie Starks Hope Foundation gathering in Los Angeles.
Lamman Rucker says his work with young people has saved his life.
Known for his roles in the hit movie, "Why Did I Get Married?" and the popular TV show, "Tyler Perry's Meet the Browns," Rucker started humbly in high school as an original member of the Washington Area Improvisational Teen Theater in D.C., which taught teens about the risks of teen pregnancy and sexually transmitted diseases.
And as he became an established actor on television and film, Rucker maintained that desire to help young people make good choices. In 2007, the year "Why Did I Get Married?" came out, Rucker co-founded The BLACK GENTS – an all-male, African-American theater company in Los Angeles – to resurrect and redefine the positive image of the black male through programs for young people and service to the community.
Rucker calls the ensemble "an African-American male collective of artists, scholars, entrepreneurs and community servants whose focus is to entertain, educate and empower through the arts, serve our community, uplift our young people and illuminate and project the positive images of black men in all facets of life."
Though the emphasis is with black male youth, the theater company also provides support to young boys and girls from all backgrounds.
Rucker says he and his co-founders "have been amazed by the spirit and drive of them all when they have been given a chance to be involved in the process to make a difference. We not only live to inspire them but have been overwhelmingly blessed to have been inspired by them. My work with young people has saved my life."
Rucker has been involved in youth programs in 10 middle schools, 30 high schools, 20 colleges and two leadership and arts programs in Barbados and South Africa. His tells young people about the vital role of education and the power of chasing your dreams.
"I know that simply the attendance and presence of children in school every day makes a huge difference on the education they receive," Rucker says. "When a student is not just physically present but is fully present in school – meaning they are focused and on task – how much they can learn expands exponentially."
He adds, "As a teacher, role model and mentor, I also recognize that my presence counts in encouraging and empowering the young people within my reach to work hard, to dream big and to be courageous."
Share this post