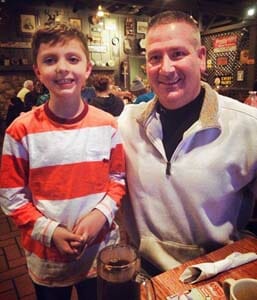 Today at the Points of Light Conference on Volunteering and Service in Atlanta, the Eckert family of Ohio recieved a Daily Point of Light Award. Read the family's story and nominate someone you know as a Daily Point of Light.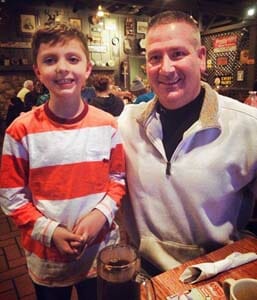 Myles Eckert and Lt. Col. Frank Dailey reunite at the Cracker Barrel where they met in Maumee, Ohio.
In February, 8-year-old Myles Eckert went with his mom, Tiffany, and 10-year-old sister, Marlee, to a Cracker Barrel restaurant near their home outside Toledo, Ohio. Before they entered, Myles had the good fortune to find a $20 bill in the parking lot. At first, he thought of using it to buy a video game, but instead decided to follow a family tradition and "pay it forward," perhaps as a big tip to the waitress.
Minutes later, he changed his mind when a man entered the restaurant in a soldier's uniform. Myles scribbled a note, wrapped the $20 bill in it, and presented it to him.
The note read: "My dad was a soldier. He's in heaven now. I found this 20 dollars in the parking lot when we got here. We like to pay it forward in my family. It's your lucky day! Thank you for your service. Myles Eckert, a gold star kid."
Myles' father, Army Sgt. Andy Eckert, had been killed in action in Iraq in 2005 when Myles was just 5 weeks old.
The man who received Myles' gift and note, Lt. Col. Frank Dailey of the Ohio Air National Guard, was so moved by the gesture that he, too, decided to pay it forward. He photocopied the note and sent it with the $20 to a charity as what was supposed to be an anonymous donation. However, the note was circulated, and a photo of it ended up on social media. It went viral.
The Eckerts were quickly swamped with letters from people who wanted to give $20 back to Myles. And soon, the story of Myles' random act of giving was featured in a segment of "On the Road" on CBS news. Even more mail poured into the Eckert house.
Tiffany, Myles and Marlee held a family meeting and decided to ask people to pay donations forward to Snowball Express, an organization that provides fun-filled group vacations to children of U.S. military personnel who have died in the line of duty. Myles and Marlee had been on multiple Snowball Express trips.
While the Eckerts sought no publicity and avoided talking to the press, they eventually agreed to let Myles make an appearance on "The Ellen Show," which they felt would provide the largest audience for their message to "pay it forward" to Snowball Express.
The message got through. Donations rolled into Snowball Express, especially after a Texas-based firm, Highland Capital Management, heard about Myles and pledged to match all donations, up to $1 million, made to Snowball Express by Memorial Day 2014. According to Tiffany, as the deadline approached, donations were near $800,000 – and are still being tallied.
"I couldn't be more proud of Myles," says Tiffany. "It's like the ultimate payoff for me as a parent."
Myles, now 9, is glad he's been able to give back to an organization that has meant so much to him.
"It's great," he says. "I like Snowball because I like being around kids just like me."
The Eckerts continue to hear from people who want to donate money directly to them, and Tiffany is now trying to start a foundation to support various programs for veterans and their families, particularly veterans suffering from post-traumatic stress disorder.
"When my husband died, I wanted to keep his name alive," says Tiffany. "Andy's name is never going to be a number. Andy's heroism is now going to be equated with the sweet spirit of our son."
Share this post