Upstate New Yorker Brings High-Quality Care to a Clinic in Rural Uganda
Meet Daily Point of Light Award honoree Matt Liquori. Read his story and nominate an outstanding volunteer or family as a Daily Point of Light.
Matt Liquori works in early-stage biotech manufacturing, but when he graduated from Union College, he wasn't sure what he would do. On a whim, he applied for a nine-month, post-grad fellowship through which he was placed with a partner organization abroad. He landed with Engeye, a nonprofit medical clinic in rural Uganda.
It wasn't his first time traveling outside the U.S. He has spent a semester in Sicily working at a research organization while taking culture and language classes and exploring on the weekends. In fact, Matt credits that period with sparking his love for travel, something he took with him to Africa. Other than the kindness and openness of locals, he was struck by the difference in the pace of life, learning to throw out the schedule and see what the day brings.
Upon his return and into his employment at Regeneron Pharmaceuticals, Matt–now 27 years old–continues his work for the clinic. In addition to fundraising activities, he organizes and leads trips back to Uganda for  specialized medical professionals with knowledge that could benefit staff and patients. He has also served on the board of directors for nearly three years.
What inspires you to volunteer?
When I graduated, I wasn't ready to go into the workforce and was thinking about a career in medicine. Union College has a nine-month postgraduate fellowship with NGOs around the world. When you return at the end of spring semester, you share knowledge with students who might not be able to travel abroad or experience other cultures and communities.
I was placed with Engeye in rural Uganda, and I've stayed involved ever since. I've always had the desire to help others. There were a number of different organizations that I volunteered with when I was in school. I spent one summer at a hospice home. I think I've been building on those volunteer experiences and ultimately found an organization I really love and want to dedicate more time to. 
What kinds of activities did you do in Uganda?
The clinic is staffed by 13 full-time staff members. It doesn't need our help to run their day-to-day. We would do projects like look for upgrades in equipment or procedures that the clinic might be able to pursue. We helped manage a group of Engeye scholars. The organization provides merit- and need-based support to 22 local students continuing their education where they wouldn't have otherwise had the means to do so. We would visit them, help them on their breaks and put on different types of enrichment classes. 
We also worked with a group of local women called The Artisans who would make local crafts that we'd sell to tourists or Engeye visitors. At the clinic, we'd check patients and do the monthly reports for the Ministry of Health, work on the electronic medical record system, and other small things.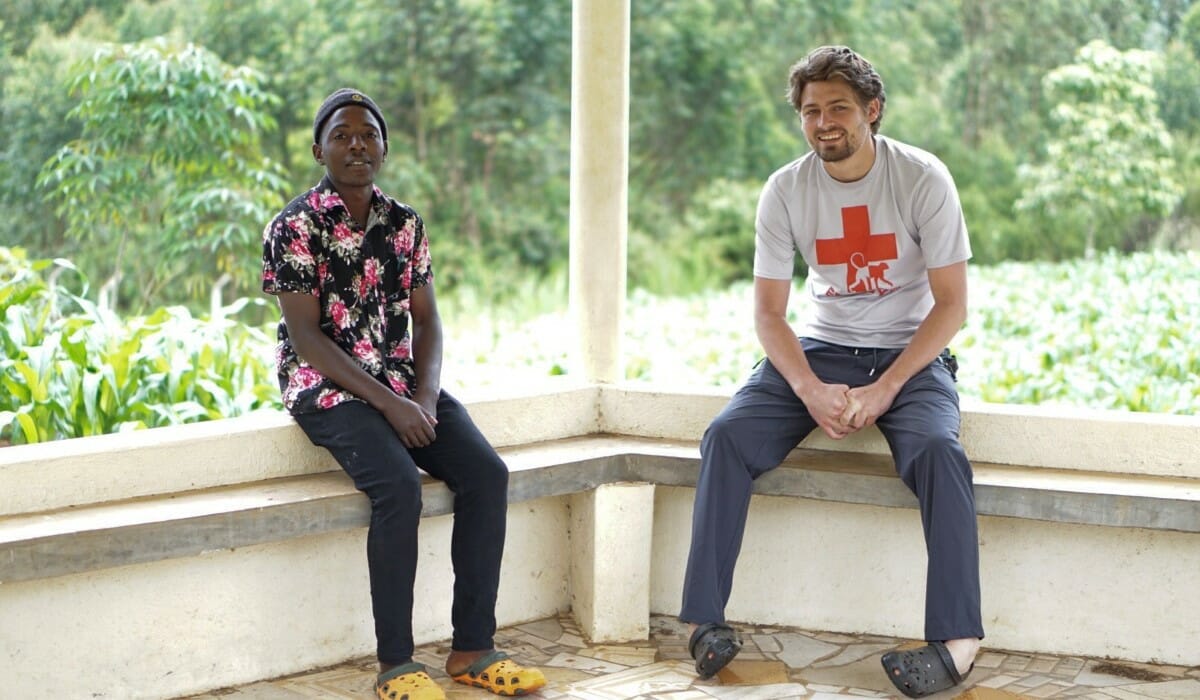 Describe your volunteer role with Engeye now. 
Engeye clinicians would be equivalent to a nurse practitioner or physician's assistant in the U.S. We supplement that with visiting American physicians with a specialty that might not be taught or well-understood through Ugandan medical training. For example, we've recently acquired an ultrasound machine unique for a maternity center or clinic in the area. We have an ultrasound tech that comes once a week, but we don't use state-of-the-art techniques. We're trying to send someone with that expertise over for a couple of weeks to train the staff. 
Mental health isn't treated, diagnosed or managed in a way that is optimal, so we're also working on getting psychologists to share their experiences. Having lived there, having relationships with the clinic founder and his staff and understanding the basic premise of the language, my role there is as team guide. I make sure everyone's documentation and travel is set and serve as a liaison between the Ugandan staff and the visiting 10-12 Americans. I've done that twice now, once in 2020 and again in April. 
This is my third year on the Board of Directors, which consists of 12 Americans who work in conjunction with the Ugandan board. The Ugandan Board oversees day-to-day operations of the clinic, and the U.S. board manages fundraising, finances, capital projects, long-term expansion, and other things along those lines. 
I'm also the vice-president of our fundraising and education committee. I lead our fundraising work, social media and website maintenance, grant writing, donor relations, etc. We contribute to staff salaries, all of whom live on the grounds of the clinic as an incentive to attract high-level clinicians. We support our scholars and greatly subsidize patient visits and medication so that they're affordable for everyone. Last year, we raised $156,899 to support those initiatives and were able to provide a new ambulance. We saw over 17,000 patients, and that number continues to grow. 
What has been the most rewarding part of your work?
In 2017, we started building a high-level maternity center. I was in Uganda for the first birth in the facility. The alternatives were to give birth at home or travel a great distance to a significantly more expensive hospital or clinic. Filling a need that is so significant and really making an impact on this community means so much to me. Ultimately, the most rewarding part is seeing the organization being able to step in to help people who really need it. 
What have you learned through your experiences as a volunteer?
As an outsider living at the clinic where everyone's working towards the same goals, the way I might think about a problem might be different than the way that someone in Uganda thinks about the problem. Being able to step back and understand that they understand this community at a different level than I do and appreciating different perspectives for the value that they bring is something that I've been able to carry over to my professional and personal lives. And I think it's helped us be successful with the work. 
Tell us about future partnerships, programs or events that you are excited about.
The clinic was founded by John Kalule, a Ugandan from Ddegeya Village, and a medical student from Albany Medical Center. Most of the groups that we bring over are based in Albany. We've trying to build on that with other medical networks interested in partnering with us. We're getting the ball rolling and are looking forward to seeing where that goes. 
Why is it important for others to get involved in causes they care about?
In the volunteer world, the mentality that if you don't do it, someone else will isn't really accurate. There are a lot of situations where, if someone doesn't step up and take the reins, important initiatives fizzle out. If there are causes that you're passionate about, being involved and seeing what you can do helps keep those alive and moving forward. 
What do you want people to learn from your story?
I brought my mom with me on the trip in April. She'd never been outside the country, but she's passionate about the organization from me living there and all the work they've done. And she's become involved. She's a teacher and writes pen pal letters with the students in our scholarship program. 
Getting involved with Engeye was a chance encounter with an organization that I was pleased with because of my willingness to be open to a place that I wasn't comfortable with or aware of. Then, something really great blossomed from it. If nothing else, just be open to different people, cultures and places. Sometimes there's work to be done in a place you might not expect. 
Do you want to make a difference in your community like Matt? Find local volunteer opportunities. 
Share this post