Volunteer Works With Initiatives Spanning Education, Food Security, Poverty and More
Meet Daily Point of Light Award honoree Dilip Kumar Sangaraju. Read his story and nominate an outstanding volunteer or family as a Daily Point of Light.
Dilip Kumar Sangaraju of Pleasanton, CA, is the personification of service to others. As a member of SiliconAndhra, he has led many service projects for the last six years. From the "Find the Match" for bone marrow transplants to "Kids Against Hunger," which provided 42,000 meals, Dilip is always willing to jump in and help.
Read more about what inspires Dilip to volunteer, from teaching a language in local schools to organizing a drive for non-perishable items.
Tell us about your volunteer role.
I started to volunteer with SiliconAndhra back in 2015. I was playing a role whenever there was a need – they'd give me a quick phone call and I'd come help. I used to do that, travel up to 50 miles over a weekend and help for a few hours. But then, when you start seeing the impact, you feel like you have given something to the people you're helping. And eventually, the satisfaction you have from that makes you feel like doing more.
The more I got to know the power of volunteering and the self-satisfaction, I started taking roles that gave me more responsibility. When I get exhausted with my actual work, I still don't feel burned out by volunteering. Even now, if I have a 10-minute break, I am thinking about the upcoming volunteer events we have. I often spend more time on volunteer efforts than on my actual work. There's something about the satisfaction you get when you look at people's faces that makes you want to do more.
At some point, when you're a child or at some point in your life, you might have benefitted from some services. You might think, 'When will I be at that stage myself where I can give to others?' A recent example was during the height of the COVID-19 pandemic. Everyone was exhausted. I was in Santa Clara and there were no masks. You couldn't even buy masks. But I was driving around and saw an organization was donating masks to the library. I donated a pack of masks. It's so simple.
SiliconAndhra is a nonprofit organization. The only call is to serve – in whatever manner we can. We have so many initiatives. For education, we have a K-12 supplemental educational program. I'm the coordinator for Santa Clara-Pleasanton location. I recruit teachers and volunteers to help teach kids their mother tongue language, Telugu, which isn't taught here in the schools. Every week, we go to schools for two hours and teach there. For that portion of that initiative, I play the role of coordinator.
I also play the role of secretary for the mother organization. I was the international chair for the Rotary Club of SiliconAndhra. I play multiple roles for multiple initiatives – and each initiative has multiple projects. So there's a lot we do!
Which initiative are you most passionate about?
I'd say everything! Because it's all about giving. It's all satisfying.
But when it comes to service projects – the stem cell drive is one that really impacts me. It's a direct impact. I organized a webinar, and one of the participants was the only match for a specific person whose life was in danger. Someone's life was saved because of this person volunteering at a stem cell drive. So, that is one initiative I'm passionate about. We have so many projects – there's a shoe drive, where we've successfully collected nearly 2,000+ pairs of lightly used shoes and sent them to women in Africa to set up temporary shops to generate income. There are so many service projects.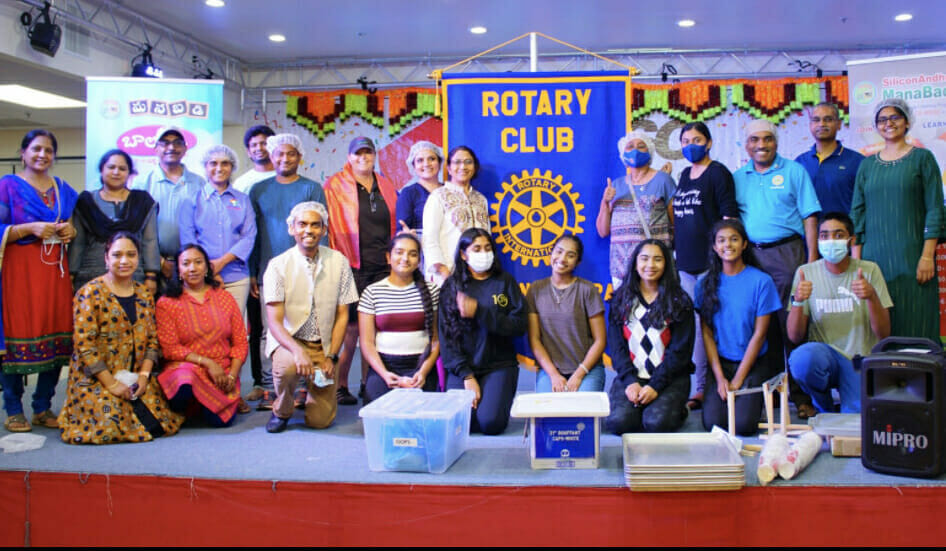 Share some rewarding stories from your volunteer work.
When we did a food drive, the expectation was for me to bring at least 150 people to come to our facility. And I did that. Together, we packed non-perishable food items for two hours, resulting in the packaging of over 6,000+ food packets.
We reached out to everybody. They're not just donating their hours, they also donate $20 each. At the end of the day, seeing not 150, but 180 people – driving to help, donating and serving their time. It just makes you want to do more.
Any advice for people who want to start volunteering?
Specifically with our organization, especially now that it's spread across the United States, we need help in everything. Good at web technologies? We need you. Good at phone calls? We need you. Good at teaching? We want you. Good at organizing? We want you. You're an extrovert, an introvert… we need you.
We have close to 2,000 volunteers who work with SiliconAndhra, who spend at least three hours every week volunteering. Regardless of your skill set, just jump in, you'll find a place to fit in.
Do you want to make a difference in your community like Dilip? Find local volunteer opportunities.
Share this post