Using Peer-to-Peer Education and Donated Supplies, Teen Seeks to Eradicate Dental Disease in Underserved Communities
Meet Daily Point of Light Award honoree Avi Gupta. Read his story and nominate an outstanding volunteer or family as a Daily Point of Light.
Stunned by a headline that read, "One toothbrush for 49 disabled children in government homes," 17-year-old Avi Gupta decided to combat the inequalities that many youth experience around the globe. So, he began collecting surplus dental supplies from local dentists in his Portland, Oregon, community — a simple act that grew into a global nonprofit that spreads dental health education to ensure a better, healthier future for all.
It was the summer before Avi's sophomore year of high school when Project32 came to life, in 2016. He was planning to travel to India later that fall with his family, and believed it would be a perfect opportunity to make a difference. He emailed organizations and dentists across the Portland area, asking for donations – and he received more than 1,000 toothbrushes to fill his suitcases with. His passion for dental hygiene and education was contagious, and he caught the attention of local dentists and government leaders in India. Avi was invited to be a part of a community campaign for the Right to Health, where he donated his first batch of toothbrushes and hygiene kits.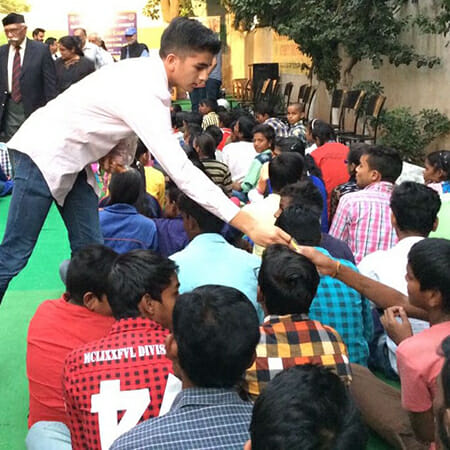 After that trip to India, Avi knew he wanted to grow his service into a sustainable nonprofit that would solve important societal issues through education. Project32 is a student-run nonprofit at Catlin Gabel School in Portland, with a mission to eradicate dental disease by providing access to dental hygiene supplies and education to underserved communities. The organization partners with local dentists, urban homeless shelters and global nonprofits to spread dental resources to youth around the world.
As Avi worked towards scaling Project32 – 32 representing the number of teeth in a healthy adult's mouth – he had the opportunity to coordinate a workshop during a school trip to Guatemala in the spring of 2017. In the village they visited, families often live on less than $1 a day. Avi hosted a workshop for students, distributing health kits and toothbrushes and inspiring the youth to share their learnings with the older generations.
Peer-to-peer education is central to Project32 and particularly important in dental hygiene, says Avi, because peers have the unique ability to shape long-term habits in one another. One of Avi's favorite memories while leading Project32 is a reflection of this. While Project32 members were teaching students at that Guatemalan school how to brush their teeth, Avi pulled aside one child who was running late and gave him a private lesson. At the end of Avi's instruction, the kid ran straight out of the school building – he told everyone that he was sorry, but he had to go show his family immediately so they could start brushing their teeth, too.
The ripple effect of Project32's educational efforts are inspiring a generation of young leaders. "It's so important to educate the youth in the community," said Avi. "If you can form lifelong habits in them, then they will pass it along to older generations and younger generations to come."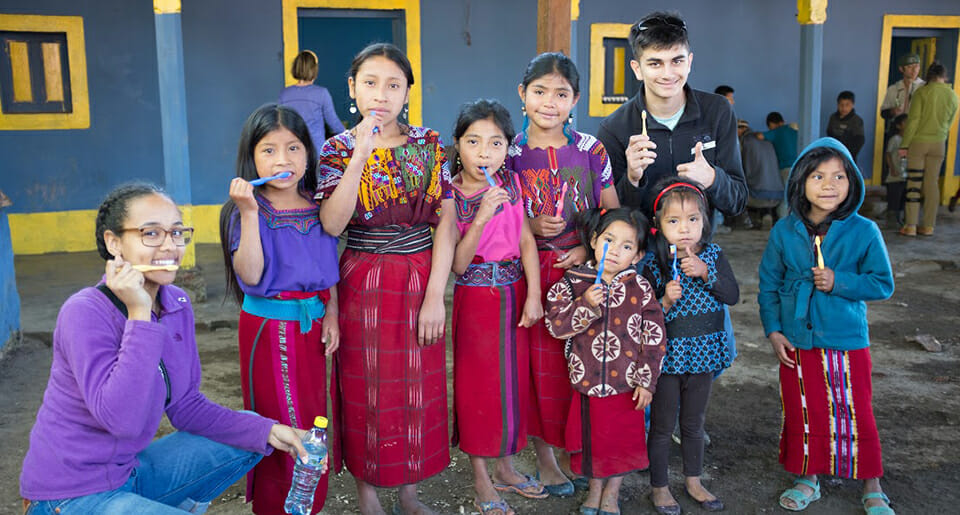 Now finishing his senior year of high school, Avi has been responsible for bringing Project32's mission to life. The organization has not only taught him leadership skills, but helped him learn the true value of teamwork and education. Avi is also heavily involved in other service-orientated activities at his school and in his community. He co-founded the school's chess club, does research at the Linder and Hinds Labs at Oregon Health and Science University, and recently qualitied as one of 15 teenagers selected nationwide to participate in the 2019 Jeopardy! Teen Tournament, which airs the week of June 17, 2019.
What's next for the graduating senior? He wants to use the power of education to make societal changes, and will begin his next chapter at Columbia University's Engineering school in the fall of 2019. "A lot of kids feel that they have passions and then they have education, and that they're separate. They aren't mutually exclusive," he said. "I want to encourage youth to combine the two to solve an issue, and just see what good will happen."
Do you want to make a difference in your community like Avi? Search local volunteer opportunities.
Share this post