Teenager Inspired by Oprah to Support Military Families with 'Stars for Cars'
As an 8-year-old, Jake Gallin says he was inspired to honor American military families after watching an episode of "The Oprah Winfrey Show". Yes, Oprah.
Featuring then current First Lady Michelle Obama and a Gold Star mother, Teresa Arciola, the episode discussed the "The Bravest Families in America." Teresa's son had died at the age of 20 while fighting in Iraq in 2005. Listening to Teresa's appeal that her son's sacrifice not be forgotten, Jake, now a 17-year-old, says he was immediately compelled to take action so that each military family is recognized for their sacrifice and generosity.
Launching Stars for Cars in 2011, a program that sells star-shaped magnetic decals online, its mission is to raise awareness and for civilians to show their support of military families. Honoring "Blue Star" families – those who have a family member in active military service, and "Gold Star" families – those who have lost a family member in military service, 100% of the proceeds support United Service Organization (USO) programs.
Reminding his community of the 1% of our country that are currently in the armed services protecting the other 99%, Jake is reminding all Americans to honor our "Gold Star" and "Blue Star" military families, and is today's Daily Point of Light award honoree. Points of Light spoke to Jake to learn more about his volunteerism with Stars for Cars.
What inspires you to volunteer?
A myriad of things. One, there's still work to be done. As long as military families are still making these sacrifices, I'll still be there. I'm committed to them for the long haul. Also, there's a need to extend support to these families beyond the military circle. Civilians need to recognize the challenges they face, and provide support. There's a need for their children to feel like they're settled down in their community after the 9th move because of their parent's career.
Explain how these decals work.
My goal is that a family will have the decal on their car, and some passerby in the next town or city where the car travels might ask about its meaning, and want to learn more about what they can do to acknowledge the sacrifices made by the people I call, "Our Nation's One Percenters."
Describe your role with Stars for Cars.
I raise awareness, fundraise, and write a blog to publish information about the organization, our events and military holidays. I research schools around the country for our "3 Holidays Announcement" program. I also wrote to every member of the United States House of Representatives and the United States Senate along with the president and many other officials to request a "3 Holidays Announcement" bill. We sell the decals on the internet, and since launching Stars for Cars, I've volunteered several thousand hours and we have raised more than $80,000 for the USO of Metropolitan New York.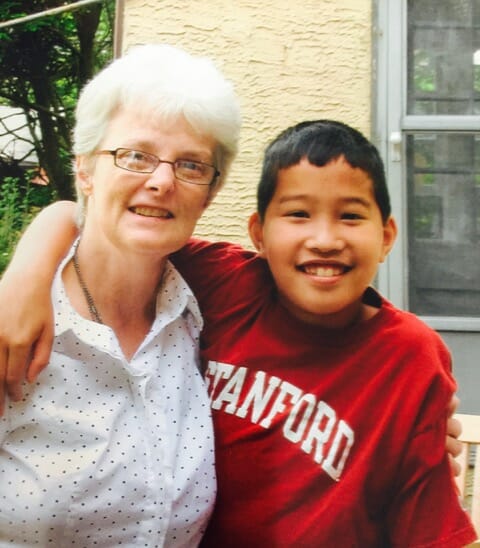 You raise awareness in many ways for military families. Describe "3 Holidays Announcement" to me.
I wanted to find a way for people to not have to donate money in order to participate with us and support military families. We are now in 43 states across the country, and over 850,000 students have heard the announcement during the school day, which is said in schools on or before 9/11, Veterans Day, and Memorial Day to acknowledge the sacrifices made by military families. The announcement can be said at other venues and on alternative days as well such as graduation. It is a cost-free way to show you care.
What's your life motto?
I visited Arlington National Cemetery in 2015, and discovered a famous quote at an exhibit honoring former President John F. Kennedy's legacy. I was struck by a line from his inauguration speech: 'And so, my fellow Americans: ask not what your country can do for you — ask what you can do for your country. My fellow citizens of the world: ask not what America will do for you, but what together we can do for the freedom of man.' If you find a cause that you're committed to, the rest just clicks in to help push a cause forward.
What have you learned through your experiences as a volunteer?
My service has given me new perspective and opened my eyes to new experiences. I interact with new people, I see new things, and I learn about new topics I hadn't thought about before.
What does it mean to know that you are helping military families?
I do this because we're nowhere near completion. As long as these people are serving, we're still here and we're still going to do what we always do. It makes me feel good that I've had some sort of role in recognizing military families. I've done what I intended to do to help take even some of the burden off of these families that they carry every day. The genesis of my volunteerism was that Mrs. Arciola worried Americans would forget people like her son, who had given their lives to this country, and we're making sure that doesn't happen.
What do you want people to learn from your story?
What we've done with Stars for Cars shows how easy it is to get involved. There are plenty of causes to get involved with, and fall in love with, and feel that dedication. If everyone does one small act, that really adds up. It's so good to know you're doing your tiny little part to make the world a better place.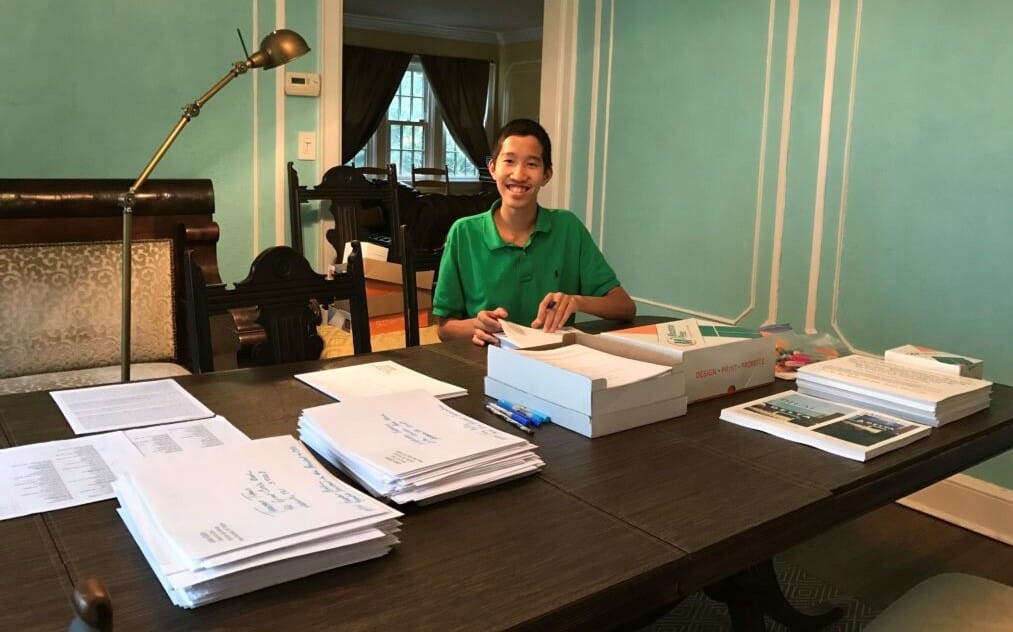 You're nearing the end of your high school career. Tell me what you do for fun.
I'm finishing my junior year in high school, I like math and history, and enjoy hanging out with my friends – normal teenage stuff. I am hopeful to pursue a career wherever there's a need. Maybe engineering, maybe start a business. I've thought about criminal defense too.
How can readers help?
By raising awareness, we hope to have participation in all 50 states or 1 million students participating in our "3 Holidays Announcement" by this Memorial Day. Fundraising is also critical to help support USO programs. We'll hold the "Century Ride for Military Families" in Summer 2019. Please check out our website for more information on how you can join us, and how you can help: http://www.starsforcars.org/.
Do you want to make a difference in your community like Jake Gallin? Click here for local volunteer opportunities.
Share this post