Continuing Her Parents' Volunteer Mission to Help Children
At 20, Danielle Agleam has already had years of volunteering experience. Born to parents in the medical field committed to making a difference in the community, she learned at an early age the benefits of giving back. Because her parents are members of Montgomery County Medical Reserve Corps – her mom is a nurse and her dad is a respiratory therapist – Danielle joined the MRC herself as a way to gain healthcare experience. The MRC is a national network of medical and non-medical volunteers, organized locally to improve the health and safety of their communities. Initially set on being a nurse, Danielle switched her major to psychology with a minor in health to prepare for a career as a child life specialist. A regular volunteer with Texas Children's Hospital, she's using her experience to prepare for a lifetime of helping children.
Danielle is committed to making a difference in her community and she is today's Daily Point of Light Award honoree. Points of Light spoke with her about her commitment to service.
What inspires you to volunteer?
I am always inspired by my parents and extended family members who constantly put so much hours into our community. They are always looking for ways to contribute and help bring positivity through volunteering.
Describe your volunteer role.
I volunteer at Texas Children's Hospital and with the Montgomery Medical Reserve Corps. I also volunteer at school through my Student Nursing Organization (SNO). At Texas Children's Hospital, I work the Welcome Desk. So, I help patients and families navigate their way through the hospital. I also volunteer at events for the families and children whether it is bringing awareness to something or to allow the children to have fun by making crafts and escaping into a playtime environment. I connect with children from infants to the age of 18 along with their families.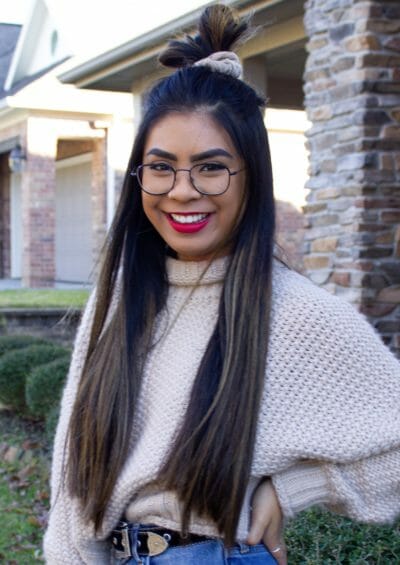 What's been the most rewarding part of your work?
The most rewarding part of volunteering is working with children and seeing the impact I have on them. There truly is no better satisfaction that seeing a child smile from a simple gesture. As an aspiring Child Life Specialist, it is so important that I always help the families that walk in through the hospital doors and let them know that we are here for them and provide them with whatever they need, even to play with their child while they run to go get a coffee.
What have you learned through your experiences as a volunteer?
I have learned through my experiences as a volunteer that there are so many unnoticed people and things that need our help and it is our job to fill in the gaps in our community. Through volunteering at Texas Children's, MRC, and school organizations I have learned a lot about others, the community, and myself. Being exposed to different organizations has taught me that my passion is working with children. Texas Children's has made a huge impact on what I plan on doing with my career and my goal is to work there in the future.
Are there any future partnerships, programs, or events that you are excited about?
I am most excited to continue and expand my volunteering at the children's hospital since I want to work with children in the future.
Why do you think it's important for others to give back?
I think it is important for others to give back because I believe when you are blessed or have received a blessing in your life that you should reciprocate it back to others.
What do you want people to learn from your story?
I think others should learn from my story that it does not matter what age, background, or how busy you are, it's always possible to give back. There are so many ways and opportunities to volunteer, it only takes initiative and passion to make a difference.
Do you want to make a difference in your community like Danielle? Click here for local volunteer opportunities.
Share this post