Utah Family Puts Volunteering at the Top of Their To-Do List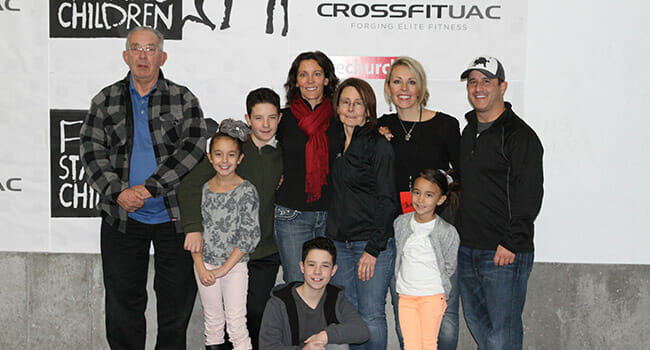 In honor of Family Volunteer Day, Nov. 19, Points of Light and Disney are recognizing families with the Daily Point of Light Award. Meet today's winning family, the Gonzales family of Logan, Utah, and nominate someone in your community.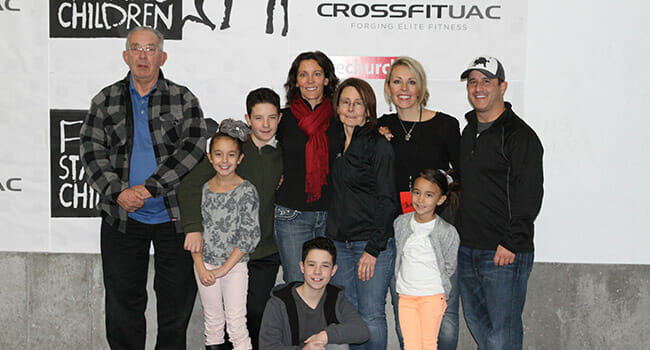 Back row, left to right: Harold Robinson, Gabby Gonzales, Hunter Gonzales, Rebecca Robinson, Kay Robinson, Shelly Gonzales, Shane Gonzales.
Front row: Logan and Avery Gonzales.
The Gonzalez family attends a Feed My Starving Children event with Shelly Gonzales' parents and sister.
Getting involved with volunteer service can seem like a daunting task for busy families. School, sports, music, dance, Scouting and other activities leave little time for anything else.
But Shelly Gonzales, a mother of four, has found the solution: Get the entire family involved in volunteering while working it in with the family's regular activities.
Shelly and her husband, Shane, are convinced that their kids are becoming better people because of it.
"We want kids to know that service is fun, it's really exciting," she stressed. "You get more out of it than you ever give. It just changes you and makes you better, more compassionate."
Shelly welcomes her children's original ideas for community service – for example, her youngest daughter, 9-year-old Avery, came up with "Socktober," where she rallied classmates to donate socks for the homeless last October.
The three older Gonzales children, 14-year-old twin sons, Hunter and Logan, and 12-year-old daughter, Gabby, who are all in middle school, came up with an idea to collect canned fruit for the needy after learning that food pantries get a disproportionate amount of items, like peanut butter and spaghetti sauce, but relatively little fruit.
"We did a 'Fast for Fruit' party," said Shelly. "They invited as many middle schoolers as they could think of and added other friends. Nobody ate for 24 hours and then we had a party with a DJ at the end. All the kids had to bring canned fruit."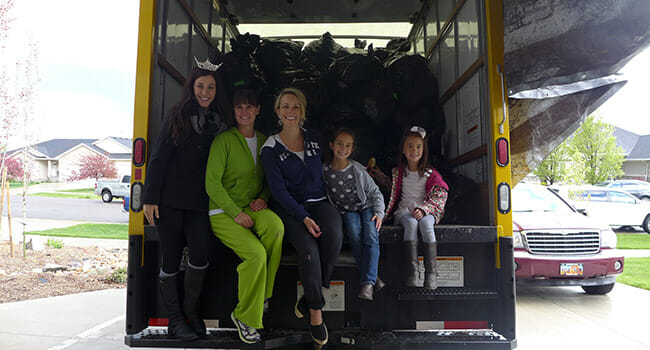 Left to right: Karlie and Stephanie Major, Shelly, Gabby, and Avery Gonzales
Shelly Gonzales and her daughters Gabby and Avery posed with Miss Utah 2014 Karlie Major and her mother, Stephanie, at a shoe drive led by the Miss America pageant.
"We don't align ourselves with one organization or cause," said Shelly. "There are so many needs that we haven't been able to pick just one thing. We will do stuff with organizations, but we also create projects ourselves and try to get the community involved in it."
A favorite cause for the Gonzales family – especially the girls – is putting together care packages for Utah's Little Lambs Foundation for Kids to be distributed to babies, children and teens in crisis situations. "My daughter had a friend once who'd been homeless for a year," said Shelly. "This cause has just softened my girls' hearts. They make videos for the organization, they deliver the kits and help sort and organize the items. They have a ton of fun with that."
Shelly said it's important for families like hers, who are better off than many, to be aware of the pockets of suffering in their communities and turn their own talents and interests into ways to help others.
"Our culture seems so focused, as we're raising kids, with competitive sports and competitive dance and … their own needs and their own self and being number one," noted Shelly. "If we can give kids some early experiences in community service, they'll see how much better it feels to help someone else than to get first place."
Shelly credits her son, Hunter, for rallying the entire Gonzales family to give back. When Hunter was 11, he developed a rare allergic condition that left him unable to eat most foods. The family got to thinking about hunger and how there are so many people locally and in other countries without sufficient food. Seeing Hunter's suffering inspired the entire family to get "involved in service and to be involved in helping the weak among us," Shelly said.
She says other families can take a similar approach. "Look at a trial or hardship you've had in your life, whether it was being in the hospital or something. Think: What could I have used? It might be, hey, I could have used a purse," Shelly suggested.
Once an idea forms, work it into the family's school schedule or other plans. For example, Hunter and Logan study music, so they decided to perform at a nursing home.
"When we just incorporate volunteering into our regular activities, it's easy," said their proud mom.
See how your family can get involved on Family Volunteer Day.
Share this post