Utah Man Dedicates Retirement to Serving Senior Citizens
Meet Daily Point of Light Award honoree Gerry Leonard. Read his story and nominate an outstanding volunteer or family as a Daily Point of Light.
When Gerry Leonard retired from his job 12 years ago, he knew he wanted to make valuable use of his time — and after hearing that Salt Lake County Aging & Adult Services could use help in their Retired and Senior Volunteer Program, he knew exactly how he would spend his retirement.
Twice a week, Gerry drives senior citizens to and from their medical appointments for Salt Lake County's Rides for Wellness program, and once a week he delivers meals to seniors who cannot cook for themselves through the county's Meals on Wheels program. Aside from providing the much-needed services, Gerry also provides friendship and comfort to the seniors, some of whom have only him to speak to outside of their appointments. For the past decade, Gerry has provided over 5,000 rides to over 1,500 seniors, and has also delivered meals to hundreds of others.
Describe your volunteer role with the Retired and Senior Volunteer Program.
I work with the Senior Core with Salt Lake County Aging & Adult Services. My two tasks are Rides for Wellness and Meals on Wheels.
I go to the county building and pick up a manifest that lists seniors that have rides, where they're going, where they live. We pick up senior citizens and take them to medical appointments and also often pick them up and take them back home from their medical appointments.
I deliver meals also to senior citizens who are restricted in getting out and being able to do their own meals. I deliver those in a particular neighborhood to the senior citizens and oftentimes that's their one nutritional meal in the day.
Why did you want to get involved with this program?
I got involved when I retired form my full-time job in 2007, 12 years ago. When I retired I certainly did not want to sit on the couch all day, and I knew some people who worked for Salt Lake County Aging Services and I talked to them and found I could volunteer and really make a difference to senior citizens like myself. That's why I wanted to get involved, to work with the senior citizens who need assistance.
How did this program benefit the senior citizens beyond just getting rides and meals?
Almost every day, one of my clients will tell me, I don't know what I would do without this ride because I can't drive, my children are too busy, they can't take me to these doctor's appointments, or they can't take me to dialysis which is absolutely required to live. They tell me how much they appreciate it, especially the rides. Meals on Wheels, they're very grateful to have the meals and you get to know these clients quite well and actually become friends with them.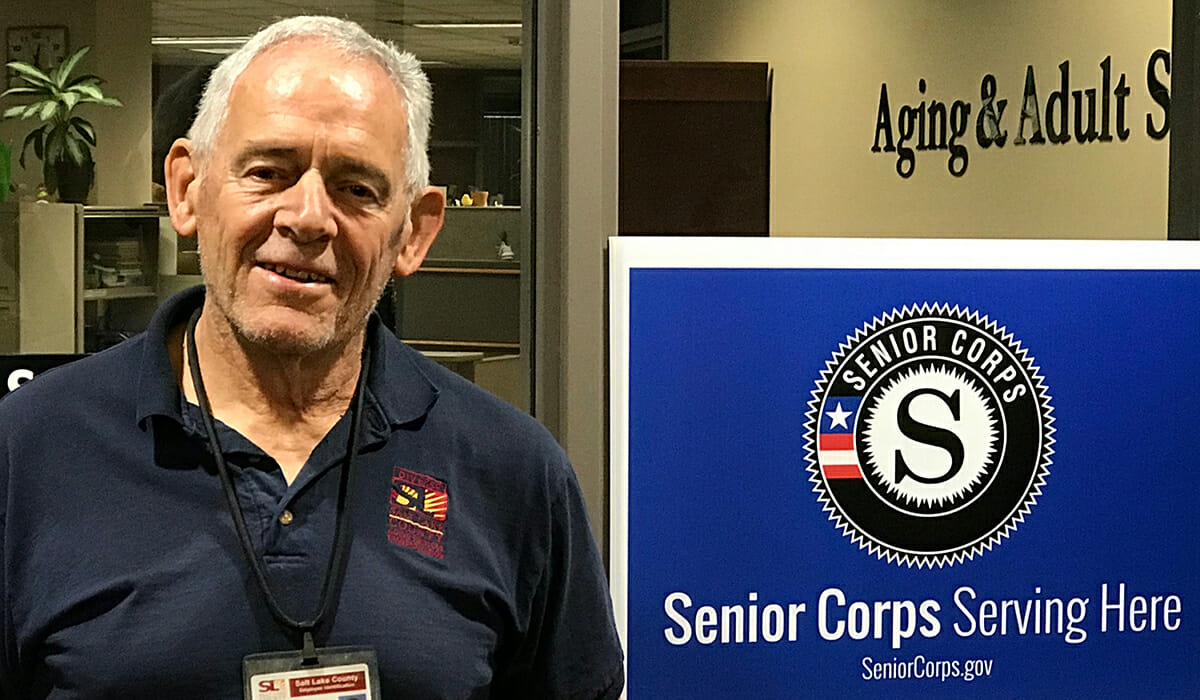 How would you say volunteering for this program has benefited you?
It helps take up a lot of free time you have. Volunteering is something I look forward to every time I do it, so that has certainly benefited me. I think it's helped me be a better driver at 79 years old. But it also just the main appreciation of people so grateful for our service, and that benefits me because it's a give back to me.
What's been the most rewarding part of your work?
The appreciation of people. They're so appreciative of the service, and that's what makes it worthwhile to me. I also enjoy getting to know the clients and also getting to know Salt
Lake County which is a very large, widespread part of the state. But the main thing is the appreciation they show when we provide this service.
What have you learned through your experiences as a volunteer?
I think I've learned a couple of things. One of them is how to be a better driver because it's not just me in the car now, I'm responsible for other people's lives. I've also learned to listen better than I did before because sometimes I'm the only person aside from their medical appointment that the person talks to all day.
What do you want people to learn from your story?
I would just like people to know that there are so many opportunities to volunteer, whether it's aging services or in the schools or other places. There's just so many opportunities to volunteer, and Utah is known as a good volunteer state. I would like people to know that its really, really worth their time and effort to do it because it's very rewarding.
Do you want to make a difference in your community like Gerry Leonard? Click here for local volunteer opportunities.
Share this post