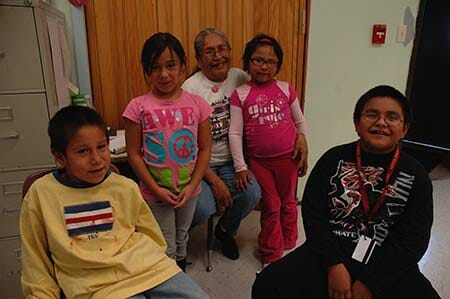 Meet Daily Point of Light Award honoree Valentina Janis. Read her story and nominate an outstanding volunteer or organization as a Point of Light.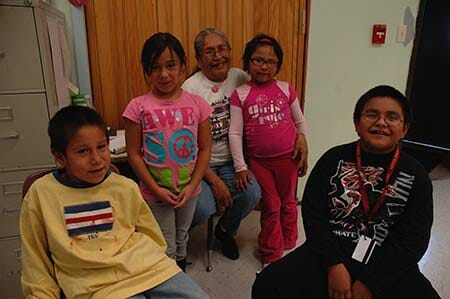 Valentina Janis, center, with some of her "foster grandchildren" at Crazy Horse School
Every school day for more than a decade, Valentina Janis has boarded a school bus shortly after dawn and arrived at Crazy Horse School in Wanblee, South Dakota, around 7:15. The 72-year-old sits at breakfast with the students – nearly all of whom are, as is she, Lakota – and waits patiently for the teachers.
Janis has a special role at the school. As a "foster grandmother," she's always ready with a sympathetic ear and a big hug.
"I can tell when some of the little kids need help," she says. "They come in crying or they start fighting with other kids. You just have to care enough to step in and do something, say something. Eventually they open up and I think they respond to me because I'm outside of the family."
Recently, she and her husband, Leonard, who volunteers as a foster grandfather – usually checking in on the older middle school and high school students – worked together with the school's principal to calm down a 12-year-old girl who said she was feeling suicidal.
"God gave us children to love," says Janis. "When they're in a dark place, you must tell them that you care and you're there for them."
At home, the couple, who are actually grandparents to 20 children and several great-grandchildren, often "talk about different students and try to think about solutions," she says. "Even if it's just giving a child a birthday card, that really helps."
Janis also believes that working to instill Crazy Horse's core Lakota values is important, especially making sure students master the native language.
"If we lose our language," she says, "we're gone." Non-native teachers often call her their "walking dictionary," Janis adds with a laugh.
She also loves to pass on the many Lakota oral tales. One legend is about Iktomi, a trickster who often comes to no good because of his mischievous behavior. "He may think he gets away with doing bad things," says Janis, "but he's often left in the cold by himself."
Janis meanwhile is warmly rewarded for her good deeds. For one Grandparents Day, the kids made her an oversized greeting card with felt flowers. And when she encounters her charges in the supermarket, "They come running up to me, screaming, 'Grandma! Grandma!'" she says. "It makes me so happy, I feel like crying."
Share this post
---