Virginia College Student's Storytime Volunteerism Gets Kids Excited about Reading
Meet Daily Point of Light Award honoree Trinity Woodson. Read her story and nominate an outstanding volunteer or family as a Daily Point of Light.
20-year-old Trinity Woodson was headed to the nail salon when she noticed a bunch of children at the next door laundromat, all with their heads down, staring at phones or tablets while waiting for their family's laundry to be done. The rising college junior, who'd been looking for a way to help her community while home from school, knew she'd stumbled upon an opportunity to do good.
"Of course, being on their parent's phone is fine. But I realized, wow, something else could be done during this time," Trinity says. Launching Trinity's TumbleReads in 2019, the Suffolk, Virginia resident and Hampton University student has connected with dozens of children thus far, facilitating story time for young learners during a typically mundane but necessary routine for families. Reading to underserved children in her community, Trinity is supporting education, helping to narrow the achievement gap and making laundry time fun for kids, one story at a time.
What inspires you to volunteer?
Giving back has always been a part of me, as a result of my upbringing and growing up in church. Whether it's feeding the homeless or helping kids, I've been blessed with many opportunities and I am motivated to reach back in any type of way and help others.
Describe your role with Trinity's TumbleReads.
As founder, I host our weekly summer reading sessions and initiatives for mostly elementary school students. Before the pandemic, I'd hold sessions during the school year. I pick books up at the library and we read as many books as we can during the hour-long reading sessions. A lot of my work focuses on getting kids excited about reading and helping them to understand the importance of listening skills and reading out loud. We'll have repeat customers because a lot of people come into the laundromat every week. So far, Thanksgiving was the best turnout we had, because kids are out of school, we offered them snack bags during story time as well.
Share one personal story with me from your volunteerism.
A young lady who joined us was at first nervous to read, and her mom was encouraging her. She started to let her walls down, she became more relaxed and engaged. At the end she was so excited and so glad she was a part of our reading group. There are so many benefits that reading aloud has for children, and even just interacting with children is positive. During service, it's really the little things that are most meaningful.
Why do you think it's important for others to give back?
When you're blessed with resources and you see that others don't have the same opportunities, don't give yourself a pat on the back, but instead give others an equal playing ground. Through my volunteerism, I am following people into their lives and helping them. If you see someone that may not have the same exposure to reading that others have, step up to the plate and try to figure out ways to help.
What's a saying you live your life by?
To whom much is given, much is required.
How have you adjusted your service during the Covid-19 pandemic?
During the pandemic, there were more people unemployed who had children at home. Giving back to my community through food pantry donations was one way I could address persistent issues like food insecurity. To celebrate my birthday, I went grocery shopping and donated 45 pounds of non-perishable items to Suffolk Christian Fellowship's food pantry, which has been working tirelessly to provide citizens with hot meals, dry foods and fresh produce. The only way children will be successful in school is if they have food to eat, and through my donation, I helped to contribute to the future success of children in my community. Additionally, this summer, I created a virtual workshop on "How to Strive and Thrive as a Girl Scout During COVID-19." On June 6th, I helped Girl Scouts determine the best ways for them to prosper and make an impact on their community, while getting badges!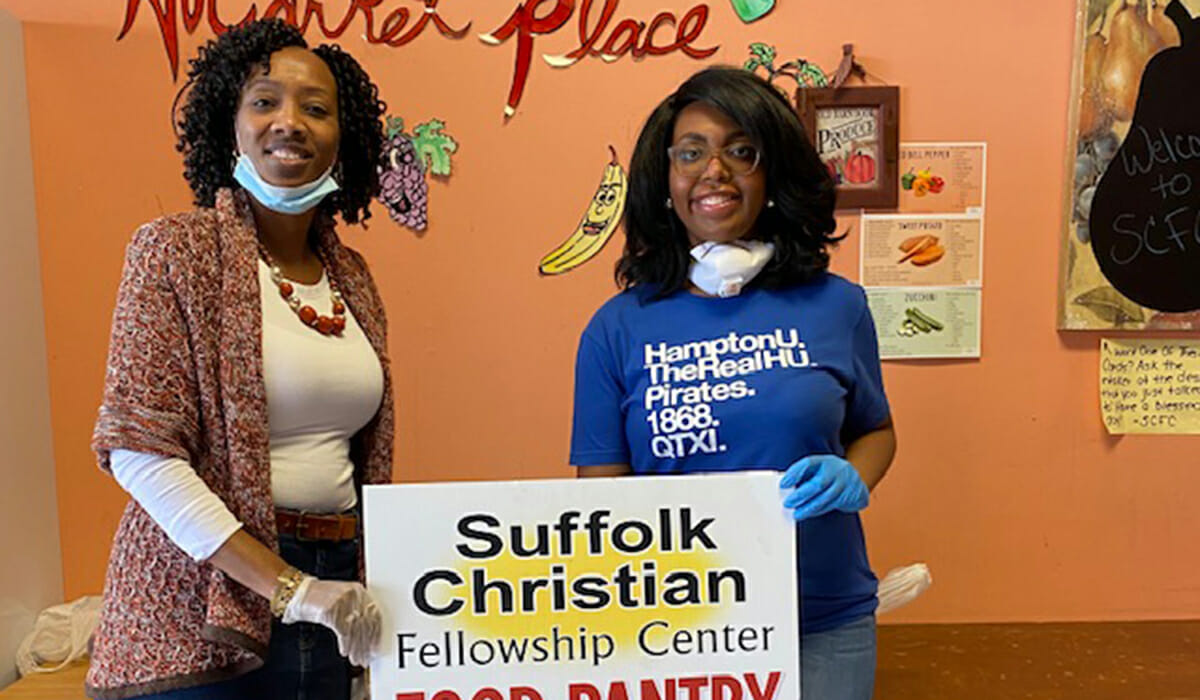 In one word, what does volunteering mean to you?
Hope.
What's your favorite children's book?
"Sit-In: How Four Friends Stood Up by Sitting Down" by Andrea Davis Pinkney. The story is the best children's book I've ever read in my life. I first read Sit-In when I was interested in becoming a student at North Carolina Agricultural & Technical State University (where the Greensboro Four were students.) And even after deciding to attend Hampton University, I recognized it was a big deal given the role that Historically Black College/University (HBCU) students played during the Civil Rights Movement. Reading with children, you have to be engaging. This book is an effective way to get children to understand important times in our history on their level.
How can readers help?
Please email Trinity for more information about how you can help: [email protected].
Do you want to make a difference in your community like Trinity Woodson? Find local volunteer opportunities.
Share this post