Gifts for Good: Missouri Volunteer Helps Refugee Women Survive and Thrive
Meet Daily Point of Light Award honoree Emily Bueker. Read her story and nominate an outstanding volunteer or family as a Daily Point of Light.
Emily Bueker is described as having a heart to help others, and the 33-year-old St. Louis, Missouri volunteer is doing just that, by teaching refugee and immigrant women in her community how to support themselves by crafting jewelry.
As the lead jewelry team volunteer for FORAI (Friends of Refugees and Immigrants), Emily helps local refugees learn crafting skills to gain dignified income, but her heartfelt volunteerism over the past several years has made an even bigger impact. A friendly face to many in the refugee and immigrant community, Emily helps refugees with basic tasks as they become accustomed to their new homes. Building relationships that bridge language and cultural differences, Emily has lent a hand in the production of more than 10,000 pieces of jewelry by FORAI artisans since 2016, enabling the realization of economic, educational and social goals for refugee women and expanding market opportunities for artisans.
What inspires you to volunteer?
Personally, service is based upon my faith. I've always had a heart for helping others and try to live my life in service. As volunteers, we can really make a difference in other peoples' lives and make an impact on the world as a whole.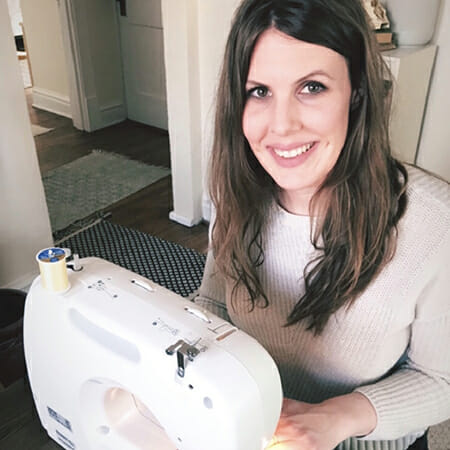 Describe your role with FORAI.
I'm the volunteer lead at the jewelry meetings for FORAI. We usually meet twice a month, and I oversee a handful of volunteers as we go over the process and check inventory and quality control. I also coordinate inventory forms as we update the rotating jewelry index with the specific catalogue, and serve on the fundraising committee. Lastly, each artisan, a female refugee who is typically from Nepal, Bhutan or Burma, is paired with an American volunteer. I currently mentor a Burmese refugee name Awi. I spend time connecting with her and her family, so as a mentor, I may go to her house to help with English, maybe explain a bill they don't understand, or we might attend a cultural holiday celebration together.
Explain how FORAI helps refugee and immigrant women?
In addition to my work with the jewelry team, FORAI also has a sewing team. The refugees learn new skills from a teacher, and they'll learn how to design new pieces of jewelry or techniques to better their skills. They then take those projects home for production, because many have children that they have to care for. This is a great way for them to work from home and still provide supplemental income for their families. The women turn in whatever products they produce, and then those items are sold through FORAI's online store as well as community stores and a few national stores.
Tell me more about the jewelry these women are making.
We have several earring styles, necklaces and also different bangles. We have a simple ring as well. The style is minimalistic. I'm not a jewelry person myself, which is interesting, but I do wear FORAI'S jewelry quite a bit, it's been interesting to see the design and creativity up close.
Share one personal story with me from your volunteerism.
During our holiday parties, we all come together and share food from each of the different countries our refugee and immigrant participants have come from. The events are really a picture of genuine community, where we truly see each other as human beings. This powerful experience brings dignity to each of the women, as they share their stories of hardship.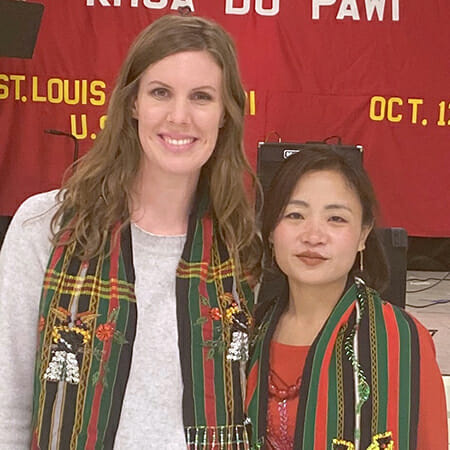 Why do you think it's important for others to give back?
I'd felt a burden on my heart to serve the refugee population, which is how I connected with FORAI. Being in a relationship with people that are different than me, that have different stories and backgrounds, breaks down relationship barriers. My life has been impacted for the greater by being a part of their lives.
In one word, what does volunteering mean to you?
Service.
How has your service adjusted during the Covid-19 pandemic?
We're currently not producing a lot of our own pieces because many festivals have been cancelled and businesses are still recovering from being shut down, but some of our artisans are working with a local designer named Theresa Wangia of Beltshazzar Jewels to create the clasps for her pieces. At the peak of the pandemic, FORAI's sewing team and a few jewelry artisans stepped up and learned how to sew masks, sewing around 6,500 masks in total for frontline workers. More than 5,000 were donated to hospitals and other organizations in need of masks, the remainder were sold. I trained my mentee how to sew masks, and also personally made close to 150 masks to raise more than $1,000 in funds to help pay the artisans as they made thousands of masks.
How can readers help?
FORAI plans to hold a virtual fundraiser in October. Please visit their website for more information about how you can help.
Do you want to make a difference in your community like Emily Bueker? Find local volunteer opportunities.
Share this post