Volunteer Cares for Shelter Dogs through Enrichment Services
Explaining that all dogs think the best of humans, Heather Pol says her mantra: "Try to be the person all dogs think we are," is what drives her service to help shelter dogs, and is her way of encouraging others to help as well.
The 32-year-old returns that love she says dogs give so freely by providing enrichment to shelter dogs at Contra Costa Animal Services in California. As a volunteer on the Shelter Enrichment Team, Heather is providing normalcy through activities for a shelter animal that may be under stress due to unfamiliar experiences, including new sounds, sights or scents that they encounter at shelters.
Building trusting relationships with shelter dogs so that they may one day be ready for their forever home, Heather is today's Daily Point of Light award honoree. Points of Light spoke to Heather to learn more about her volunteerism with Contra Costa Animal Services.
What inspires you to volunteer?
Volunteering is easy when it's something you're really passionate about. I love animals, and I easily fall in love with just about every dog. Service is inspiring and easy when you actually care, and love what you're doing.
Describe your role with Contra Costa Animal Services:
I currently assist with fundraising for the shelter, as I have recently moved to Lillington, North Carolina for medical school. Funding is critical for the shelter, as it is used towards a variety of costs including medical visits and adoption fees. When I was a California resident and lived closer to the shelter, I'd walk the dogs at the shelter, also as a member of the running dog team, we would take some dogs out for longer distance running. In addition, if anyone was interested in adopting an animal, I'd facilitate a meet and greet for an adoption counseling session. Lastly, I fostered two different dogs from the shelter to train them and get them ready for adoption.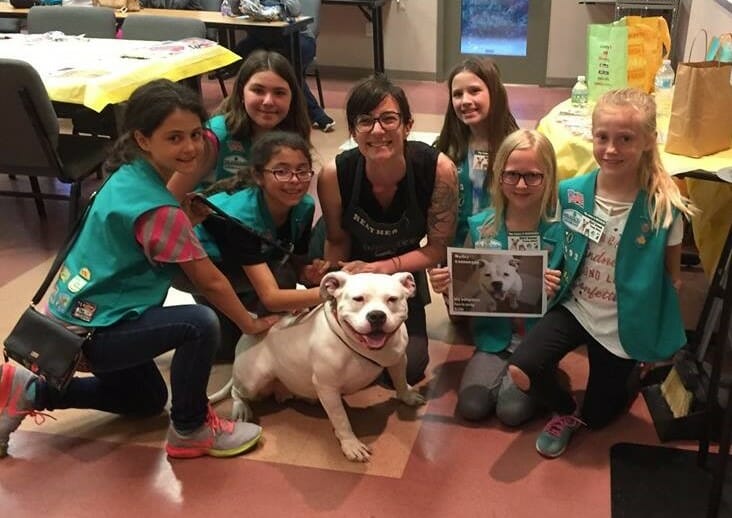 What have you learned through your experiences as a volunteer?
Working with dogs and building that trust as you prepare them to be adopted was one of the most rewarding parts of my service, because it felt a lot like matchmaking. People might see a picture of a dog on the internet, but it might not be the best fit. For me, getting a better sense of people's needs and what they were looking for by listening and learning was very fulfilling.
Tell me about your favorite dog.
(Sighs). Kona Coffee. She was one of the first dogs I started running long distances with, I was able to train her to run up to 4 or 5 miles. It was really awesome to see her enjoy the run and get excited about going running with me. We would do events to promote the shelter dogs and hopefully get the attention of a prospective owner, and she ran a portion of the Redding Marathon in California with me. A woman saw pictures of us running together, and she came into shelter saying she'd dreamt about a dog that looked just like Kona Coffee. She ended up adopting her, and has maintained a relationship with the shelter since.
What do you want people to learn from your story?
Volunteering brings a sense of purpose to my life. I feel like not only am I helping these dogs, but I know that my work serves a purpose. My advice is to find something you're passionate about, because then you'll want to give your time and serve.
How can readers help?
The shelter always needs donations. Please visit my running dog team's fundraising site for more information about how you can help: https://www.friendsofcontracostaanimalshelters.org/running-club.
Do you want to make a difference in your community like Heather Pol? Click here for local volunteer opportunities.
Share this post