Volunteer Dedicates 20 Years to Helping Houseless Community Get Back on their Feet
Meet Daily Point of Light Award honoree Mark S. Harris. Read his story and nominate an outstanding volunteer or family as a Daily Point of Light.
Homelessness can be what Mark S. Harris calls an invisible problem, even where he lives, in one of the wealthiest counties in the state.
As a volunteer for Family Promise Montco PA, formerly Inter-Faith Housing Alliance, Mark, an Upper Dublin Township, Pennsylvania resident, has spent the last 20 years providing opportunities for families in Montgomery County to achieve self-sufficiency through community-based programs designed to bridge homelessness and independence. Through volunteering, Mark has connected with hundreds across the county as he supports families in need and ultimately, empowers them to become productive members of society.
What inspires you to volunteer?
It's very important for me to give back to the community in which I live. I have been given many blessings over the years and so I feel that it's my obligation to now utilize some of those skills, ability and time I have to help those that have less than I have been blessed with.
Describe your volunteerism with Family Promise Montco PA.
I've been a volunteer with the organization for 20 years, and was previously a board member and board president. As a volunteer, I work as a fundraiser and congregational volunteer through Congregation Beth Or. I am an attorney, and also consult with Family Promise Montco PA in connection with various legal issues that may arise. Our services aren't simply about providing families with shelter, but to help them get back on their feet, and ultimately, enable them to become self-sufficient.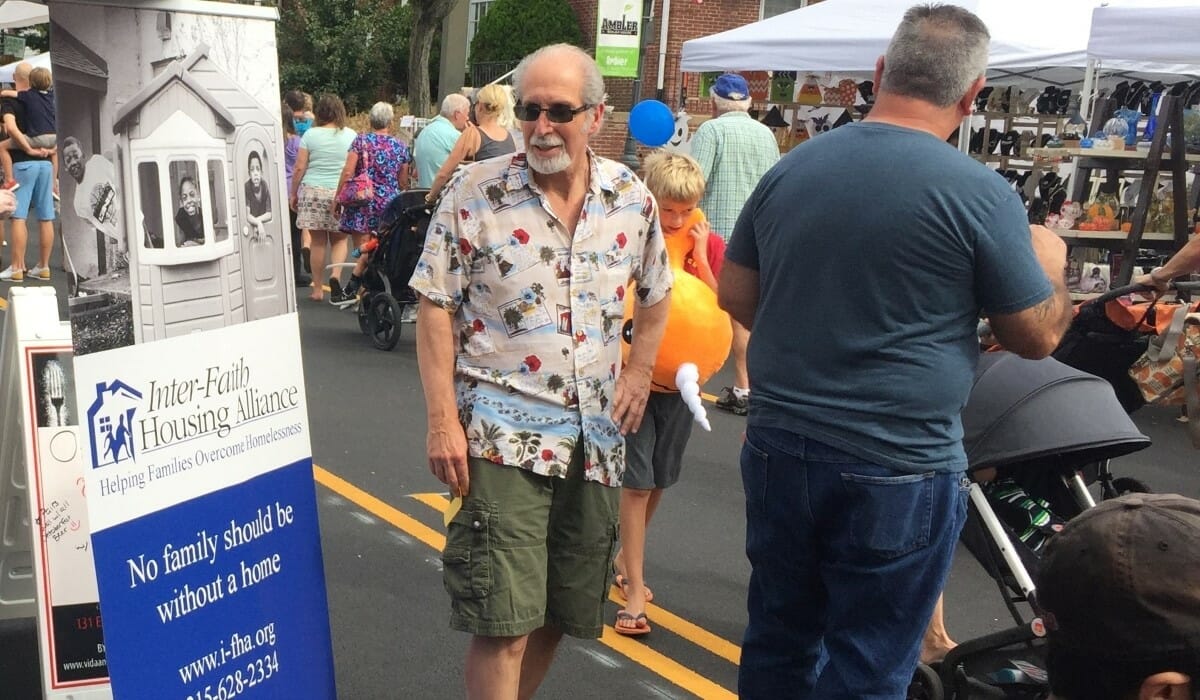 Share one personal story with me from your volunteerism.
The organization provides temporary housing for those who are homeless, and interfaith churches, congregations and synagogues are a part of that effort. Through my congregation, I have provided dinners to the families we serve who are in immediate need of housing, primarily single mothers with children, and it gives me an opportunity to meet and talk with them, and find out more about their situations, their needs, and how I can assist. It's a very good feeling when you're dealing directly with the individuals you're actually serving, and to see how appreciative they are of how we are giving of our time to help them.
Why do you think it's important for others to give back?
Today, when there is so much conflict, and so much disparity between those who have and those who do not, it's very important for those of us who have had the opportunities to be helpful to those who have not been as blessed as we have been. To me, volunteering is a part of being a good human being to others to support them in their time of need.
What's been the most rewarding part of your service?
It's rewarding to know you are sacrificing some of your time to help others. Volunteering gives you a good feeling quite frankly.
What do you want people to learn from your story?
By giving back, volunteering, and providing your time, it fills a gap and it's such an important piece of being a part of a community. Volunteering is filling that need in your local community.
In two words, what does volunteering mean to you?
Responsibility and accountability for your actions towards others.
How can readers help?
Visit Family Promise Montco PA's website to learn more about the issue of homeless and how you can assist in providing to those who have less in your community.
Do you want to make a difference in your community like Mark Harris? Find local volunteer opportunities.
Share this post