Volunteer Girl Scout Leader Empowers Rural Kids
Meet Daily Point of Light Award honoree Sara Cropp. Read her story and nominate an outstanding volunteer or family as a Daily Point of Light. 
As a child, Sara Cropp was a Girl Scout herself, first as a Daisy and then as a Brownie. She then switched to 4-H, because in the rural part of Upstate New York where she lives, 4-H was more popular. Growing up, Sara babysat regularly for a diverse group of kids. When she went to college where she studied Occupational Therapy (she is now a Certified Occupational Therapy Assistant, or COTA), Sara found a job as a provider who went into the homes of children with disabilities who required assistance. One of these children happened to be a Girl Scout. Sara accompanied this child to Girl Scout meetings and soon became active in the troop. As Sara's daughter entered kindergarten, Sara realized that aside from 4-H, there was not much for local kids to do in their rural community. Sara reached out to a local Girl Scouts troop only to find out that it would not be continuing the next year. She took on the leadership role and that year, she started off with fifteen girls, including her own daughter. 
Now, 10 years later, Sara continues supporting and inspiring young girls in her Wyoming County, New York home as a Girl Scout leader. 
What inspires you to volunteer?
I enjoy taking my skills and using them to empower our girls. My biggest desire is to see them succeed. I love seeing the "aha moments" when they realize, "I can do this!". I enjoy helping the girls grow into the next generation of leaders and I've seen this happen as the older girls in our troop have been with me since kindergarten and they have blossomed into amazing young women.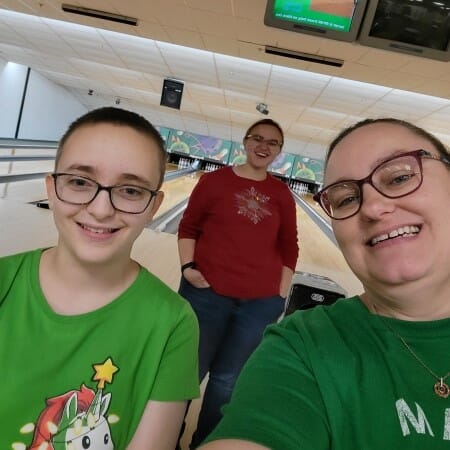 Describe your volunteer role with the Western New York chapter of Girl Scouts of Western New York, Oatka Valley Service Unit.
I have been a Girl Scout leader for over 10 years. I currently run two Girl Scout Troops in Wyoming County, New York. I have one troop of girls from grades K-3 and another troop with girls in grades 10-11. We combine troop meetings and activities when we can to allow the girls to grow and interact with each other.  
I am the Attica troop coordinator and am responsible for recruiting new girls and informing  leaders of any needed information. I have planned and ran a Thinking Day event for our service unit as well as numerous Journey in a Day activities. I often plan day camps for our area as well. I am responsible for managing the various cookie, nut, and candy sales we do for the year and I act as treasurer for both troops. I also organize outings such as going to the Challenger Center. My troops have gone to the science museum, Rock City, Urban Air and various local parks. 
What's been the most rewarding part of your work?
I love seeing the girls grow. It's very rewarding to see the girls take projects through to completion.  The older girls have their own meeting which is followed immediately by the younger troop. The older girls help model behaviors, demonstrate color guard movements and set an example on how to act during an emergency situation. They also help the younger girls with learning and they help me with logistics.   
Younger girls learn about space, basic first aid, making posters for cookie booths, participate in a family heritage presentation, Thinking Day where they learn about our country, and everyone enjoys an Easter egg party. 
Older girls also participate in Thinking Day, but what is most rewarding to me is teaching them about budgeting, planning, outdoor safety and other practical skills. 
What have you learned through your experiences as a volunteer?
Overplanning is never a bad thing. Being overplanned and over prepared takes a lot of energy and effort but it makes everything run a lot smoother! I have learned how to manage different personalities. We're all different and do things differently, but we still have to get along and work together. 
Are there any future partnerships, programs, or events that you are excited about?
We are currently working on setting up day camps, including coordinating volunteers, and reaching out to the community to invite kids into the camp from the community who are not in Girl Scouts. It's a fun week of hands-on activities. About 40-50 girls from kindergarten to high school attend these day camps.   
Why is it important for people to get involved with causes they care about?
Knowing there's a need and not doing anything is a disservice to the community. In our rural community, there's not a lot for kids to do. Kids need to be part of something bigger. You need to see where there's a lack and put your skills to work. 
What do you want people to learn from your story?
We're all different and that's good. The world would be boring if we were all the same! Think for yourself, be you, don't mask for anybody, and then you can shine and do wonderful things. 
Do you want to make a difference in your community like Sara? Find local volunteer opportunities. 
Share this post