Volunteer Helps Provide Respite to Parents Caring for Disabled Children
Meet Daily Point of Light Award honoree Bill Kirchoff. Read his story, and nominate an outstanding volunteer or family as a Point of Light. 
Bill Kirchoff knows firsthand how difficult being a caregiver can be. He and his wife have tirelessly served as the caregivers for their two autistic children, a role that he said sometimes requires a village of support, which is why he has dedicated the past five years to providing care for fellow caregivers of disabled children through the nonprofit David's Refuge. 
In his volunteer role, Bill hosts respite weekends with his wife throughout the year. During these weekends, they lead happy hours, breakfasts and support groups for the parents attending, all with the goal of giving them much-needed rest while also introducing them to a community that understands what they are going through. He also assists with providing gift baskets to parents, mentoring parents, fundraising and a multitude of other needed roles. For their selfless and dedicated work, Bill and his wife were recently recognized as David's Refuge's volunteers of the year. 
Describe your volunteer role with David's Refuge.
It's care for the caregivers. We host parents of disabled children, and we give them respite and caring, loving support in a whole host of different ways, so they can be better at their main role of caregiving. I do a number of things, all the way from driving and giving gift baskets to the different families. I drop things off at the respite weekends, at the bed and breakfast [where the weekends are held], things like the gifts and gift baskets. My wife and I also host for the weekends. Hosting means you're the lead for getting set up for the weekends, planning the weekends and hosting the breakfasts each day and the support groups that go on during the weekend getaways. I have also been a part of a number of different functions of David's Refuge, like manning the booth at different trade events. I'm part of the mentoring program, so I'm a source for parents – usually husbands who need help and support in the process of helping their disabled children. I lead different events like the Father's Day events.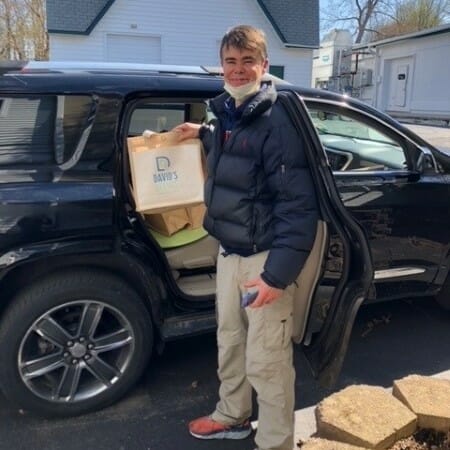 What inspired you to start volunteering in this way?
I have two autistic children. I understand these parents and what their struggles are. It's very personal to me, understanding how it effects the whole family and how the support is really needed for these families so they can continue being that main caregiver. With all the responsibilities that come with the role, sometimes it takes a village to help support those caregivers to keep doing what they're doing, and to have a life of their own. … It's a never-ending job, being a caregiver to the disabled child. Disabilities range. We have some children who are terminally ill with cancer all the way to folks with autism, to mental health challenges, to cerebral palsy. We have a whole host of parents who have dealt with life-threatening conditions that don't allow them to focus on themselves much. This allows them the time to heal and to be at their best. I understand it personally because I've been through it myself.
How do these weekends of respite make parents stronger caregivers?
The weekend is designed as respite to let them know that they're not alone in this. Many parents of disabled children sometimes get so isolated in their world of taking care of the children, taking care of doctors appointments, and all the care and medicine that goes along with it, that they don't have any time to get centered or have support. That means so much to them, because if they're not alone, then they have other people they can talk to, to get them through the tough times. The fact that they've got a loving community around them is so important to them. It was to us when we were going through our struggles with our kids. 
Is there a specific program or event that is particularly meaningful for you?
We just went through host training, where we learned strategies on how to help support people and what our roles can be in terms of support. We're not the doctors, obviously. We're not a faith healer in any way, shape or form. But what we do allow — the learning and listening strategies — has really helped me with these training sessions I've done with David's Refuge. How to listen to these people, how to learn to engage and let them know that they're not alone and that this community of hosts in the David's Refuge's organization understands what they're going through. So many of these families don't have anybody to talk to. Even their own families, in a lot of cases, back away. People don't know what to say because they don't understand how, so it's so important that these training events that I'm going through allow me to be a better listener and better understand what my role is in supporting them. 
What is your favorite part of hosting the respite weekends?
I love the breakfasts. It's such a joyful time. People had time to rest. We have the whole group all around one table and it's basically open conversation. The one thing that we share as hosts that we want them to come away with is that they're not alone and we're here to support them. From there, it's usually an open, lively discussion about things that have happened, strategies and ways they've learned, different medications, different doctors, different techniques of handling things — all of which have been very enlightening to us. 
Do you have future partnerships, programs or events you want people to know about?
The Taste of David's Refuge is a big charity event coming up June 5. That's an event where we do a lot of our fundraising to help cover the costs of these weekends. Not only do we host, but we also provide dinner certificates and baskets of goodies for the families. It all comes out of donations. The Taste of David's Refuge event is one of the big fundraising events of the year. That's a whole other function that I do. I help fundraise and we have in our legacy a gift to David's Refuge, because we understand that it takes a village both financially and with volunteers to make this continue to grow. 
What's been the most rewarding part of your work? 
When I am able to see the results of families staying happy, healthy and balanced. Usually at the end of weekend, I can see what the rest and respite has done for the couples and the single parents. Holding on to hope is so important. People need to hold on to hope that they have a village around them that's helping. 
What do you want people to learn from your story?
I think it's important not to judge families as they're going through struggles. It's more important just to understand and ask questions on how you can help. We've had a number of families who struggle because sometimes their own parents and siblings don't understand and question how they parent. There's a lot of implicit bias against disabilities. If there's one thing I want people to know, it's to try to understand. If you haven't been a part of a family with a disabled member, try to understand it before judging. 
Why do you think it's important for others to give back?  
I think it's rewarding for me. It brings me joy to give back. Once you're brought into it and you see these kids, they're a joy. They're different in a lot of ways, but they bring a lot of joy into the world and it's important that we help foster that joy. 
Do you want to make a difference in your community like Bill? Find local volunteer opportunities. 
Share this post