Volunteer Inspires Community to Connect with Wildlife
Meet Daily Point of Light Award honoree Deb Bouchard. Read her story and nominate an outstanding volunteer or family as a Daily Point of Light. 
When she started volunteering at the Lindsay Wildlife Experience more than 20 years ago, Deb Bouchard says she did not know a thing about animal husbandry and had never touched a bird. 
Fast forward to today. Deb, a 54-year-old Concord, California resident, has interacted with thousands of animals through her service. Lindsay Wildlife Experience connects people with wildlife and also cares for injured and orphaned animals at its wildlife hospital with the goal of releasing them back into the wild. Literally taking her work home with her during the COVID-19 pandemic, Deb received a permit to provide personal care at her home to animals in need of help, her service positively impacting her greater community.  
What inspires you to volunteer?
The people who volunteer and work (at Lindsay Wildlife Experience) are all in. They are very dedicated to what we're doing. I also feel like I live in this world and I should contribute to it in some way. This is my way of helping the environment and helping to counteract my footprint on earth. 
Describe your volunteerism with Lindsay Wildlife Experience.
I am a volunteer species manager which means I oversee husbandry for particular species of animals, the mourning dove and band-tailed pigeon. Wildlife rehab is a lot of cleaning cages and doing laundry! It's not glamorous, but that's a big part of it. I also prepare diets and make sure the diets in the enclosure are appropriate, and am required to draw up and administer medications. My house is considered a satellite site for the organization, so I am permitted to bring animals to my home. My home is quieter than the hospital. I have a dedicated room and I also have a backyard aviary, so I'll typically bring the mourning doves and band tail pigeons to my home when they are stable to rehabilitate and prepare for release.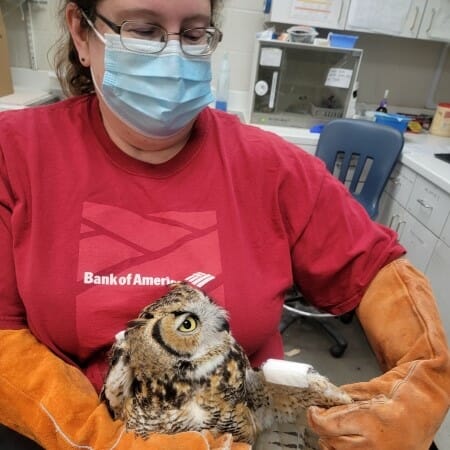 Share one personal story with me from your volunteerism. 
Parents come in with their children, and they've rescued an animal and the kids are invested. During one hospital shift, a young boy had stood up to some bullies who were tormenting a snake. He got them to stop and brought (the snake) to his parents who then brought it to us. That encompasses exactly what we're trying to teach young people and students to do, to care for wildlife. It brought me to tears then, and it's bringing me to tears now. A lot of people are afraid of snakes or don't like them. It's a powerful feeling to teach people to care. I started 22 years ago not knowing a thing; I'd never touched a bird. Now I'm able to teach people who bring in various animals why that animal is important, what's important in the ecosystem and why they should care.  
What's been the most rewarding part of your service? 
I never would have imagined 25 years ago that I'd be able to medicate or handle a hawk. I love learning, and that scratches an itch too, learning more about animals and the veterinary aspect of it. Also, hearing stories like the kid who stood up to the bullies — that is rewarding. 
Explain the balance between your career and volunteerism. 
I work in the technology field for a bank which is all email and phone calls. This (volunteerism) touches a different part of my brain and heart. That is so important for me, as a balance to what I do outside of volunteerism.  
Why do you think it's important for others to get involved?
Volunteering teaches you empathy. You may have a broad sense that you want to work in a particular area, and as you start working in that area, you learn more and you gain empathy for the situation or the organization's mission. You learn a lot and you learn to care in a different way. You go from wanting to help the environment to, 'I have an injured bird and I want it recovered and released and here's why that is important.' Service deepens your connection.  
How have you continued to volunteer throughout the COVID-19 pandemic?
At the beginning, the hospital wasn't allowed to have volunteers in the hospital. The hospital receives (on average) 6.000 animals a year. I was stuck at home, so I raised my hand and asked for all the mourning dove babies. I could feed them at home while I was working. Instead of doing a shift at the hospital, I was volunteering 100% at home and giving animals more personal care.  
In one word, what does volunteering mean to you?
Joy. 
What's the most unique animal you've encountered through your service?
In my 22 years of service I have only held one bald eagle. That was pretty rare. We received a Connecticut Warbler that had screwed up his migration. It was fun to see all the birders get so excited about a bird that we never see in California. 
How can readers help? 
Please visit the Lindsay Wildlife Experience website for more information about how you can contribute.  
Do you want to make a difference in your community like Deb Bouchard? Find local volunteer opportunities. 
Share this post