Volunteer Leads Others to Do Good in North Carolina Community
Meet Daily Point of Light Award honoree Bill Halvorsen. Read his story and nominate an outstanding volunteer or family as a Point of Light.
A chance encounter at a disaster recovery program with a nonprofit executive director led Bill Halvorsen on a path to becoming an incredibly dedicated volunteer in his Raleigh-Durham area community. For the past three years, Bill has served on the board of directors for Activate Good, a Points of Light Global Network affiliate that connects people to volunteer opportunities.
He also serves as a volunteer leader and volunteer for Activate Good, which has led him to frequently volunteer for the Food Bank of Central & Eastern North Carolina. He has been very involved with their Middle Mile Food Rescue, a program where volunteers transport food from donors to food banks that is in its inaugural year. Bill is also on the board for A Place at the Table, a pay-what-you-can cafe that he helped to partner with Activate Good.
Describe your volunteer role with Activate Good.
Activate Good is a Points of Light Global Network affiliate here in the Research Triangle of the Raleigh-Durham area. Like any connection center, our mission is to connect people to purposeful activities with our nonprofit partners. I am a board member as well as a volunteer leader and a volunteer. One of the great attributes of Activate Good and having an organization like that in the nonprofit volunteer community is a lot of times volunteers want to show up and disengage ownership and thought process. As a volunteer leader, it's program management, logistics. What we do is first communicate with the partner we're going to be having an activity with, whether that be a one-off or a regularly-attended volunteer activity. The food bank is probably one of our most popular and longest-established programs. We understand what the requirements are of the nonprofit and we guide and shepherd our volunteers through whatever the logistics of the nonprofit are and the activities of that day.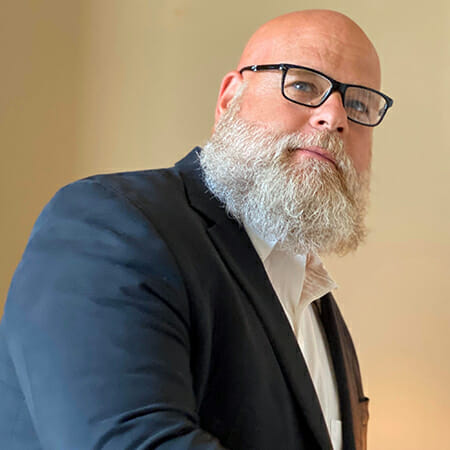 What made you want to become more involved in Activate Good?
The impact that Activate Good has in the community. I find for myself, and the other volunteers I talk to and interact with, they like the diversity. Most nonprofits would prefer [volunteers] come to the food bank every time. Realistically, people will want to diversify and change programs through the season or through their ability to volunteer. Activate Good at the foundational level enables peoples' ability to do good through finding projects and having projects suited for diverse communities.
What do you do with the Food Bank of Central & Eastern North Carolina?
There's two major activities we do with the food bank. The food bank itself is constantly needing to sort and prepare bulk foods for distribution to some of their 900 pantries and partners. On a regular basis, two to three times a week, we have teams of Activate Good volunteers at the food bank sorting several thousand pounds of produce or different food stock to prepare to be distributed out to the food bank's 900 partners.
The other aspect I do with the food bank is called the Middle Mile program. It's connecting producers to the needs. Obviously the food bank gets truck loads of food in from all sorts of sources, mainly grocery distribution-type stuff, but they also have and want to connect with the local producers. It could be a farm that's producing excess amount of lettuce or sweet potatoes or any number of produce and that producer wants to donate their excess to the food bank, or it could be an individual grower who may have grown 200 pounds of asparagus or lettuce or sweet potatoes. Instead of sending out a semi-truck to that location to pick up that, the Middle Mile is volunteers willing to connect the producer with the donation center. Sometimes we bring the donation back to the food bank and it gets absorbed in their common stock that they distribute, or the food bank connects with their 900 nonprofits and lets them know of a certain donation. … We deliver it directly to pantries or a soup kitchen or an entity that's a partner of the food banks so they can get that produce in hand and out the door to the community who needs it.
What is your volunteer role with A Place at the Table?
A Place at the Table is a pay-what-you-can-afford cafe. It's in its fourth year. It's been around in concept almost nine. A Place at the Table from the outside looks like any coffee shop, deli or cafe, but their mission is anybody eats. That means someone can give you a token for a pay-it-forward meal, you can pay with just three dollars for a five star meal or you can volunteer for that meal. Great concept. … In April of 2017, we started every Sunday having an Activate Good day. We took over the entire shift, which is about 12 to 18 volunteers. The way the model of the restaurant works is the front of the house, the people who run the food, who bus the tables and who wash the dishes are all volunteers. The only paid staff are the cooks and management and they earn a living wage. It was a great marriage. We had a lot of volunteers who wanted to connect with the community.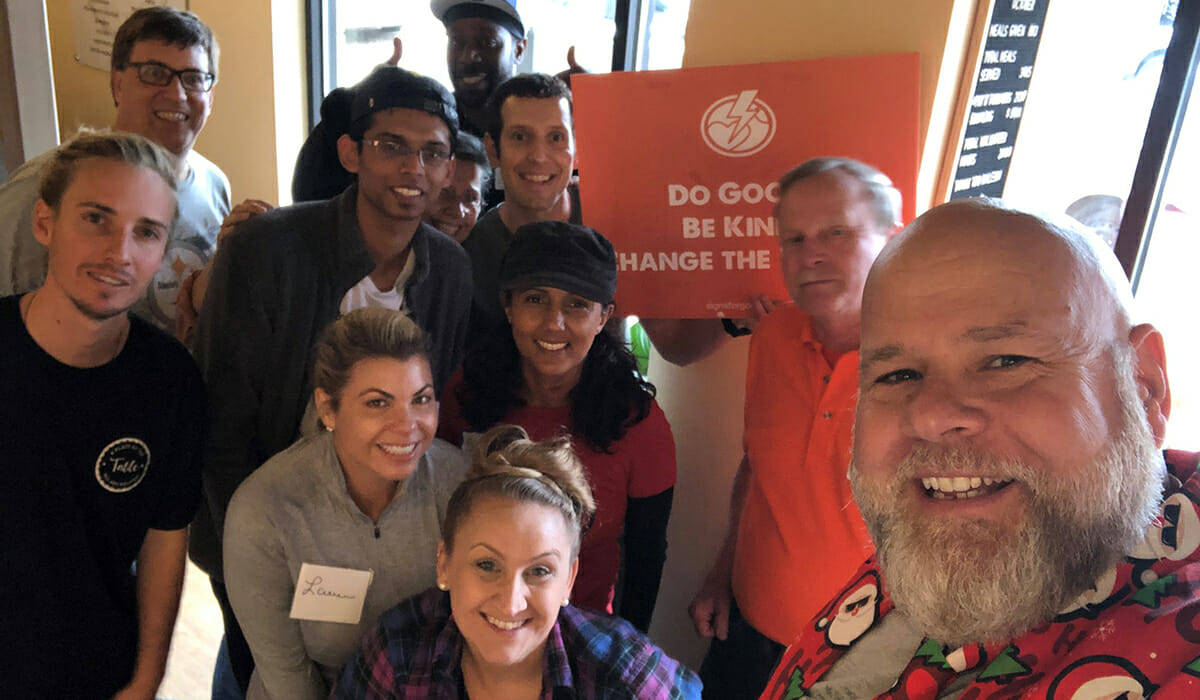 Do you have any memories from your time volunteering that really stick out to you?
At A Place at the Table, we have a lot of community volunteers who volunteer for their meals, but the meal is not the most important thing. One of the things I've said to people I talk to in the community about the impact we have, is you could be hungry, you could be homeless, you could be an addict — what finally breaks them is the invisibility. People look through them. On more than one occasion, I had a young man who came to the cafe, and we don't know their story. We don't really care about their story, we just care about them. He stayed there for almost a whole day. He volunteered for his meal and he interacted. At the end of the day, he said to me and a couple others, "You saved my life. If one more thing bad happened to me, I was just going to end my life. I was preparing to end my life, but you guys showed me people do care and there is a place I can feel redeemed and worthy and acknowledged. Not fed, not catered to, but just acknowledged." There was a major impact that resonates with me as why you might serve coffee 100 times to people and then the 101st time is the person you make a connection with and an impact.
Another time was this young lady didn't seem like she had anything going on, but she was very quiet and she volunteered for her meal. I knew she needed more than being sat at a table or on a countertop and fed. She needed community. We have what we call a 'community table.' It seats six or eight, and we tell people we might have other people sit with them. I had just placed a family of four at this table. They were just regular diners, nothing special, and I asked them if this girl could sit with them because she needed community and they said fine. Well that family sat there for two hours and there were some tears shed on that table. She told them her stories. She told them how bad off she was. She was living on the streets. She came back several times. Part of our mission and what we do is we connect people with information about where to go in the Raleigh community to get assistance. About two and a half months later, she has a place to stay, she has a job, she was getting off the drugs and her whole life had been changed. I can't say that event is what caused it, but I would like to say it was one of the connections that helped her find the path forward.
Why do you think it's important for others to give back?
I think it's in our DNA. I have never had a volunteer have a bad experience when they're doing good. Some people think volunteering needs to be a martyrdom. 'Oh, I sacrificed' or 'I witnessed your pain.' You can have fun. When volunteers are with me at the food bank or wherever we're at, doing whatever menial task, my goal is we're having fun. It's all about community and experiencing that together, and knowing not only that you're having an impact, but knowing you're having an impact with fellow humans. It's important that doing good doesn't mean you have to be a martyr or you can't have fun doing it. Some of the funnest experiences I had was cleaning up after protests because the people I was with celebrated the fact we could help out.
What do you want people to learn from your story?
We all can make a change. We all can make an impact. The smallest act can have the greatest rewards in someone's life.
Do you want to make a difference in your community like Bill? Find local volunteer opportunities.
Share this post