Teen Leads Peers in Promoting Mental Health Awareness Around the World
Meet Daily Point of Light Award honoree Aparna Ramakrishnan. Read her story and nominate an outstanding volunteer or family as a Point of Light.
Seventeen-year-old Aparna Ramakrishnan has struggled with her mental health for many years. She first exhibited symptoms of anxiety and depression while she was in seventh grade, and went a long time before she was able to get the help she needed. After finally getting help, she realized that if she had better mental health awareness, she would have recognized her symptoms and been able to reach out for help earlier.
Deciding she didn't want anyone to struggle like she did due to inadequate education, last year the Lisle, Illinois resident started Beyond Charity — a nonprofit that provides free, peer-led mental health education presentations to kids. In the last ten months, they have delivered presentations to over 10,000 students not only in the United States, but also in India, Kenya and Rwanda.
"Mental health has always been such a repressed topic that's never spoken about in families or schools," Aparna said. "Now that it's starting to come out of its shell, I really want Beyond Charity to propel that growth so kids and adolescents know that it's OK to not be OK."
What makes the presentations unique is that Beyond Charity tailors them to whatever mental health topic the teachers, clinics or counselors they're working with would like their students to hear. The presentations, which are mainly online due to the COVID-19 pandemic, emphasize how common mental illness is in teens and adolescents, and also delves into common mental illnesses such as anxiety, depression, bipolar disorder, ADHD, OCD and PTSD. All of the information they share has been looked over by their board of directors, which consists of licensed counselors, a physician assistant who specializes in psychiatry, and a community organizer.
All the presentations are delivered by Beyond Charity's teen volunteers, who share stories about their own experiences with mental illness. They also discuss over 20 different coping strategies for different mental illnesses. The presentations currently have a 97% peer-to-peer recommendation rate.
Aparna said because not everyone is comfortable sharing their mental health stories publicly, it's important for extroverts like her to speak out and try to help others feel more at ease discussing the topic, so it "becomes an open conversation instead of one held behind closed doors." Along with the coping strategies, the personal stories are frequently students' favorite parts of the presentations.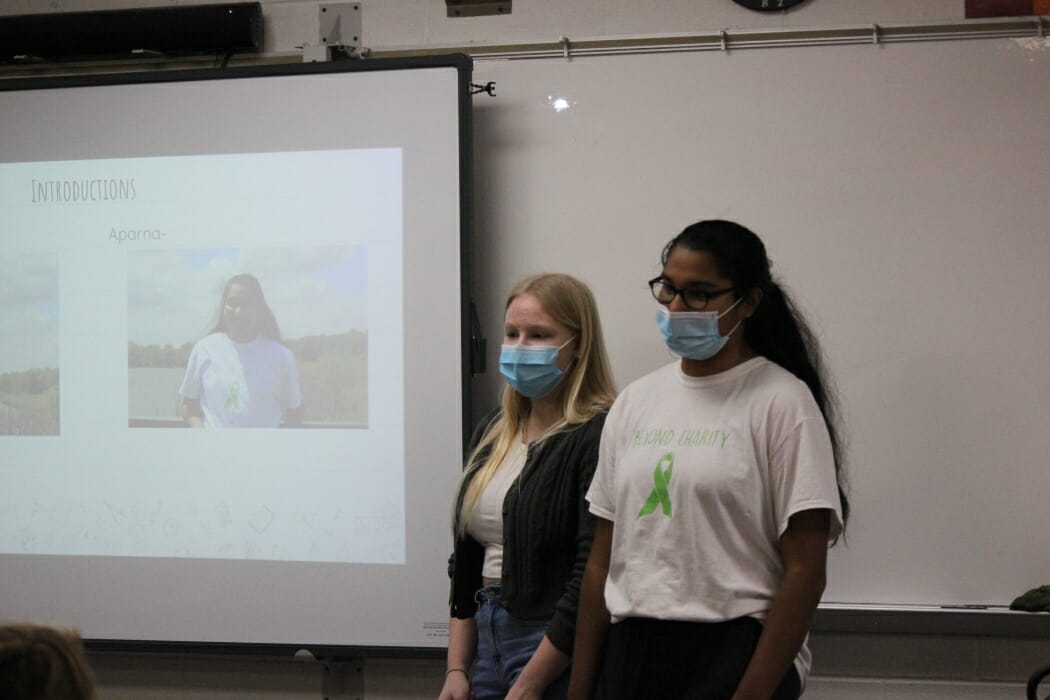 "They understand that we were just in their shoes a couple years ago," Aparna said. "If they are going through anything similar to this, they see there is something better on the other side, and they're able to either reach out to us or reach out to a counselor or a parent so they are also able to get the help they need."
In addition to Beyond Charity's educational work, they are also lobbying for a bill in the Illinois Senate that would  mandate that schools provide student identification cards to include suicide prevention lines on them.
Aparna was inspired to advocate for the bill after seeing help lines listed on the back of her older sister's college ID card. After an enthusiastic response to providing help lines from her own high school — which will be implementing their new ID cards this upcoming school year — Aparna decided to try to make the change statewide. Beyond Charity worked with a legislative team to draft the bill, HB1778, named the Beyond Charity Law. Last month, it passed the Senate.
Luka Sereci, Beyond Charity's Vice President, wanted to become involved with the nonprofit after dealing with his own mental health issues. However, he said he worried at first that all of Aparna's ideas would be a lot for them to take on — only to be proven wrong by his friend's maturity and driven work ethic.
"To be honest, I kind of underestimated Aparna's power and the level she is self-disciplined," Luka said. "She works really hard to get what she wants and she knows what she wants, which is great."
Aparna's hope is to one day become a psychologist, a goal inspired by her own struggles with finding a child psychologist in her area. Her work with Beyond Charity has only reinforced her desire to work in the mental health field.
"It's not about the number of students you reach, but just that one person who takes that extra step because of your presentation and says, 'OK, it's time for me to reach out for help,' and gets better after and is able to utilize the coping strategies and truly understand what mental health is," Aparna said.
Do you want to make a difference in your community like Aparna? Find local volunteer opportunities.
Share this post