Volunteer Matches Buddies for Mentorship, Friendship and Support
Meet Daily Point of Light Award honoree Danielle Williams. Read her story and nominate an outstanding volunteer or family as a Daily Point of Light.  
Since 2013, Danielle Williams of Newark, Delaware, has volunteered with Best Buddies Delaware, an organization that creates opportunities for one-to-one friendships, integrated employment, and leadership development for people with intellectual and developmental disabilities (IDD).  
Danielle co-chairs Bank of America's Delaware chapter, which is the organization's second-largest chapter in the world, having matched over 70 buddy pairs. She personally spends 200 to 400 hours a year volunteering for the program and, after a decade, her passion hasn't waned. Through Best Buddies, Bank of America employee volunteers are matched in a one-to-one mentorship with a Support Services employee who has an IDD.  
Find out how Danielle lends her time and talent to this cause and what inspires her. 
Describe your volunteer role.
I co-chair the Best Buddies Delaware chapter at Bank of America, along with co-chair Krista Scott. As a volunteer, I spend time with my own best buddy, Margaret, as if she was part of my family. As co-chairs, Krista and I create and hold numerous events throughout the year, and attend events for our chapter. 
We try to be as inclusive as possible with the planning of these events. There are people in wheelchairs, people who can't read… so we try to make our events fun for everyone. We manage the events, coming up with our own games and awards for everyone.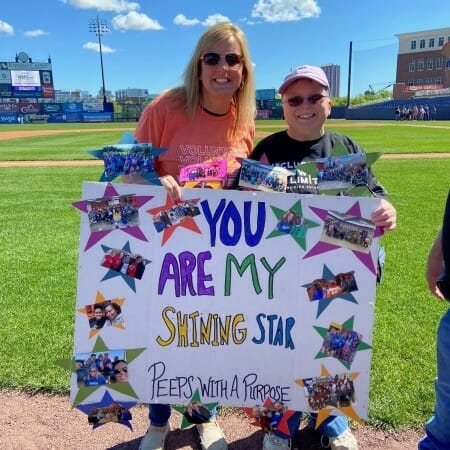 The program we have is about mentoring and growing friendships, focusing on inclusion and being a role model for our buddies. We try and help them overcome fears, encourage them to do things that will boost their confidence and assist them with life events. 
Some of our chapter events include our annual Fall Fest – which takes 50+ hours to prepare, including coming up with games, shopping for prizes and supplies, coordinating food and providing recognition. We also created a mock event for "The Voice" (including red carpet, TMZ reporters, live judges… you name it, we had it!). We organize karaoke, bingo, bowling, mini golf, craft nights, holiday mall event and monthly lunches. We attend larger events such as professional baseball games and an annual Longwood Gardens night during the winter, along with bowling events and dances. And we manage the "matches" – interviewing and matching "citizens" and "buddies." 
What inspired you to get started with this initiative?
I've always had a passion for helping others. When I first was introduced to this program a decade ago, I fell in love with it. At the bank, we have a department called Support Services, where we employ individuals with IDD. Krista first walked me around and I met the employees there, just seeing people and being introduced to them, seeing how excited they were just to say hi… from that day forward, I joined and have been involved ever since. 
Are there any rewarding stories from your work?
We have karaoke nights. A lot of people are shy, and they don't like to speak out in front of people. But let me tell you, when they have a microphone in their hand, they are a completely different person! Screaming and singing at the top of their lungs! Dancing, throwing their hands up, getting their friends involved. It just melts my heart. 
Another situation that was very inspiring was when we had someone join the program who couldn't read. This woman was in her 40's, and her buddy has been working on literacy with her over the past two years. She is now at a first-grade reading level, which is a remarkable amount of progress. She's come such a long way – it's amazing. 
My buddy, Margaret, grew up with her parents and her brother who also has an IDD. Her brother moved out years ago but visits each week. Their father passed in 2016 and in July 2021, their mother passed away unexpectedly. This left both siblings at a complete loss – not knowing where to begin in planning a funeral or taking ownership of the family home, plus all the responsibilities and bills that come with this situation.  
This is where I stepped in – being cautious that I wasn't overstepping. In reality, I was all Margaret really had, aside from her lifelong best friend. That being said, I assisted Margaret with funeral plans. I made very personal phone calls to the hospital, wrote the obituary, dug for details of their childhood memories and also wrote a eulogy and spoke at the funeral, helping pick out clothes for her mothers' departure – all while being by Margaret's side the entire way. 
Any lessons you've learned along the way, or things you'd do differently?
Some of the lessons are more specific to our chapter. For instance, we wanted to increase the compatibility of our matches, so we implemented an interview process five or six years ago. Through this process, we can better match people who have common interests and live close by, which makes the buddy relationship and time spent together much easier for everyone. 
We've had pairs matched for 13 years… some of these buddy relationships can last a lifetime. Buddies become part of your family. They come to your Christmas Day, your barbeques at home. People who have left the bank have even stayed part of the program because they were so bonded with their buddies.  
What's your advice for people who want to start volunteering?
Time is our biggest ability to give back. Once you're volunteering, it just becomes a part of you. Being able to change lives one day at a time, one person at a time, to just be there for somebody, is so impactful. You're giving your time… and who doesn't want that? 
Do you want to make a difference in your community like Danielle? Find local volunteer opportunities.  
Share this post