Georgia Senior Brings Comfort and Care to Families One Lasagna at a Time
Meet Daily Point of Light Award honoree Lynn Hirsch. Read her story and nominate an outstanding volunteer or family as a Daily Point of Light.
Lynn Hirsch, 71, is from a tight-knit family. She and her husband, approaching their 50th wedding anniversary, have known each other since they were two and four years old, respectively. Together, they have three kids and, now, five grandsons. They take family trips and celebrate special occasions as a unit, so when the COVID-19 pandemic hit, things got rough. It was the isolation of moving to a new town followed quickly by the pandemic lockdowns that led Lynn to volunteer with Lasagna Love, an organization she saw on The Today Show, as a way to meet her neighbors and do something meaningful.
For nearly three years, she has brought comfort food to anyone who requests it. Recipients may be dealing with health issues, adjusting to life with a new baby, working overtime at the hospital or managing any number of stressful situations. Finding purpose and new skills, Lynn uses her role as Outreach Director with Lasagna Love to train organization leaders, form partnerships, coordinate volunteers and more. Her husband, a retired physician, serves as a sous-chef and driver when they make and deliver pans of homemade lasagna.
What got you interested in cooking?
Growing up, my mother didn't want our help in the kitchen, so I didn't grow up learning how to cook. I got married right out of college, and my husband had to show me how to make spaghetti.  It's been a work in progress over the years. I always cooked for my family, but I never made lasagna. When I started with Lasagna Love, I had to learn how to make it. Now I've made hundreds. 
What inspires you to volunteer?
When my kids were young, I volunteered at their schools and was president of the women's group at my synagogue. I always did it for the better of that institution or group. 
When we moved near our son to help with the grandkids, COVID hit and they decided to sell their house to travel the country in an RV. We didn't know anybody, and nobody was meeting anybody at that time. Everything came to a standstill, and I didn't have anything of importance to fill my hours. Volunteering with Lasagna Love was a great opportunity, because it was contact-free. I cooked in my home, and then I would drop it at people's front doors.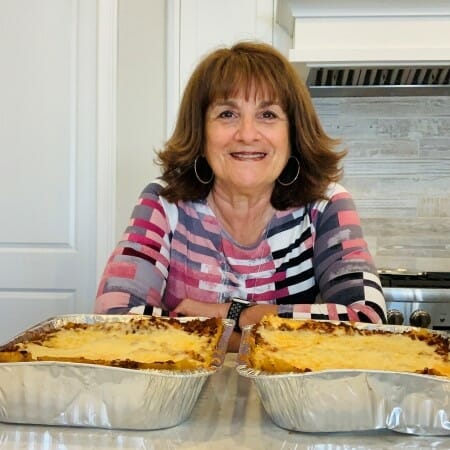 I've also sporadically volunteered at the Ronald McDonald House. My sister lost a child, and she stayed for a very long time at the one in Atlanta. I always wanted to give back, so our family would cook meals there. When I got involved with Lasagna Love, I reached out. Now, I organize the Casserole Club. We go once a month and make a dozen casseroles or lasagna to put in the freezer for nights they don't have food delivered.  
Describe your volunteer role with Lasagna Love.
When I joined there were 500 volunteers and now at least 45,000 people have delivered lasagna over the course of three years. I started as a lasagna chef and realized that the only way Lasagna Love was going to grow was with outreach, which means social media and reaching out to media outlets. I started doing that on a really small scale. Leadership saw some merit in it and made me Outreach Director, which covers all 50 states, Puerto Rico, Canada and Australia. 
I train the leaders. I created an Outreach Toolkit, which contains sample social media posts, sample emails that they can send to groups and organizations and the media, and tips and tools to let the world know about Lasagna Love and what we do. We're brand ambassadors. I try to arm volunteers with materials that will be helpful for making first contact. I also build partnerships and recruit and match volunteers with families in need in my area. 
What's been the most rewarding part of your work?
First and foremost, it's feeding the families. We don't do this for thank yous, but it's always nice when you get an email or a text telling you how much someone appreciated it. It's also been great for me, because I've learned so much in my role. 
What have you learned?
I wasn't very tech savvy when I started this, but I know so much now. All of the leadership is young, so I call myself the matriarch of leadership. They've taught me so much. I create things on Canva, and I know how to run Zoom meetings. We have a new database called Tableau that I'm learning, and I know how to make spreadsheets and create content for social media.  
I manage five email inboxes and use Bitly to track links. My Instagram account is public so that I can tag our partners and they can see my posts. I wouldn't have ever done any of these things on my own without the encouragement of the people I work with. 
Are there any future partnerships, programs, or events that you are excited about?
We celebrate National Lasagna Day, which is coming up on July 29, like it's our Mardi Gras. We're hoping to deliver 10,000 meals from July 21st to the 30th. Usually, we deliver 3,500 meals in a week, so it's really been amped up to clear out the backlogs. 
Carrabba's Italian Grill is a partner each year for the occasion, and they provide us with 10 lasagnas at each of their locations – 2,000 in all – for our volunteers to deliver. Ragu provides sauce to some of our communities having big events. Galbani Cheese is another supporter. There are many partners, and they've all made monetary donations, too. 
We're also aiming to raise $100,000 and get 1,000 new volunteers in the month of July. On the day, July 29, our founder is going to host a lasagna-thon, on a Zoom or Facebook Live for two or three hours with guest chefs.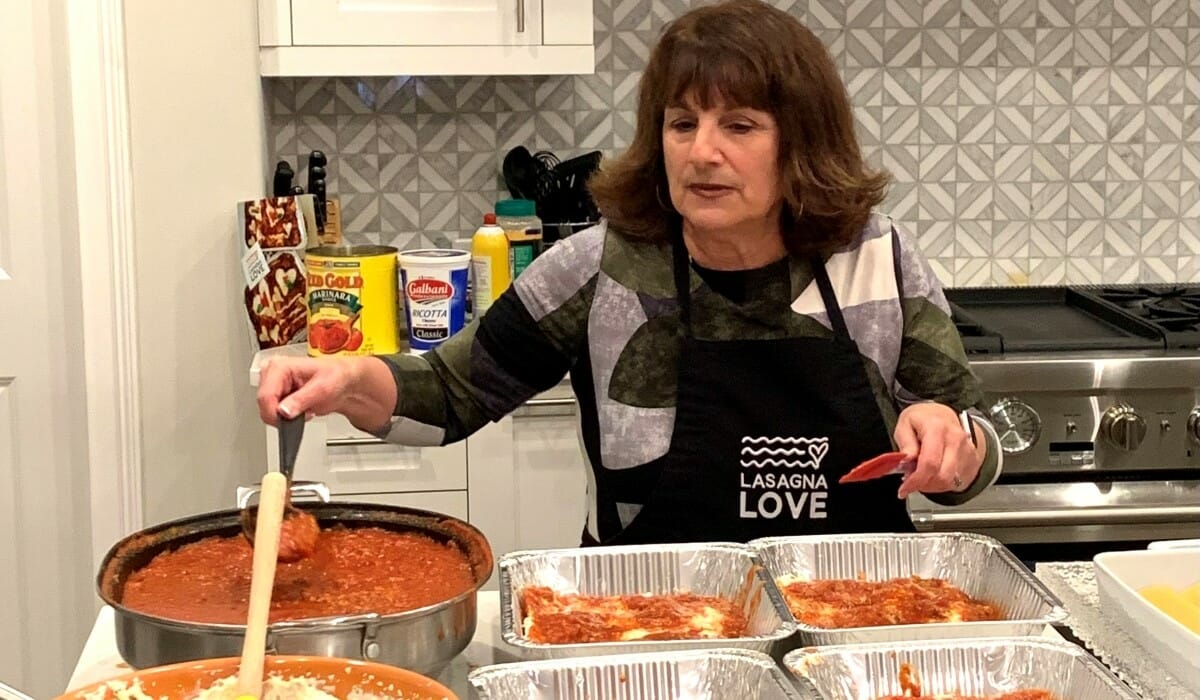 Why is it important for others to get involved in causes they care about?
The only way we can make this world a better place is by spreading kindness. Any volunteer work that you do is spreading kindness, whether it's delivering a meal or mentoring a child. Our main tenant at Lasagna Love is "Feed families. Spread kindness. Strengthen communities." 
What do you want people to learn from your story?
You're never too old to start something new in life. It's important for me that people know that when they volunteer their time, the rewards are as great for them as they are for the people that they're helping.  
What's the key to a good lasagna?
Patience. And the one thing I will never change in my recipe—I'll use different sauces, noodles, meat, etc.—is the use of fresh parsley in my ricotta mixture. I don't know if that's the key to it, but that's my constant. No matter how it's made, no matter how you vary the ingredients, the fact that you're delivering it to a family who needs some comfort, makes it the best lasagna that they'll ever taste. 
Do you want to make a difference in your community like Lynn? Find local volunteer opportunities. 
Share this post