Volunteer Offers Compassion and Company to Elderly Patients
Meet Daily Point of Light Award honoree Rita Musser. Read her story and nominate an outstanding volunteer or family as a Point of Light. 
After growing up in the same house as her grandmother, Rita Musser developed a lifelong love for spending time with older individuals. When a representative from Freudenthal Home-Based Healthcare visited her church looking for hospice volunteers, Rita knew right away she wanted to help out.  
Freudenthal provides both hospice and in-home care to elderly in need in the St. Joseph, Missouri area. Twice a week, Rita visits with two different Freudenthal clients — listening to their stories, going through their photo albums, making sure they're feeling well, singing hymns with them, and generally providing comfort. When the Covid-19 pandemic prevented in-person visits, she continued to call them and send cards. 
"Their families can't be there all the time, so I'm kind of a stand-in for their family, which is a great privilege," Rita said. 
Describe your volunteer role with Freudenthal Home-Based Healthcare.
They assign me people to visit and I try to visit them twice a week. I go wherever they are. I have one lady who lives at home and I have one gentleman who is at a nursing home. … I go in and first thing I always ask is if you're hurting anywhere. If that answer is "No, I'm fine," then I let that go. If not, I will call the nurse's line and let them know they're in pain. … If they have hobbies, we'll do that. A normal visit is pretty much just listening, getting mail, and sometimes if they leave out lunch, I'll fix her lunch for her so she'll eat.  
What made you want to volunteer in this way?
The young lady that's in charge of Freudenthal in St. Joseph's volunteers came to our church and spoke. I love older people, I really do. I was raised with my grandmother living with us, so I just really like them. I said I would love to do that, so that's how I got into it. I'm very comfortable with older people.  
Why is it important for elderly patients like those you work with to have regular visitors?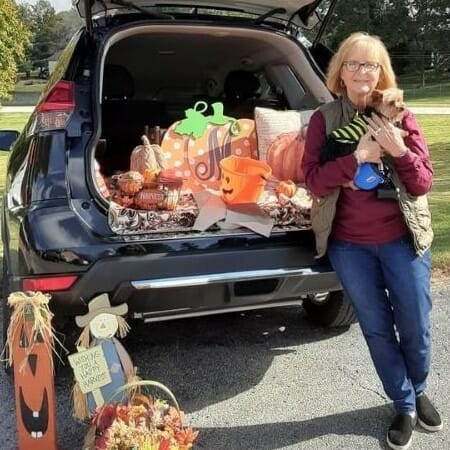 They both look forward to it so much. They know what day I'm coming. If I happen to go a different day, they always wonder where I've been. They need the companionship. I have learned so much from them. They need to be able to tell their stories. They need to be able to feel important to someone. 
Is there anything you would want people interested in volunteering in this way to know?
They're just such a blessing. They're such a joy to be around and listen to. They share their hearts, and you don't get that just with a quick visit in and out. They tell you their fears. They're at the time where they're beginning to face eternity, and they are just such a blessing. You get more than you give, always.  
Why is it necessary for volunteers to support
Freudenthal
and other hospices?
When a nurse goes, they have a purpose. They have a reason to be there. They check them over. Freudenthal is wonderful. They truly care about their patients, but they can't just go and sit and listen and be there for them, and a volunteer can. I have my lady in St. Joseph to see, and she says, "You came just to see me?" And I say, "Yes, I'm not doing anything else, I just came to see you." That's important to her. 
What's been the most rewarding part of your work? 
Getting to know them as individuals. I like people and getting to know their personalities and what they're like. We laugh a lot and have a good time. It's such a blessing to know them. You really get intimate with them. It's not like you just go visit somebody in the hospital or something. You're on intimate terms with them and that's what's truly rewarding. 
Why do you think it's important for others to give back? 
I'm a Christian, so I believe the Lord has called us to love. That's the main thing. If I can love these people, help their end times to be productive, and for them to feel like they matter and they care and somebody's walking through it with them, that's a ministry. Anybody can give back. You don't have to be a Christian, but that's just my motivation, to love on people.  
What do you want people to learn from your story?
You're never too old or too young. You don't have to have special skills. You just have to have a listening heart and have some time. Sometimes it's not convenient to go, but we go anyway because we know what it means to them. 
Do you want to make a difference in your community like Rita? Find local volunteer opportunities. 
Share this post