Volunteer Offers "HOPE" to Memory Loss Care Partners
Meet Daily Point of Light Award honoree Julie Donovan. Read her story and nominate an outstanding volunteer or family as a Daily Point of Light.
As a leader for some of the hundreds of support groups facilitated by HOPE Dementia Support, volunteer Julie Donovan describes a sense of family as individuals experiencing a range of different circumstances join together.
"One gentleman wandered in, he'd recently been diagnosed with dementia," says Julie. "What a gift (he was). Then, another new person joined and brought her husband who was diagnosed with dementia. They shared the kind of things we're talking about. The people in HOPE's groups are amazing because they support each other. They know when somebody's having a hard time, and they're there for them."
An organization that provides support, education and advocacy for people caring for a loved one with dementia, HOPE enhances quality of life through an incredible network of dedicated volunteers and participants, says Julie, a Vancouver, Washington resident. Raised as a child to make a difference through service, Julie grew up helping to care for her neighbors and family. Her service with HOPE spanning nearly a decade, currently as the organization's vice president, is made stronger by her lifelong commitment to helping others.
"There's a lot of volunteers working hard to be there for HOPE. Some have experienced dementia directly with a loved one, some because they're passionate about the geriatric field. It takes all of us, and there are no lone rangers. We all come into this world with gifts or talents or abilities. Those gifts are theirs to share."
HOPE connects with thousands of care partners and their loved ones living with dementia, wherever they are living, including home, assisted living or memory care facilities. Using her gift to help by facilitating life-changing support, Julie helps others to cope through programs including Celebrating Dreams and MaryAnn's Babies.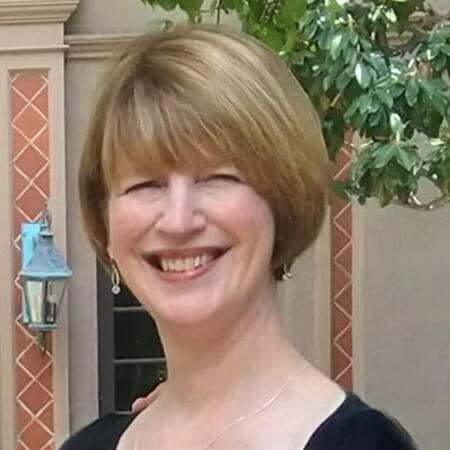 "One of the members of my group, the love of his life resided in an adult family home up north, and he didn't have any transportation to see her. Every once in awhile he'd get up to see her, and would also video chat with her. Eventually she got to a point where she couldn't communicate any more. He experienced this loss, a feeling of not being able to connect. Through Celebrating Dreams, we got him up to see her once a month, and he could hold her hand. It changed his world. She is gone, but he still talks about (that time) now. I feel grateful that I had that ability to help and that he was open to it."
One of those personally touched by Julie's volunteerism, Robert Rez, a former member of a HOPE support group and community volunteer, says Julie's balance of intuition and empathy is the key to her success in helping so many.
"As facilitator, Julie creates a place of order that's not often found in the lives of caregivers or others," says Robert. "These are mothers, fathers and children who don't often have the freedom to have order in their life. We all give, and I've seen her give of herself. (Julie) helps to put off pressure we are going through as caregivers or spouses of caregivers."
In addition to her volunteerism with HOPE, Julie has dedicated her life to working with the senior community professionally, and also serves as a leader in the Life Transitions End of Life Coalition which provides education to the community in providing care at the end of life and in completing advance care planning. When HOPE was forced to adjust their programs because of the COVID-19 pandemic, Julie's tech savvy came in handy, using her skills to help support groups continue their activities almost seamlessly. Across her many service achievements, Julie maintains that she is just one part of a greater effort to better lives, and says the work isn't done.
"Our goal would be to have more volunteers, to be able to provide more support for those that are walking that journey. Once we are back in person, we hope to expand our programs, including a combined program for care partners and those diagnosed with dementia. It's not about me, I really feel like a facilitator in anything I do. Volunteering is an opportunity where I might be able to help open a door to something and enhance a person's life in some way."
There are daily examples of how Julie's dedicated efforts are breathing life into relationships and families that are often permanently altered by memory loss. According to Robert, Julie is a trusted friend who is showing people a new path in life, and letting them know they are not alone.
"She is a support person for people whose lives have been broken. Your whole life changes (after memory loss) and she provides different venues for us. It's all about balance. A HOPE credo is, 'You are not alone'. Julie shepherds our family, that's what our support group has become. Even after my partner passed away in November 2019, I still go to group meetings because they're family and we support each other. It's because of her guidance that we've developed these relationships and we're not alone."
Do you want to make a difference in your community like Julie Donovan? Find local volunteer opportunities.
Share this post