Volunteer Pharmacist Spends His Weekends Giving Quality Care to His Community
Meet Daily Point of Light Award honoree Dallas Smith. Read his story and nominate an outstanding volunteer or family as a Daily Point of Light. 
During the week, Dallas Smith is an epidemiologist for the Centers for Disease Control and Prevention (CDC). Then, in his spare time each weekend – which he still managed to find even during a global pandemic – he volunteers as the director of Pharmacy at Clarkston Community Health Center (CCHC) in Clarkston, Georgia.  
CCHC is a nonprofit organization that provides medical care to uninsured individuals in the surrounding area. With volunteers such as Dallas, who is a pharmacist by training, the free clinic can offer professional attention for patients in the community who aren't able to afford care at for-profit clinics.  
Dallas started spending his weekends at CCHC in early 2020. Between working at the CDC and volunteering at CCHC, Dallas feels he has the best of both worlds. "It's really nice to work with population-level health [during] the week, and then getting that one-on-one patient interaction by volunteering at Clarkston on the weekends," Dallas says.  
Making a difference in a tight-knit community is something that Dallas found he is passionate about, even before he arrived in Clarkston. First, he worked as a Peace Corps volunteer for two years in Cambodia, and then another year in Malawi.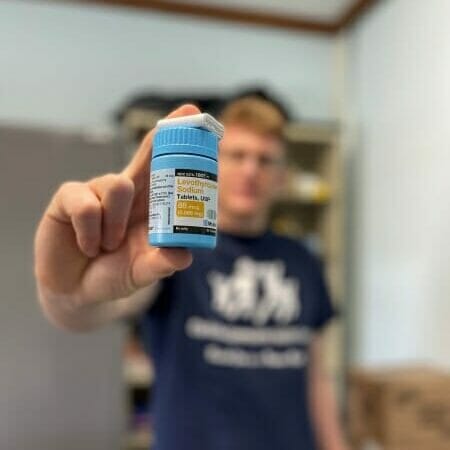 "What I really loved about Peace Corps was being able to make an impact in the community that you live," Dallas says. His time in the Peace Corps is what inspired him to get involved with CCHC when he moved from Malawi to Clarkston due to COVID-19. He says that being able to volunteer at a clinic that is serving those who he interacts with daily is his favorite part of the job.  
Also at CCHC, Dallas is tasked with training new volunteers at the clinic. The care patients get at CCHC is top notch, and Dallas credits this to the volunteers.  
"Training is one of the coolest parts of the job, because the people who work here want to be here," Dallas says. Also, he finds he learns more about the patients they serve through the new volunteers. Some of the volunteers are refugees, or have family members who are refugees, so they help inform Dallas and CCHC about cultural differences or assist with language barriers. A majority of CCHC's patients are displaced people, so with this insight, Dallas feels he can connect with patients at a deeper level.   
However, providing care at a free clinic has its challenges. Free clinics are provided medication from drug distributors on a donation basis. Whereas a typical, for-profit pharmacy has access to all drugs that are offered on the market, the types of medications and the supply of medication can fluctuate at CCHC depending on what has been donated to the clinic. But Dallas doesn't let this hurdle impact the patients.  
"Everyone deserves high quality, comprehensive care," says Dallas. In these circumstances, the pharmacists strive to be well-informed on what is the free clinic's best option for the patient, as well as offering guidance through side effect management and holistic health care.  
Dallas has taken on this challenge in stride. One of his personal goals is to expand the number of drug distribution partners, and the amount and diversity of medications that CCHC can offer onsite to its patients. There are instances where patients are offered to get specific medications filled elsewhere, but Dallas understands that some patients have transportation limitations. He says it's incredibly important to "be able to make the connection from a patient coming into the clinic, being seen by a clinician and then getting the medications – offering them a one-stop-shop." 
When he first started at CCHC there were two drug distributors that partnered with the clinic, but Dallas has grown that number to approximately five companies. This has had an astounding effect on how many medications CCHC is able to offer the community. On top of accumulating more distributors, Dallas has also been an advocate for a monthly budget for the pharmacy. The budget is used to purchase some of the more expensive but essential medication that the pharmacy can't receive through charitable donations. With extra funds, patients can still receive free care, while also being able to have access to more expensive prescriptions.  
The numbers don't lie. With Dallas's leadership and CCHC's extraordinary care, patients in Clarkston are receiving more care. In the beginning of last year, the health center filled 202 medications a month. Now, the health center is filling 1,518 medications a month.  
Dallas encourages others to think local and find ways to make an impact in their community. 
"Go next door and volunteer at a clinic or figure out ways to directly contribute to the betterment of the people who you live around," says Dallas.  
Do you want to make a difference in your community like Dallas? Find local volunteer opportunities. 
Share this post