Retired California Chaplain Volunteers on Board Historical Aircraft Carrier
Meet Daily Point of Light Award honoree Paul "Chappie" Ward. Read his story and nominate an outstanding volunteer or family as a Daily Point of Light. 
When Paul "Chappie" Ward retired in 2018, he knew his call to serve was not over. Ever since he visited the USS Midway, an aircraft carrier formerly of the U.S. Navy, he's been passionate about sharing the stories of the men who served on the vessel. Chappie has volunteered 7,300 hours aboard the ship, with the focus of teaching visitors to "connect the story with the steel."  
Chappie says that his love for history, paired with his appreciation for those who serve our nation is what drives him to repay back what service men and women have done for him. One of the most powerful parts of the job is sitting on the USS Midway while looking across the San Diego Bay and seeing the ships that are currently serving our country.  
"I'm sitting on history and I'm looking at history being made," Chappie says.  
WHAT INSPIRES YOU TO VOLUNTEER?  
There is something fulfilling when you see a smile, a nod, a gesture of approval or appreciation from someone who has been impacted by a word or an action that you performed on their behalf. It's a great feeling just knowing that something you said, or did, brightened their day or enriched their experience. 
DESCRIBE YOUR VOLUNTEER ROLE WITH THE USS MIDWAY.
I am fortunate to be just one of the approximately 750 volunteers on board the USS Midway Museum. I serve on seven teams on the ship. The teams are as follows: Docent, guide and storyteller; Exhibits, cleaning and preparing the various displays; Guest Services, greeting and assisting guests as they enter and depart the museum; Curatorial, compiling data for the ship's master log; Outreach, representing the ship at activities and events onboard the ship and in the community such as movie nights, special events, observances in my role as volunteer Chaplain, parades, air shows and Speakers Bureau; and finally Membership "Midway Sailor Program" Liaison, where I help with reconnecting former Midway crew members with each other and their ship in a Facebook group.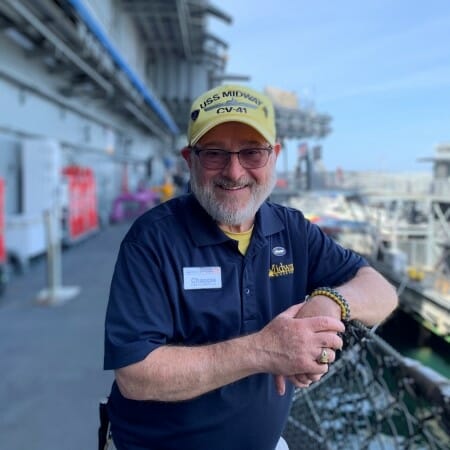 The USS Midway Museum is described as "America's Living Symbol of Freedom" and I am privileged to be one of those volunteers who is committed to preserving the legacy of this historic ship by inspiring over a million guests a year from all around the globe, through educating and entertaining them by sharing the stories of the nearly 150,000 men who served this nation aboard the USS Midway from 1945-1992. To be able to help bring this ship to life and to share the "Midway Magic" of what transpired during times of peace and war is an honor. The humanitarian and combat missions conducted by the ship's crew is a humbling and rewarding privilege. 
WHAT DOES "MIDWAY MAGIC" MEAN?
The term is a moniker that came from the crew that served on the Midway because magic happens every day aboard this ship, even today. The accomplishments of the men who are honored on this vessel, and the hundreds of volunteers who are committed and dedicated to sharing the stories and preserving the legacy to inspire the future generations to patriotism, to educate and entertain. You know, that's "Midway Magic." 
HOW DID YOU FIRST BECOME INVOLVED WITH USS MIDWAY? 
Service has always been a part of my DNA. During my 30 years of pastoral ministry, I taught about serving others and demonstrated it by volunteering my services as a chaplain with local high school sports teams, police and fire departments, service clubs and my 22 years as a chaplain in the Civil Air Patrol-USAF Auxiliary. In 2010, during the annual Civil Air Patrol (CAP) Conference, I visited the USS Midway and immediately was drawn to it because of my interest in history and the military. When my wife, Nan, and I retired in 2017, we relocated from San Luis Obispo to San Diego to be near our family (especially our two young granddaughters). As my time in CAP was nearing an end, it was only natural that I would seek out an opportunity to serve on the USS Midway – and I was able to check that item on my bucket list. It has been a great fit. 
DO YOU HAVE A FAVORITE MEMORY FROM YOUR TIME VOLUNTEERING?   
There are so many – each encounter is a memorable adventure – but one does stands out. I am fortunate to be able to provide personal tours for the ship's special guests such as families of special needs children, cancer and serious illness survivors, former Midway crew members and veteran groups. Once, I was given the privilege to provide a tour for a son of a missing/killed in action Vietnam Veteran whose remains were returned to the US and the family 52 years after his plane was shot down, alongside the crew chief who was the last person to see him alive. It was a very special and emotional day that I will long remember. 
WHAT'S BEEN THE MOST REWARDING PART OF YOUR WORK? 
The most rewarding part of the job is seeing people's reactions and hearing the responses of those who have a "Midway Magic" experience. I love teaching the youngsters about the lives of those who served through the Midway's Educational Department. I get to present the participants of the Midway's Junior Pilot Program with Junior Pilot Wings in an official ceremony with their parents.  
It's fun to see when adults come on board not quite certain what to expect, and then leaving with a greater appreciation of those crew members and their families for the sacrifices made and service rendered.  
Also, when former crew members and their families who return to the ship, or their "home," where memories were made – and now shared – as they visit their workspaces and berthing areas on the ship.  
WHAT'S YOUR ADVICE FOR PEOPLE WHO WANT TO START VOLUNTEERING? 
Find something to do or an organization to join with which your personal interests and values align. The more you learn about that activity or organization and its purpose, the more you are involved, and the greater the personal fulfillment and reward. 
WHAT DO YOU WANT PEOPLE TO LEARN FROM YOUR STORY?  
I found myself a retired individual with an Air Force background serving on a Navy ship – talk about an overwhelming task. But by taking advantage of the training provided, the camaraderie and mentoring of others, the embracing of the mission and core values of the organization, and the assuming of responsibilities and tasks – volunteering aboard the USS Midway has been one of the most rewarding experiences in my personal and professional life. 
Do you want to make a difference in your community like Paul? Find local volunteer opportunities. 
Share this post