Retired Medical Administrator Dedicates Retirement to Caring for Florida State Park
Meet Daily Point of Light Award honoree Francis Folkers. Read her story and nominate an outstanding volunteer or family as a Daily Point of Light.
Francis Folkers, a native of rural Missouri, watched her dad care for the land and animals around them throughout her childhood. They had a garden, cattle, hogs and chickens, but when she turned 18, she left to see more of the world and caring for nature was a comfort of home that got further away.
She married, moved to Florida, had two kids—and now six grandkids—a cat and a 35-year career as an administrator at a medical practice. While there are plenty of plants around the house and inside the safety of the screen enclosure, a traditional garden is out of the question. Living so close to Oscar Scherer State Park, the wildlife likes to snack on any plants they can reach.
In retirement, Francis decided to spend more time with said wildlife and became a two-term AmeriCorps volunteer with the park. She gave the education award she earned during her terms to her granddaughter to help pay for college and simply kept going. With the skills she learned, she now specializes in invasive and non-native plant removal but helps out with events and other areas as well. Since she started, Francis has spent well over 12,000 hours volunteering and was given the Irene DeLaby Award for her service.
What inspires you to volunteer?
Even before I retired, I would go over to the park and mow, because it was instant gratification. It looked really nice, and I enjoyed it. I didn't get to spend a lot of time doing that, so when I retired I went over and just started doing more and more.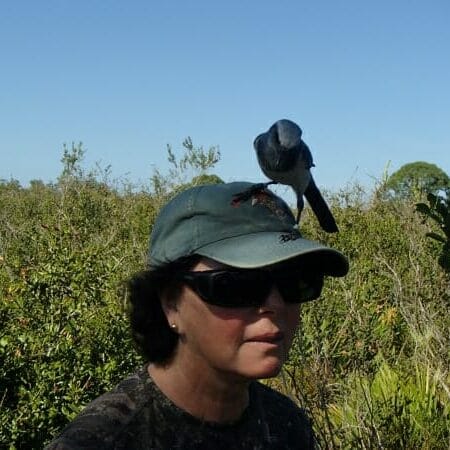 Describe your volunteer role with Oscar Scherer State Park.
My main job is invasive and non-native plant removal. So, I spend a lot of time in the woods looking for things trying to takeover or smother out the native plants and trees. We do a survey every two years so we know the state of things. I try to work where we need the most help. I hand-pull some of them and use chemicals on others, depending on what the plant is.  
Because there are so few Florida scrub jays left, the whole state does surveys at least once a year. We do it once a month, because we only have around 15 birds right now. They're all banded so that we can identify them. I spend a lot of time out there. They're very social, very friendly birds about the size of a blue jay. They're so friendly, and people tend to want to touch them and feed them. So that's part of it too. I watch that people aren't doing anything that might be detrimental to the birds.  
We also do prescribed burns. They put nutrients back in the soil which makes things grow–things that should be there as well as things that shouldn't be. You get a better handle on it if you go in after burns. Within a few days, things are growing back, and in a couple of months, depending on the zone and what was in it, you can barely tell that it was burned. We're fortunate to have a long growing season in Florida. 
I do a lot of different things, so it's never the same every day grind, so to speak. There's just so much going on. It's been very rewarding. 
What's been the most rewarding part of your work? 
The extension office here in the county has this LIFE program (Learning in Florida's Environment). In the springtime, they bring busloads of kids from the schools, and we teach them about things like birds, animals and plants. The look on their face as we explain stuff to them is very rewarding. 
What have you learned through your experiences as a volunteer? 
I have learned that what I know today is just scratching the surface of what I can learn. I find one thing out and that leads to ten other things. 
I learned that everything in the park, no matter how small or how large, is a building block. And if one of those crumbles, it affects the whole pyramid. For example, we have gopher tortoise in our park. They call them the keystone species, because if they disappear, so many things in the park will disappear.  That's another thing that I do. When we're going to do any kind of mechanical treatments, I go in and check and monitor the gopher tortoise burrows so that they go around those during the prescribed burns.  
Other animals, other insects, everything goes into those burrows. You'll have snakes and rabbits and insects and other reptiles that go in there, and during that time you're all ok together. Once it's over, they go out and resume their normal life. If we destroy something, or if we somehow take the last one out–not just in our park but anywhere–it's gone. There are things you can't get back, so we have to be very careful.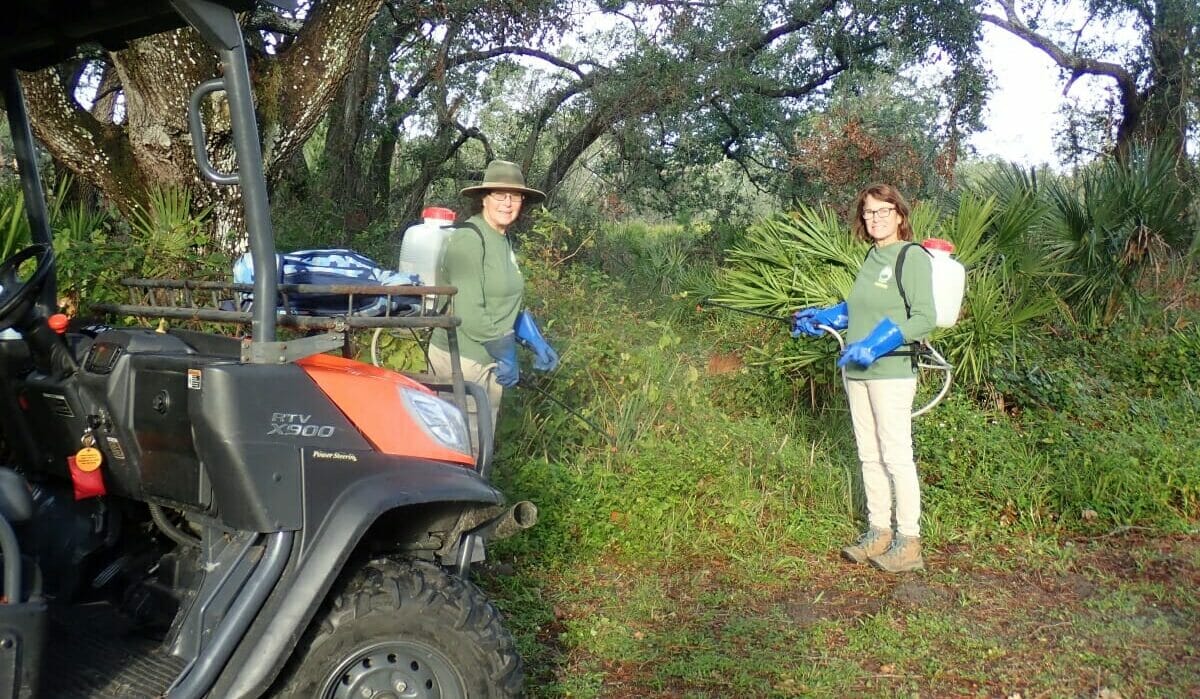 Are there any future partnerships, programs, or events that you are excited about?
On Father's Day, we have a compass event. Eagle Scouts come into the park and set up a course out in the woods. It's not easy! We show them how to use compass and give them coordinates to follow to markers one through 19. Some are easier to find than others, but not too easy. There are a lot of obstacles.  
We've had a lot of smaller people. We like them to be at least eight years old because of the terrain. And we had a man who brought his ninety-year-old father one year. There's no limit. We've even had people from the service come in who just wanted to do it to refresh themselves. Some bring their kids to show him how to do things. 
Why is it important for others to get involved in causes they care about? 
I think it's very rewarding. I think it's good for the soul. To me, it's very calming to be out in the woods and commune with nature. I feel like I'm helping and protecting nature and giving back. I'm trying to make it a better place for people who come to visit. 
What do you want people to learn from your story?
I want them to know that nature is a gift, and it gives us so much. We need to take care of. It's not just for us to use. We need to nurture it. And anybody can make a difference. There are so many different volunteer jobs. We have little kids that come in and help. The idea is that we're taking care of these gifts that we've been given. 
Do you want to make a difference in your community like Francis? Find local volunteer opportunities. 
Share this post