Baghdad-Born High Schooler Starts Texas Nonprofit to Help Other Refugees with Resettlement
Meet Daily Point of Light Award honoree Ibraheem Razouki. Read his story and nominate an outstanding volunteer or family as a Daily Point of Light.  
Ibraheem Razouki, a student at Lamar High School in Houston, Texas, has an interesting history that has led him to where he is today. Ibraheem was born in Baghdad, Iraq, during the Iraq War and later migrated to Jordan and the United States. Today, he is the founder of AIM to AID, a nonprofit that seeks to help others, particularly refugees, who have also had to navigate the challenges of resettlement. 
Through his leadership in various organizations, Ibraheem has organized and executed successful service events that have raised over $3,000. He has partnered with organizations such as Refugee Services of Texas and the Islamic Society of Greater Houston to make a meaningful impact on the lives of refugees. His hard work and dedication have been recognized with two President's Volunteer Service Awards, one in gold and one in bronze. 
Read on to find out what inspired Ibraheem to get involved in these causes. 
Describe your volunteer role.
I'm the founder and CEO of a 501(c)(3) nonprofit organization. My main purpose within the organization is to oversee all operations, making sure everything is running to the best of our abilities and most importantly, making sure we have a long-term vision for our goals.  
I do actually have a five-year plan for our organization to ensure long-term success! Especially as the refugee crisis is not something we can single-handedly solve in a couple of years, we want to make sure that AIM to AID is playing a role in solving the issue. This is my most important responsibility – setting us up for long-term success.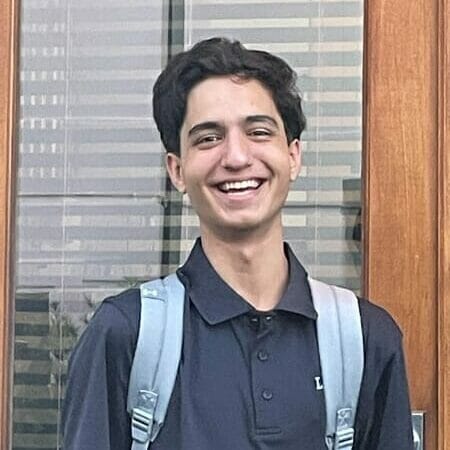 As an organization, we have engaged with over 100 refugees now and raised $15,000 in donations and grants! Furthermore, we have established five nationwide chapters in New York, Texas, Minnesota, California and, recently, Michigan. We have also collected and distributed over 1,000 items, such as clothes and toys for children. 
What inspired you to start this initiative?
I come from a Middle Eastern background. I was born in Baghdad, and due to the conflicts taking place there in the early 2000's, we had to seek refuge first in Jordan then in the United States after that. Watching my parents and family members do this, and the struggles we went through while trying to culturally acclimate in the United States and Western culture in general, inspired me and my co-founder Zane to start this nonprofit.  
To an extent, we know what it's like to struggle, we have an idea of the effects and the barriers raised while getting situated in a new place. And that, coupled with having to move around a lot within the United States – I'm used to being the new kid in school! – inspired me to help others who are resettling.  
One of the main focuses we established early on was having tools for the community – for example, a brochure project that describes Middle Eastern culture and United States culture. We distributed these brochures in the Houston area about a year ago, because one of the main issues we identified in resettlement was the host of cultural barriers when coming to the United States – not to mention the economic and financial barriers.  
Any rewarding stories from your volunteer work?
Getting in contact with refugees is not as easy as you might think! But we had our first in-person event a few months ago, and that was the most rewarding experience. We finally got to partner with an organization that gave us that privilege and believed in us. So shoutout to Interfaith Ministries of Greater Houston! We worked for 8 to 11 months to secure this partnership, and now that we've had that first in-person event, we're continuing to partner with them. 
Why is it important for people, especially young people, to get involved with the causes they care about?
I've always had an interest in entrepreneurship, and some people ask me why I'd work with a nonprofit when I want to go into tech or business. But creating a nonprofit that actually served a cause I cared about created more drive to continue pursuing my passions, as well as honing necessary skills.  
Social entrepreneurship is something I'm really passionate about, so why not get that experience in a way that's beneficial to other people? It's a good foundation to have, and keeps you growing and learning. 
What's your advice for people who want to start volunteering?
Well, first of all, there's no need to be nervous. You're helping people out. I've volunteered in multiple settings, from hospitals to teaching people how to code. You see different types of stories and reactions to your work. Getting volunteer experience gives you a sense of fulfillment and happiness. Obviously, receiving feedback on your work – the people who come back months later to thank you – is very rewarding too.  
For me, it's more that I've been raised in that way, with a core value to be selfless. It's important in my religion and an important family value too. Helping people and having a purpose greater than just chasing money or success. Pursuing something that's bigger than yourself is so crucial.  
What do you want people to learn from your story?
The most important thing is to just start. If you have something you're interested in and something you're passionate about, just start! When we started in March 2022, it was just an idea and a website. I had no idea it would receive the traction it did. We started with blogs and brochures, and it's led to raising thousands of dollars in funding and grants, and partnering with organizations to spread outreach across the country.  
So, I'd say to just do your best. Just start. People put too much emphasis on preparing and being meticulous about their approach, which is important but can also lead to stagnation. Try different things, do your best, and eventually things will take care of themselves if you're passionate and stick with it for the long term. 
Do you want to make a difference in your community like Ibraheem? Find local volunteer opportunities.  
Share this post