Founder of Literacy Organization Brings Books to South African Libraries
Meet Daily Point of Light Award honoree Colin Bloom. Read his story and nominate an outstanding volunteer or family as a Daily Point of Light.  
Colin Bloom lives in New York, but has dual citizenship in the U.S. and South Africa. After discovering that 80% of South African 3rd graders can't read for meaning, and 92% of South African schools don't have libraries, he became passionately committed to improving South African literacy.  
In 2020, Colin created Libraries for Literacy. For his first library, he collected and transported 1,500 books to a Soweto school and in 2022, he created a library in KwaZulu Natal, a province in the southeast of the country, with 3,000 English and Zulu children's books – housed in a refurbished shipping container he organized. To date, he's collected over 10,000 books, has facilitated the opening and stocking of four libraries in South Africa, and also spends his summers teaching literacy in these libraries.  
Colin's work transcends literacy to advocate for racial equity and social justice, believing that literacy is a human right. Read on to find out what inspired Colin's mission and what challenges he's overcome along the way. 
Describe your volunteer role.
I'm the founder of a nonprofit organization called Libraries for Literacy. We bring books from the U.S. to South Africa to support underserved schools. We've created four libraries across South Africa and brought 10,000 books with us. 
My main role is to organize where the next libraries are going to be, stay in touch with our partners and keep track of inventory – how many books we have in our house at one time – and which libraries they'll go to. My brother and parents are a huge part of Libraries for Literacy – I wouldn't be able to do what I do without them. 
What inspired you to start this initiative?
It all began when I was walking through a grocery store in South Africa – it was my first time there. I noticed that all of the canned foods had pictures on the outside. I was used to canned food that mostly had words on the labels. I was curious, and when I asked my dad about it, he pointed out that many people in South Africa can't read.  
When I got back to the U.S., I decided to do some research and I discovered that South African kids ranked last in international reading assessments, and more than half of South African kids grow up in homes without books. Only 8% of schools in South Africa have libraries, compared to over 90% in the U.S. Since reading was such an important part of my life, I was determined to do something about that.  
Over the next year, I collected about 1,500 books from schools and libraries around my area, as well as donations. I sorted them into categories based on difficulty level and then I brought them to a school in Doornkop-Soweto – which is right outside of Johannesburg – in 2020. 
How do you transport the books?
We travel as a family, and we basically take them in our carry-ons. I'm grateful to have my parents' and my brother's help on this, as I tend to use a lot of their baggage space!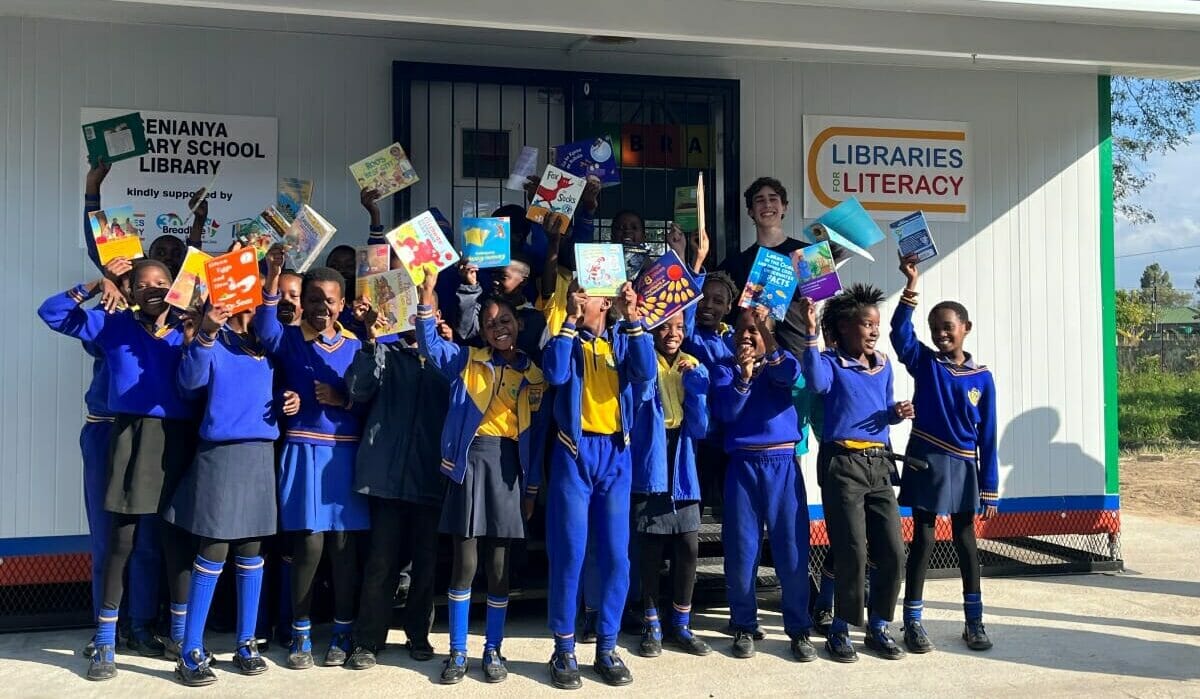 Any rewarding stories from your volunteer work?
I would probably say the moment we arrive with the books is always a super rewarding moment. As soon as we step out of the car and start unpacking the books, which is usually a day before the library opening, there are always kids waiting there because they're so excited. They want to help us unpack the books. 
That's incredibly rewarding – to see that they've been waiting so long for that day! After we finish unpacking, the kids start picking books off the shelf and reading them right away. It's so rewarding. 
Why is it important for people to get involved with the causes they care about?
I would say that it's very important to contribute and help others out. That helps to spark change in the world. People might think it's one small action – or in my case, one library – with a really small impact, but I think that even if you can make an impact on just one life, or a few lives by your efforts, it's such a huge thing. So many things don't happen, simply because people think they're not making an impact. So realize that you actually are.  
What do you want people to learn from your story?
The main thing is to work through challenges. We've certainly had a ton of those. For example, for our first library in Doornkop-Soweto in 2020, I had sorted all the books and put numbers on them, then put them into an app called Book Buddy. We had a phone setup that could be used to check out the books and keep track of them online, instead of just using paper. When we brought all the books there, the headmaster said, that's not possible – she didn't want the books leaving the library.  
Her reasoning was that she thought the books would just be stolen and sold on the side of the road the next day. That was really tough to hear. It was a huge challenge, especially because that was our first experience of bringing books to a library in South Africa. We didn't know what to do at that point, as it wasn't our place to insert our opinion of what should happen in their library.  
So, those books weren't allowed to leave the library, but going forward it became super important to us to emphasize for any future library that we'd replace any books that were lost. We're clear now that it's so much better for the books to be taken out and used by the kids, to be read, to get dirty and ripped, than to just sit on the shelves collecting dust. Every library after that first one allowed the kids to check out books! So my message is to work through challenges.   
Do you want to make a difference in your community like Colin? Find local volunteer opportunities.  
Share this post