Volunteer With a Heart for Kids Strengthens Diaper Distribution
Meet Daily Point of Light Award honoree Janet Ford. Read her story and nominate an outstanding volunteer or family as a Daily Point of Light.
Janet Ford retired from her corporate job in 2017, and she knew that she couldn't sit still. The 71-year-old Lenexa, Kansas, native immediately began giving her time to causes that helped children. As a HappyBottoms volunteer, she's given more than 100 hours to help families in need receive diapers for their children.
Ford started out, and continues to, volunteer in the HappyBottoms warehouse wrapping diapers, but she's grown to be essential to other areas of the organization. She fundraises, volunteers with direct distribution, delivers diapers to homes, and leads diaper-wrapping events at businesses. Whatever role she volunteers in, Ford is an inspiration for anyone who is waiting to volunteer and sees volunteerism as a humbling equalizer that brings people together for a common purpose.
Describe how you first discovered HappyBottoms:
I retired in August of 2017 and I travelled extensively with my job so it was really important to me to find something active to do. Sitting at home was not going to be an option for me.
I started with a children's center for the visually impaired and I volunteered there for about two years. One of the ladies I volunteered with left and went to work at HappyBottoms. She knew that I was looking for a volunteer activity closer to home and she called me to ask if I wanted to come and volunteer. I started at HappyBottoms at the end of 2018.
Can you explain your volunteer role with HappyBottoms and how it has grown?
I started out in what most other volunteers do — wrapping diapers in the warehouse. HappyBottoms gets diapers delivered to their warehouse through monetary donations and the organization then purchases diapers. All of the volunteers come into the warehouse and we have to wrap them in groups of 25 to hand out to people.
In doing that, other opportunities came up. They have another organizational arm that does home delivery of diapers for people who don't have transportation, especially new moms that are home with their babies and don't have a way to leave the house. I picked up a few home delivery shifts and after I did that for a while, they asked me if I was interested in something else because HappyBottoms knew I liked variety. While I was still wrapping diapers, I also started helping direct distribution from the warehouse where people drive up and volunteers hand supplies to them directly once a month.
I also have been a part of a new program that involves businesses — I was missing the corporate world, so I started going out to businesses and they gave us money to buy diapers and we brought them with us. We show their staff how to wrap diapers and they have a lot of fun and we have a lot of fun. We bring back hundreds of diapers that are ready for babies and businesses get teambuilding and giving opportunities.
I was also a part of their committee for their big fundraiser this year. My role was to work on silent auction items and I reached out to the community for donations. It was fun and it was my first year doing that. I put my hands in whatever I can.
What inspires you to volunteer?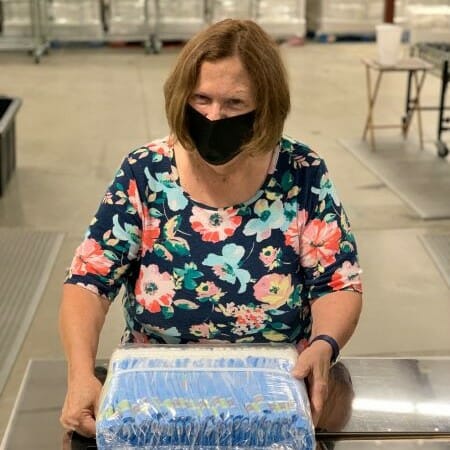 You know I've always loved kids. I worked in the insurance industry and I was in management and I traveled extensively. I graduated in elementary education, but life happened and I needed more money so I changed professions. I've never lost that love of working with kids. That's what got me to my first place of volunteering.
Volunteering is near and dear to my heart because over the years I've always been a person to help people, it's just my nature. This kind of got me back into helping kids. This year what's making it even more exciting is that I have my first grandchild and seeing how many diapers they go through.
It's sad that people can't afford diapers and have to watch their kids sit in dirty diapers. Diapers are not covered by any government assistant program, so without places like HappyBottoms people in need wouldn't have diapers. I think it's an underserved and misunderstood issue.
What have you learned through your experience as a volunteer?
I'm doing something totally different than what I've done in my life so far. I did a diaper wrap last night with my friends and one of the ladies works in a warehouse situation and I told her that this has been really eye opening to me — this physical work and how tiring it is — and it's given me a new understanding of physical labor since I had a corporate job.
I also love seeing all of the different types of people and personalities come together. We recently had junior high school students come and get volunteer hours, and seeing them volunteering at a young age was inspiring. We should have made time to volunteer when my daughter was young.
You learn a lot about other people through volunteering. It's so eye opening that people come together with a common cause with totally different backgrounds.
What would you want someone to learn from your service story?
We spend so much of our lives thinking about ourselves and our families. It natural. You have kids and your busy life happens, but people need to sit back and think about spending money and time differently. We can start and slow down to think about helping somebody else. You can then get such a different outlook on life and more appreciation when you think about others who don't have enough money for food.
And the feeling volunteering gives you — you realize that there's such a big world out there and you're such a small part of it. Our world needs volunteers and more care for each other right now. We need to get back to thinking about how we can help everybody. We're all equal, and volunteering humbles you.
I would really encourage people who are nervous of putting themselves out there to volunteer. Even if it's an hour or one day a week — whatever little you have can go so far.
Are there any partnerships, programs, or events that you are excited about?
I'm doing my own fundraiser for the holidays. I'm reaching out to friends and family to donate diapers to HappyBottoms. I'm currently trying to fill my garage with diapers.
HappyBottoms is hosting a Giving Tuesday fundraiser on Nov. 30 and a lot of nonprofits use the day to raise money and awareness. It's something I always participate in through a monetary standpoint and this year I'll do the same.
Do you want to make a difference in your community like Janet? Find local volunteer opportunities.
Share this post