William Flores and Noel Bezette-Flores
Meet Daily Point of Light Award honorees Noel Bezette-Flores and William Flores. Read their story and nominate an outstanding volunteer you know as a Point of Light.
William Flores and Noel Bezette-Flores
When Hurricane Katrina devastated New Orleans in 2005, thousands of evacuees streamed into nearby Houston. Their arrival added to the city's influx of refugees who had arrived from troubled nations in Asia and Africa and immigrants from Mexico and Central America.
"There was sense of tension about the 'others' coming into town and the perception that they were straining the city's already limited resources," says Noel Bezette-Flores, co-chair of Citizenship Month, a citywide initiative she helped found in 2009.
The event, held each November, celebrates Houston's diversity while encouraging civic responsibility and participation. Spurred by her own doctoral studies in immigrant and refugee communities and the interest of the Mayor's Advisory Committee on Immigrant and Refugee Affairs (now the Office of International Communities), Bezette-Flores and civic leaders persuaded then-Mayor Bill White to create Citizenship Week, an educational and cultural showcase of the contributions and cultures of these newcomers.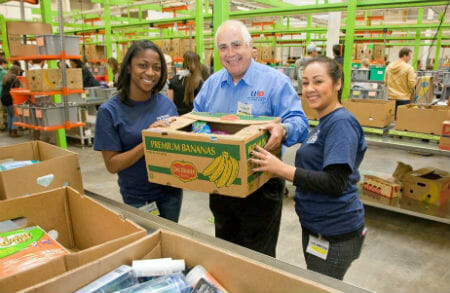 William Flores and his wife, Noel Bezette-Flores (not pictured), are both avid community volunteers. Here, Flores helps pack food at the Houston Food Bank.
The project has morphed into hundreds of activities held throughout the month, involving dozens of nonprofits, chambers of commerce, neighborhood groups, education institutions and corporations.
Often, there's an arts component, such as the recent Open the Door project, which invited artists from France and Texas to paint large metal doors – representing gateways to different cultures – for installation around town.
Civic partners have included the city's transit system, which scheduled a dedicated train to trace a route that included stops at area ethnic restaurants, and several school districts, which staged a literacy contest that garnered more than 3,000 entries.
"The essays and poems we've received have been so passionate and compelling," says William Flores, Bezette-Flores' husband and the president of the University of Houston – Downtown, which helped developed a curriculum for the contest. "They wrote about the suffering they saw in their homeland and how important it is for all of us to appreciate freedom."
Flores says that as the event has grown he and his wife have been prompted to look more closely at the idea of citizenship in a broader sense. "It goes beyond legal documentation," he says, "to how do you contribute to making this a better place to live?"
Bezette-Flores expands on that idea. "At its heart, Citizenship Month is about the ability to connect with other people in the city no matter where they're from," she says. "It's about acknowledging that our strength comes from our diversity."
Share this post