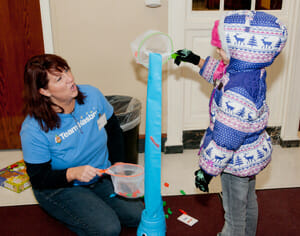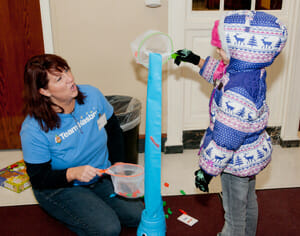 Children in distressed situations across Rhode Island have a friend in Jill Soares.
There are so many different roles that Soares has filled over the years to help provide a sense of stability for children in need in Rhode Island. She is a mentor, a party planner, a role model and for one young boy in foster care, she is a "forever friend." Family, friends and colleagues are all in agreement that Soares is simply one of the most loving and caring individuals they know.
One example is Jill's work with Massachusetts based nonprofit, Birthday Wishes. For many children, birthday celebrations are childhood staples, but for those living in a homeless shelter, they are a luxury some cannot afford. Simply put, Soares helps to "keep the birthday candles lit." Each month, she volunteers at a Rhode Island family shelter to host birthday parties for the children whose birthdays fall in that period. More than 2,000 homeless children have been able to celebrate a birthday party as a direct result of her efforts.
An employee of Hasbro, Soares was introduced to Birthday Wishes as a result of the company's philanthropic relationship with them. Hasbro established a program where toys and games are donated as birthday presents for each party, while volunteers design party crafts, bake cakes and wrap the gifts. Working directly with the shelter, Soares coordinates and hosts a party each month. Her spirit has also inspired and empowered her colleagues at Hasbro to volunteer their time alongside her each month, together creating "one-of-a-kind" parties and bringing smiles to children who need them most.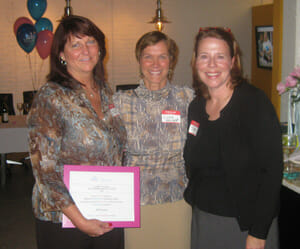 May is Foster Care Awareness month and it's important to celebrate those, like Soares, who are making a difference for foster children. For the last year, she has developed a close friendship with a 14 year old boy she met during an event she volunteered at benefitting foster youth in Rhode Island. Children in foster care face challenges unlike most other children, often growing up with little to no stability in their lives. Soares was determined to become a stable influence and quite simply, someone who "wants" to be in his life. She established herself as what she calls a "Forever Friend" – and has worked through the proper channels to become a Foster Child Mentor. They meet regularly, celebrate holidays, talk about school and life in general.
Her spirit lifts those of the children she serves. Her dedication to Rhode Island's homeless youth and her leadership among the Hasbro community makes Jill Soares today's Daily Point of Light Award winner.
Do you know someone making a meaningful difference in their community? Nominate them for a Daily Point of Light Award!
Share this post