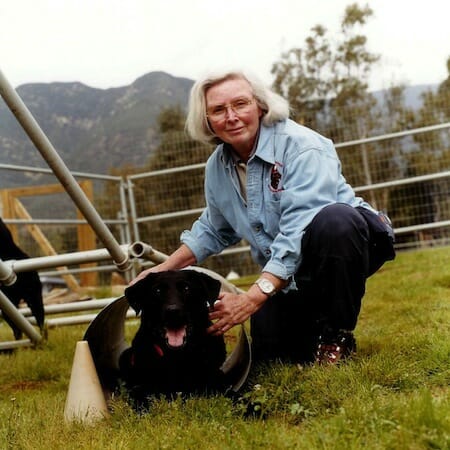 Meet Daily Point of Light Award honoree Wilma Melville. Read her story and nominate an outstanding volunteer or organization as a Point of Light.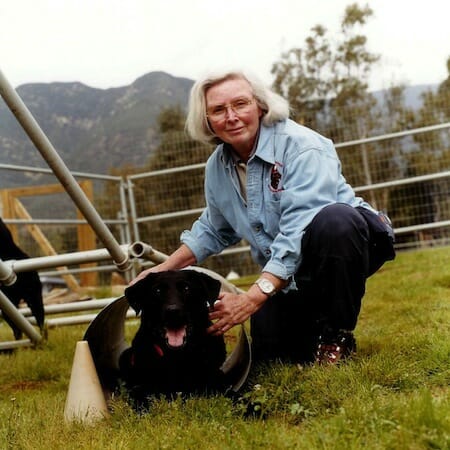 Wilma Melville and Murphy. Photo credit: Michael Weschler
Newly retired, Wilma Melville decided to spend time training her new German shepherd puppy, Topa, "to do something special," she says. "I chose disaster search."
The endeavor would eventually lead Melville to found the National Disaster Search Dog Foundation, a nonprofit dedicated to pairing dogs with first responders in highly trained teams. But, just as in a rescue attempt, obstacles lined her path.
Topa, for one, turned out not to be suited for the mission.
"I learned that you can never be certain that a puppy – no matter how well it's trained – will have the characteristics needed to do the work," Melville, now 82, says.
When she trained her second dog, Murphy, an adult black Labrador retriever who already had the desired traits of boldness and high energy, the results were much better. But when Murphy and Melville traveled from their home in Ojai, California, to Oklahoma City in 1995 – to help rescuers search through the rubble from a bombing that left 168 dead and hundreds injured – she found more disappointment.
Task forces arrived with no dogs, or at best pet dogs. That's because at the time there were just 15 Federal Emergency Management Agency-certified dog search teams in the entire country, despite the fact that dogs offer a fast way to find and save humans, thanks to their superb sense of smell.
"I recognized that the system we had needed to be re-evaluated, elevated, changed for the better," she says.
She selected three adult golden retrievers for their demonstrated energy levels and brought them to a professional trainer. Meanwhile, using her life experience in raising four sons and skills garnered during a career as a physical education teacher, she drafted a curriculum for three Sacramento firefighters.
"The right handler needs to be a lot like the dog," Melville says. "They need energy and perseverance, and they need to be in good physical shape. But they also need to realize that they are making a commitment that will last for the working life of the dog."
For their first mission the three teams traveled in 1999 to help in a landslide rescue attempt in San Diego.
"It was a terrific success and I saw that it could be replicated," says Melville. The costs associated with locating and training appropriate dogs and firemen was initially an obstacle (about $10,000 to $15,000), but funding for the fledgling nonprofit took off once its rescue efforts at the World Trade Center received publicity.
Since then, the National Search Dog foundation has deployed about 130 search teams to places as far as Nepal, Japan and Haiti. Most teams are based in California fire departments, but they're also installed in Florida, Nebraska, New York, Oklahoma, Pennsylvania, Texas, Utah and Virginia.
Next up for the organization is a national training center, opening next September in Santa Paula, California. "The past twenty years have been interesting," says Melville with a laugh. "But nothing can be as exciting to me as this!"
Share this post