With a Passion for Revitalizing Under-Resourced Communities, She Empowers Young Advocates for Change
During National Volunteer Week, we celebrate the impact of volunteer service in our communities, and recognize extraordinary individuals who are at the center of social change – like Daily Point of Light Award honoree Alicia White. Read her story and nominate an outstanding volunteer or family as a Daily Point of Light.
With a passion and skill set for identifying and redistributing resources, Alicia White works around the clock to connect people with the tools, funding and connections they need to transform their communities. She created Project Petals, a community development organization focused on lifting up under-resourced communities in New York City by improving their environments, and empowering young people to become leaders who sustain change.
Five years ago, one experience helped Alicia became more aware of her own environment and inspired her to do something to help improve her Jamaica, Queens, neighborhood. While walking through a community park, she noticed piles of untouched garbage and realized that there were no usable pedestrian pathways. She saw a community member cleaning up the area by herself, and stopped to ask if she needed any help. And as Alicia began cleaning, other neighbors stopped and wanted to help.
That moment in the park was the catalyst for her first development project, which eventually grew into Project Petals. Alicia began to brainstorm ways to revitalize this community space, using her community development skills to give back to the place she grew up in.
She organized meetings with government officials, council members and city agency affiliates to initiate improvements for the park. After they agreed to make a formal commuter path, create a garden and schedule cleanup operations, Alicia realized that community revitalization was something she could actually accomplish.
Receiving requests to take on additional development projects, Project Petals was set in motion. The nonprofit organization brings awareness to community and environmental justice problems that may hinder a neighborhood's development. Alicia makes it her mission to not only revitalize communities, but to also build sustainable leadership, ensuring these projects can continue for generations to come.
To foster new community leaders, she helps young people reimagine and rediscover the community environments they live in through Project Petal's Youth Builders Program. The annual leadership program brings participating youth to the five boroughs of New York City, and, after working with volunteer mentors, they brainstorm what changes they would want to make.
Now, she is taking her passion for community development and youth empowerment beyond New York City and the United States. Partnering with Youth Grow, an agricultural and youth development nonprofit, she has designed a leadership program similar to Youth Builders, which brings together more than 200 15- to 35-year-olds each year in Uganda to gain leadership skills.
Alicia helps people see that they are capable of being their own champion and advocate. She builds bridges for community members so that their voices are heard and their knowledge contributes to intentional impact.
"You can be a catalyst for change. You don't have to start with something huge. Starting small and with one simple act could spiral and snowball into making a huge impact," said Alicia. "Taking that one step to volunteer can change the lives of so many people."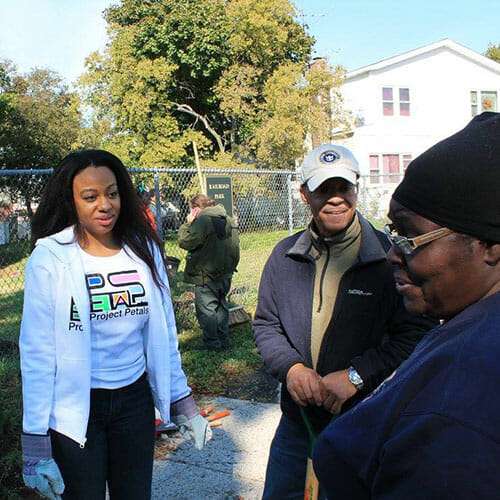 THE DIFFERENCE SHE MAKES
Tiffany White, Alicia's younger sister, has been a part of Project Petals since it was just an idea. She is inspired by Alicia's dedication to building stronger, more vibrant communities and giving thousands of citizens a voice.
"Alicia has helped so many in New York City and abroad. She works tirelessly and is such an inspiration to us in the community," said Tiffany. "Her goal is not only to revitalize communities, but create capacity and build internal leadership."
"She has always been an inspiration to me. She has shown what true leadership looks like. She dedicates all of her time and resources to ensuring that communities and under resources areas in need not only look beautiful but that they are advocated for and have the resources they need for success on a 360 scale. Alicia really cares about being in the service of others in need, in it being the right thing to do and absolutely necessary to act upon."
Do you want to make a difference in your community like Alicia? Search local volunteer opportunities.
Share this post