With the Validation Project, Teen Empowers Youth to Speak Up, Take Action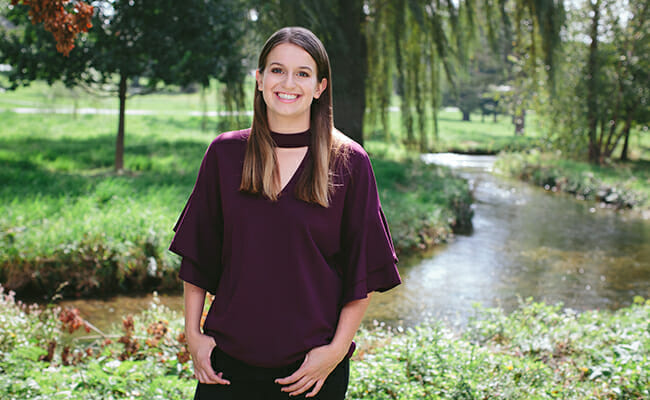 Meet Daily Point of Light Award honoree Valerie Weisler, who was a Top 10 finalist for the L'Oréal Paris Women of Worth Award in 2017. Each year L'Oréal Paris and Points of Light recognize and celebrate Women of Worth who make a beautiful difference in their communities. Ten honorees each receive a $10,000 grant to support their most cherished cause, and an online vote determines one honoree who will receive an additional $25,000 grant. Nominations for 2018 are now open! If you know a woman who works to create lasting and significant change in her community, nominate her to be one of the 2018 Women of Worth.
Five years ago, 14-year-old Valerie Weisler's life was in ruins. The high school freshman was painfully shy and traumatized by her parent's divorce. The bullying came almost immediately. A crowd of mean girls taunted her mercilessly, calling her mute and stupid, telling her to leave, even giving her reasons why she should kill herself. "I was scared to go to school," said Valerie, now a 19-year-old college student. "I felt like I was drowning in darkness."
Then one day, Valerie saw another student being bullied about his weight, and something clicked for her. She approached him and told him not to listen to the bullies, that he mattered and that he was important.
"Later, he told me he was going to kill himself that evening – it was all planned out. But because I validated him, he didn't," Valerie said. "I didn't even know what validation was – I had to Google it. That's when I got an idea. What if there was a global space where kids from all over the world could share their struggles and work together to solve problems?"
That idea became the Validation Project. What started as a blog funded with her babysitting money rapidly grew into an international program that matches at-risk teens with mentors from nonprofits and corporations like Google and the NFL. Run by youth for youth, the project is operated primarily by high school and college students who understand the issues their peers struggle with, including the feeling of not being heard.
"I built a proactive platform to give my generation a voice and the resources to turn that voice into positive action," Valerie said. "Instead of asking, 'What do you want to do when you grow up?' the Validation Project asks, 'What do you want to do now?' We are teaching my generation that you do not need to wait to make a difference."
In addition to one-on-one relationships, the Validation Project also teaches a "kindness curriculum," showing educators and students how to work together to creatively solve problems in their communities. So far, it has replaced existing anti-bullying curriculums in more than 1,000 schools across the globe.
In less than five years, the Validation Project has become a global movement, operating in 105 countries. More than 30 national and international campaigns have focused on various issues such as homelessness, domestic violence, LGBTQ rights, women's rights, etc.; and more than $45,000 in goods and services have been donated to those in need. Most recently, the project launched a celebrity ambassador program, working with transgender activist celebrities like Jazz Jennings (TLC's "I Am Jazz") and Rachel Osterbach (A&E's "Born This Way") to elevate its mission through social media platforms and connections.
Teens can visit the Validation Project website to start a chapter at their school or start a mentorship. Adults are also invited to sign up to be mentors, or get more information about Validation Project work in their community.
Share this post