Woman Gives Back to the Underserved in Community She Grew Up In
Meet Daily Point of Light Award honoree Arlene Simmons. Read her story and nominate an outstanding volunteer or family as a Daily Point of Light.
Arlene Simmons had always been passionate about giving back to those in need, but it wasn't until attending the Million Man March in Washington, D.C. in 1995 that she said she "woke up" and realized the importance for her to volunteer in underserved communities. After leaving the military over a decade ago and moving back to her home state of Georgia, she decided to focus her volunteerism on the middle Georgia area she herself grew up in. In 2008, she founded her own nonprofit, A.S Life Care Services and Urban Development, Inc., which supports the underserved through feeding the homeless, mentoring local youth, providing hurricane relief and more. Over a decade later, the organization has a team of about ten members and is supported by over 500 volunteers.
On top of founding and running her own nonprofit, Arlene also finds the time to volunteer in multiple other areas. She helped cofound a missionary school in South Africa that provides technology, food and clothes through an after school program. She is on a board that provides educational scholarships to students and teachers, is in the process of creating a lifestyle magazine for the black community in middle Georgia, and is also working on a program to teach aviation 101 to youth in the area.
Describe what your nonprofit, A.S Life Care Services and Urban Development Inc., does.
There are so many different arenas and so many different areas we put our hand into. We are into hurricane relief efforts, we've done quite a few of those. We're actually gearing up for Jamaica hurricane relief efforts right now. … We have youth programs, the "Jump" program where we teach and mentor. We get 9th through 12th graders, we give them life skills, get them interview ready, get them jobs, also scholarships. We're partnered with a co-op in Warner Robins [Georgia] where they have the abilities to give out scholarships for furthering their education after they're done with our program. We hold holiday giveaways to numerous families, the largest one in the middle Georgia area for Christmas. We feed the hungry. Mainly for my organization we feed the hungry on Thanksgiving morning and Christmas morning, but throughout the year we volunteer with some local organizations and businesses in the middle Georgia area where I'm from. We team up, we sponsor multiple businesses throughout the year. For instance, one business, when they're feeding the hungry, we will supply food and actually come out and volunteer. We supply all the sleeping bags for the homeless for this other organization. We just work with different organizations along with my nonprofit throughout the year when it comes to feeding the hungry, clothing the homeless, youth mentorship programs, having community events. Pretty much we have our hands in almost anything and everything that will [support] the underserved communities, with the youth and the elderly.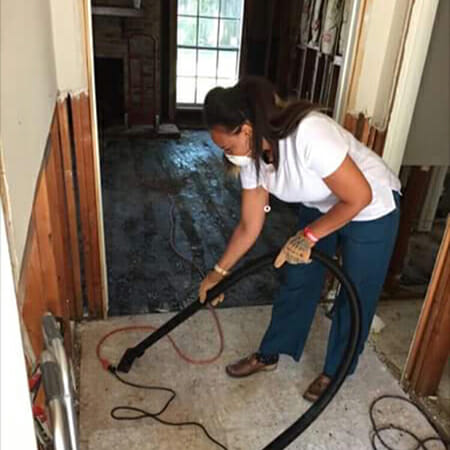 Why did you want to create this nonprofit?
I remember back in '95, I was a part of the Million Man March in Washington and I met a lot of great people who were really into helping their communities and their neighbors and a whole different type of field out there in the nonprofit sector. That woke me up. It spoke to me. In that moment, I realized I had been helping people all this time but I did not recognize what it meant and how big it was. That moment really defined what I really wanted to do with my life, just to give back and do it in a manner that was more helpful than what I was doing before, which was pretty much helping anyone who walked up and said they needed help. I focused on the underserved communities after I met some great people in '95. So with that being said, I would volunteer with different organizations and lend a hand wherever I could.
We were military and we were moving around a lot. When I got back to Georgia after being out of the military over 12 years ago, I was focused on the middle Georgia area and the Atlanta area, with helping serve and being a volunteer wherever I could. Then I realized I had the ability to coordinate and put together events and I was really good at it. So I came up with my organization, just so I could focus more on what I thought it should look like or be like and to have more of a footing. I would see other people not doing the right things sometimes with their organization and I felt as though, Ok, I want to see something better,' so I decided to do it myself. Seeing others at work and some things that I thought should be done a certain way, I decided to go forth myself, because there's so much need out there when it comes to the homeless and the hungry and children in different neighborhoods and areas that do not get a chance to experience some things that could wake them up to bigger things in life. I decided that if I wanted to see things done a certain way and to dig deeper into the communities and neighborhoods, I would have to start one myself to satisfy what I thought it should look like or be.
Can you describe your work with the missionary school in Congos, South Africa?
I have a coworker, she was a nurse as well, and she's from Africa. She wanted to give back to her community after hearing my stories from years ago, so she came up with the idea because her and her husband have a church. She came up with the idea and asked me to be a part. We came up with a full curriculum when it comes to reading and science and technology. We send over a lot of tablets and I send over all kinds of educational pieces. They meet after school and come there for the pantry, we do food, we do clothes, we do all kinds of supplies. They can get hooked up with the technology world when going after school, they can get food and some clothing. That is pretty much the basis of the after school. It supplies a lot of their needs educational wise, food and clothing. That's something I can be proud of, definitely. For this Christmas we'll be sending more tablets, more headphones, pretty much trying to keep them abreast of whats going on in the bigger world, what's new in technology, what's new in the world, education pieces like books. Whenever we do the Christmas giveaway in December, we always refresh and send supplies back for the school there.
There's about 250 children that take advantage of it on a weekly basis. It's really neat. They try to rotate children in and out. However, we have to do something more now. We're looking to expand because so many children are wanting to take advantage of it. That's something in the future I'm looking forward to as well. We will be taking a trip out next year to look and see what they have come up with when it comes to buildings or a site for a larger area. We don't need much moneys for that other than the supplies. They have plenty of help out there. My main goal is to keep them updated with their supplies and the pantry and the food and go out to visit and make sure things are going accordingly and meet the children and gain some friendships out there with the kids and watch them grow. It's coming along and its really nice to know where they once did not have access, they have it now and their minds are growing. It's a beautiful thing for me.
Can you describe your role with Education of Excellence?
That is a foundation of the charter school system of which I'm from, Milledgeville, Georgia. I'm one of the officers on the board. We collect funds, moneys through state, federal and local, to give scholarships every year to reward teachers of the year for the Baldwin County School system. We help children with anything from A to Z, whatever is going to be helpful. We'll give out scholarships and funding for students who are struggling in college with their books. We'll give moneys to students in the high school who are great athletes and have great grades but don't have the moneys they need, so we'll bridge that gap. We give moneys to most of the classrooms that are in need, that are low in supplies. It's very active, we make a lot of money. We are part of the Georgia reach program, thats what we're doing here, we're an extension of the Georgia REACH [Scholarship] Program, to where we are able to give these scholarships out and to get moneys from the state level as well.
I know that many children in that area, they don't have the opportunities. I grew up in the area and whatever I can do to assist, that's what I like to do. The children are young and they need a better, stable footing than what I had. I didn't have that. I didn't have anyone to say well here's this, go to college and we're here to back you up. So with me not having that and being able to do that for the next child now, it means a great deal to me, especially coming from my home town.
Can you describe your role with Urban Vibe Magazine?
I was approached with that opportunity a year ago. We as a culture did not have a magazine that was entertainment and lifestyle in the middle Georgia area. We had a middle Georgia Black Pages where you could find any business you want in the area without a problem, but we did not have a lifestyle magazine, with our culture being high rated in heart disease and diabetes and health issues. Even with entertainment, we didn't have that type of magazine in the area. So we did the research, we coordinated with the president and CEO of middle Georgia Black Pages. He's become a mentor to help us get this magazine off the ground which will be the end of this month. We will be able to pretty much service thousands of people that were not serviced before when it comes to people of color. This magazine is a little different, it has lifestyle, business, health inspiration, and entertainment. That was very important because that was something that was not available.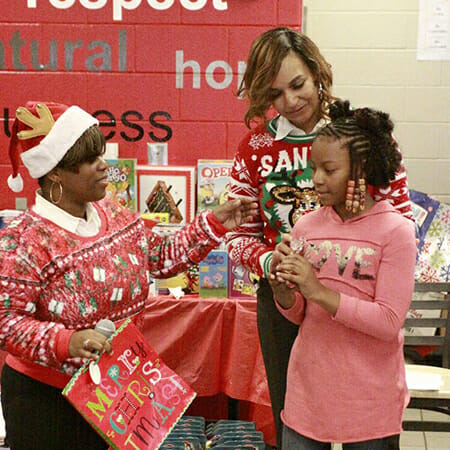 What drives you to commit so much time to volunteering in multiple different areas?
I look at it like this — I want to impact people because when I leave, any degree I may have, I'm going to take it with me and no one else can use it. I want to be able to leave something that someone else can use and maybe turn around and do it for the next person. I think thats the way the world should evolve and that's the way the world should be, and I think that's the way we end up with a better world. If I can show you how to be a better person, you can in turn show someone else how to be a better person. I think that because I was in a situation where we were underserved. My parents were grounded in their spirituality and that was strong enough for me to keep the faith of being able to say, 'Ok, one day I will be able to look back and help someone else and not see them in the situation I was in, being underprivileged and not having the necessities.' That stuck with me. I want to be able to — I would say not necessarily prevent others from being in that situation, which I have done — [but] my main focus is to make people's situations a little bit lighter and brighter. We can't save everybody, we can't save the world, but if we do a little bit at a time it will effect the next person and they will probably be able to affect the next person. People helping people is what drives me, to know that it will be a lasting effect. You can give someone a dollar and they won't think about it again and that doesn't mean they will help the next person. But if you get out there and put in the time and energy and work, and actually make a difference, that sticks with people more and they will in turn have some gratefulness and maybe do that for the next person. So that's what drives me, to be able to have real change.
Are there any future partnerships, programs, or events that you are excited about?
I'm a private plane pilot and I fly to [Cobb County International Airport-McCollum Field]. I'm working on an Aviation 101 program which I have adopted and will go forth with, helping the underserved community in the middle Georgia area because there aren't any black female pilots in the area. I'm working with the Baldwin County private regional airport to be able to bring underserved children out. I want that to start in the spring, to teach them Aviation 101 to open up their minds to something bigger so they know it doesn't matter where you're from, it matters where you're trying to go, and to show you how to get there, that's the prize in this program. That's something that I'm very excited about. I'm working to get my instructional license which is separate because I will be able to actually take someone up and teach, not only just to show them Aviation 101 and allow them to ride with me, but I'll be able to actually teach. That is my goal, to teach the underserved communities Aviation 101. I don't want to do anything that is going to be self centered and selfish, I want to do something that I can continue on helping someone else with. With me learning to fly, it was recreational at first, but then I started thinking, hey, I didn't get this opportunity when I was young and now that I have a platform and I'm able to do more with other children, this is what I want to do with what I'm doing. I decided to turn that into something that the kids can grab hold of that's not the regular norm they see everyday. That is what's coming up and that's one the most exciting things. Even though I have Christmas giveaways coming up in December, and the magazine coming out at the end of this month, I think that is one of the most exciting things that is coming up that I can really be proud of.
What's been the most rewarding part of your work?
To see the smiles on the kids' faces and to see their eyes light up and I know their brains are working in overload, seeings something different and seeing someone helping them. Knowing that these little young minds take these moments and may in turn help someone else later on. Just seeing the smiling faces and hearing the comments that make the 'oohs' and 'ahhs,' and getting the hugs. It's a beautiful thing so I that's the most rewarding.
Why do you think it's important for others to give back?
I think now a lot of us have lost our way when it comes to community and family. Giving back to the community is a sense of belonging, a sense of trust, and a sense of security in each other again. With so much going on in politics and the world, it tends to feel like a cold world. It tends to feel like everybody is out for themselves. But when you're in that community and you're actually showing and doing for the community, you change people's mindset and thoughts of this world, of what the mainstream media makes it look like most of the time. A lot of times, it looks like a cold world, so being in the community and giving back to each other, it gives a sense fo belonging, a sense of family, of neighborhood, of camaraderie. So that's why I think it's important, because it gives you a sense of belonging. I think it makes you see that this world is still a great world.
What do you want people to learn from your story?
Anyone can serve. Anyone can be a leader. You just have to do it and do it for the right reasons. It doesn't matter where you're from, it just matters where you're going. There are no excuses, and we should put away the excuses and put ourselves to the side sometimes and look at the greater good of things when it comes to helping others. I think that is the greatest good. Helping others is the bottom line of why were here, allowing the world to turn in a better light. It doesn't matter where you're from, it just matters where you're going, to put yourself aside for a moment and give or do something great for the next person because that's going to assist the world in being a better place.
Do you want to make a difference in your community like Arlene? Visit All For Good for local volunteer opportunities.
Share this post