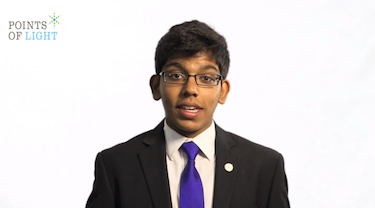 After breaking his glasses in 2010, Yash Gupta realized while waiting a week for a new pair that it was almost impossible to learn anything in his high school classes without being about to see clearly.
Hear Yash Gupta talk about how his nonprofit is attracting volunteers. (Click image to watch video.)
Upon discovering that tens of millions of school-age children worldwide need glasses but can't afford them, Gupta, of Irvine, Calif., decided he wanted to help. He founded Sight Learning, an organization that has collected and distributed more than $900,000 worth of used eyeglasses to students in the U.S., India, Mexico, Haiti, Honduras and other countries.
Sight Learning has also sponsored or partnered with other organizations to offer eye clinics – where students receive examinations and free eyeglasses – in four countries. Gupta, now 18 and a high school senior, has found time to personally participate in three such clinics, including one in New Delhi, India.
"Back in 2010, it occurred to me that most people don't do anything with their old glasses," says Gupta. "I searched through my own house and found 10 pairs. I realized these could help 10 kids who have trouble seeing and learning, and that was how I came up with the idea for Sight Learning."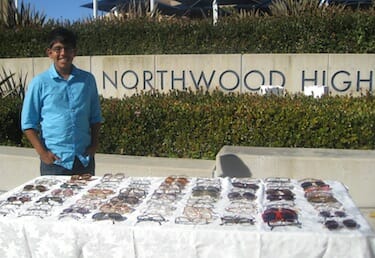 Yash Gupta, in front of his high school, shows some of the donated eyeglasses he has collected.
With help from his father, Gupta set up the organization and made publicity materials and a website. Then he approached a local optometrist, who agreed to partner with him and put out a drop box where patients could donate their used eyeglasses.
Through that first contact, Gupta quickly collected 150 pairs of glasses and gave them to a partner organization for distribution.
"I knew then we could make a real difference," says Gupta. "If I could find 10 pairs of glasses at home, and an eye doctor could give me 150 in a month, I knew we could build and grow and reach thousands of students in need."
Gupta estimates that about 70 people in Irvine, including family, friends and optometrists, have contributed volunteer time to Sight Learning.
Having surpassed his goal of collecting and distributing $750,000 worth in used glasses, he now aims to pass $1 million by next month. Gupta, who wants to pursue a career in law, plans to continue his work with Sight Learning while he is in college.
"Sight Learning is constantly rewarding to me," says Gupta. "The total number of people who need glasses and can't afford them, in the U.S. and other countries, is around 300 million. Many organizations are helping, and our specialty is trying to help students. At our eye clinics, I've had the chance to watch kids put on prescription glasses for the first time. Words can't describe that experience."
Share this post