2011 NCVS Opening Session ReCap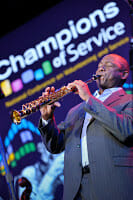 The 2011 National Conference on Volunteering and Service (NCVS), which took place in New Orleans, June 6 – 8, provided more than 4,600 Champions of Service with the opportunity to learn, connect and be inspired through a range of plenary sessions, workshops, special events, service projects and more.
Convened by Points of Light Institute and the Corporation for National and Community Service, the conference showcased the city of New Orleans as a laboratory for social innovation in areas reaching far beyond disaster recovery.
Since 2005, millions of volunteers have helped address the city's educational challenges, economic development issues and government leadership.
NCVS provided an opportunity to pay tribute to the impact of volunteerism on the revitalization of the city, demonstrating the critical role of service in improving communities and our nation at large.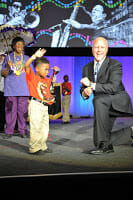 The 2011 National Conference on Volunteering and Service kicked off in style with a live marching band ushering in 100 champions of service.
These service leaders set the stage for a jazz-packed opening session that celebrated luminaries like civil rights pioneer Ruby Bridges and jazz legend Branford Marsalis, explored the role that service continues to play in revitalizing the city of New Orleans, and entertained us with the music of New Orleans, including the soulful sounds of Bob French and the Original Tuxedo Jazz Band.
We heard Mayor Mitch Landrieu's heartfelt thanks to volunteers for helping bring New Orleans back.
Laysha Ward, president of the Target Foundation, showed us Target's great work in the community and ABC News' Deborah Roberts moderated a spirited conversation with political consultants James Carville and Mary Matalin on the power of volunteerism and the resilience of New Orleans.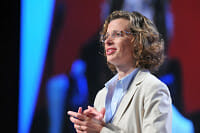 CEO of Points of Light Institute Michelle Nunn said,
"Now, more than ever, we need service champions – super-empowered citizens who are utilizing new, more powerful tools for change. We expect this year's conference to deliver those tools."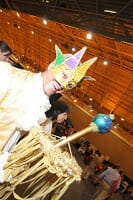 Conference attendees were immersed in the spirit of New Orleans at the "Only in New Orleans" kick-off party, sponsored by The Coca-Cola Company with support from Entergy.
Attendees took in the art, music and food of this magical city, while gaining an opportunity to learn and share with one another.
Share this post