Innovate to Educate: Community Solutions for Education Success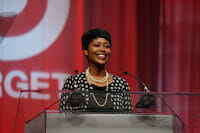 This signature conference event, sponsored by Target, highlighted innovative, citizen-driven solutions that are helping address the challenges facing America's education system.
It showcased inspiring examples of community-based engagement that have resulted in tangible results for schools and students nationwide.
Attendees enjoyed a passionate opening by featured speaker Soledad O'Brien, award-winning journalist and anchor for CNN's special investigations unit, as well as stories from community leaders who are collectively leading the charge for innovative education solutions.
The session concluded with a surprise performance by musical duo and sisters, Martie Maguire and Emily Robinson of the Court Yard Hounds.
Lending a Hand in New Orleans through Service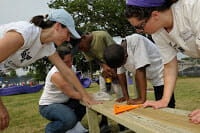 NCVS served as the final stop on University of Phoenix's six-month Road to the Gulf program.
With the time, talent and resources of up to 700 NCVS participants, local volunteers and the continued support of University of Phoenix, 25 parks and recreation centers across the city of New Orleans were revitalized.
Efforts were focused on four signature park restoration projects at Sam Bonart Park, Bunny Friend Park, Village de l'est Park and Evans Park.
At each park, volunteers installed new playground equipment, repaired basketball courts, installed sideline benches, built soccer fields, installed lighting and beautified the parks to help them become jewels within their neighborhoods.
At Sam Bonart Park, the only park within the Lower Ninth Ward, a low-income area devastated by Hurricane Katrina, the action caught the attention of local children, who lent a hand in the transformation of their playground, which has been largely unavailable since the storm.
Citizen Solutions for Economic Opportunity
Fostering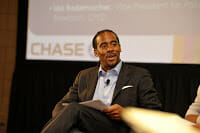 and advancing economic opportunities in under-resourced communities is a constant challenge.
Some communities have found success drawing on existing resources
and the power of volunteers.
At this session, sponsored by Chase, Diahann Billings-Burford, chief service officer for New York City; David Eisner, president and CEO of the National Constitution Center; and MSNBC contributor and The Grio.com chief correspondent Jeff Johnson discussed practices of asset-based community development and case studies of successful community programs.
You can relive the excitement of our signature plenaries at www.volunteeringandservice.org
Share this post