Points of Light Institute Corporate Service Council Names Leader
Points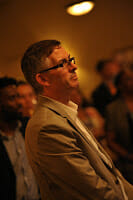 of Light Institute's Corporate Service Council (CSC), a group of more than 40 companies that are leading and inspiring the business community to increase civic impact through innovation, sharing of best practices and the application of human capital and financial resources for the greater good, has new leadership.
Cliff Burrows, president, Starbucks Coffee U.S., has been named chairman of CSC. Burrows succeeds John Rice, vice chairman of GE.
"Engaging people to participate in meaningful service is a positive force to drive positive change in our communities," said Burrows.
"Companies have a responsibility to address these critical issues. The Corporate Service Council provides an opportunity to bring the influence and business acumen of corporations to the public sector.
Working together we're better equipped to answer the call to action around issues of importance to the neighborhoods in which we do business."
Corporate partnerships are vital to Points of Light Institute's mission to inspire, equip and mobilize volunteer service.
By leveraging the power of their employees, members of the CSC are able to deliver high-impact service and volunteer leadership that is resulting in stronger neighborhoods, schools and nonprofits around the country.
Share this post