2023 The George H.W. Bush Points of Light Awards Recap
Points of Light held its fifth annual celebration of The George H.W. Bush Points of Light Awards on October 26, 2023, at the Ronald Reagan Building and International Trade Center in Washington, D.C., to honor the legacy of President George H.W. Bush and the 2023 honorees Mike and Jacquelyne Love, Condoleezza Rice, Robert F. Smith and Rebecca and Christyn Taylor, as individuals who are driving significant and sustained impact through their everyday actions and words. These honorees and their work are lighting the path for other points of light.
"To our outstanding honorees, thank you for all you do to transform the lives of countless others," said Jennifer Sirangelo, President and CEO of Points of Light. "You're a trailblazer inspiring others to do the same."
The 2023 Honorees
Each year, Points of Light recognizes individuals who are committed to outstanding work in the realm of civic engagement in their communities and beyond. This year, we honored six people who embody service to and engagement with causes they care about.
"The George H.W. Bush Points of Light Awards honor our 41st President and celebrate the power of civic engagement to bridge divides, increase civic participation and change the world. These awards honor extraordinary people who demonstrate sustained civic leadership and create significant impact. Like our founder, President George H.W. Bush, our honorees have integrity, empathy, respect, optimism, conviction in the face of opposition and belief in the power of the human spirit and use these traits to inspire others to crate change in their communities."

— Jennifer Sirangelo, President & CEO, Points of Light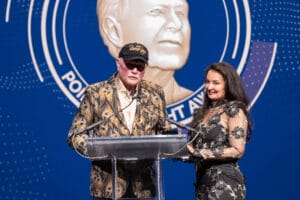 Mike Love, a member of the Rock and Roll Hall of Fame, is the lead singer and a founding member of The Beach Boys and longtime supporter of environmental and educational causes. Jacquelyne Love is a businesswoman, accomplished philanthropist, interior designer and fashion designer.
"Being a part of something that's bigger than all of us. Giving collectively is bigger than all of us," said Jacquelyne. "It's time, talent, treasure, with a desire to love that will bring us together, and with that we can conquer any negativity and any and all adversity."
"We're just honored to endorse, help, promote the Points of Light Foundation and all it does with so many millions of people around the world," said Mike.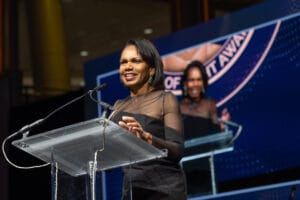 Condoleezza Rice is the Tad and Dianne Taube Director of the Hoover Institution and a Senior Fellow on Public Policy. From January 2005 to January 2009, Rice served as the 66th Secretary of State of the United States, the second woman and first Black woman to hold the post.
"It's that spirit of volunteerism. It's that spirit of just trying to do good that is really the essence of America and what has made this country great," said Rice. "President George H.W. Bush called them 'points of light.'"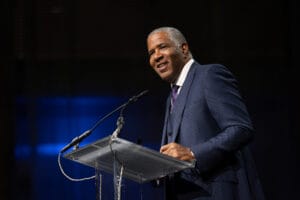 Robert F. Smith is the Founder, Chairman and CEO of Vista Equity Partners (Vista). Vista is a leading global investment firm that exclusively invests in enterprise software, data and technology-enabled businesses. He is proud to serve as the founding director and President of Fund II Foundation, which is dedicated to supporting Black American culture and safeguarding human rights.
"As I think about this award, I think about, 'What is a Point of Light?' I grew up in Denver, Colorado, in what is described as the 'other America.' It's an America where I felt loved every day," said Smith. "I lived in a beloved community, where people cared about me and the children in our community. And, yes, I have to say my mother was a great inspiration… When I think about the points of light, she being one, there were thousands of points of light in that beloved community."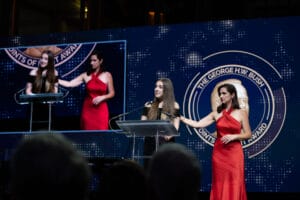 Rebecca Taylor founded Rebecca's Wish, a 501(c)3 nonprofit called designed to support children with pediatric pancreatitis, after being diagnosed with chronic pancreatitis at age 7. Her mother, Christyn, serves as president of the nonprofit, which has raised over $3,000,000 to date, and has started programs to support countless children around the United States.
"Our meaning and purpose through Rebecca's disease became Rebecca's Wish. It became the children we were helping. They became our meaning and purpose. They became the light that we were going toward, and their focus and their healing became our point of light," said Christyn. "
"I want to thank you all for the incredible joy this award has brought me," said Rebecca. "To show our beautiful patients that they, too, can make a difference. And that they are worthy of a real and meaningful life."
The Co-Chairs and Host
Presidents Bill Clinton, George W. Bush and Barack Obama graciously served as Honorary Co-Chairs of The George H.W. Bush Points of Light Award Celebration. The ceremony was hosted by Emmy® Award nominated actor and producer John Stamos.
The Entertainment
The George H.W. Bush Points of Light Awards featured exciting performances by The Beach Boys, LOCASH, Richard Marx and Fernando Varela.
Additional Honorees
In addition to this year's honorees, The George H.W. Bush Points of Light Awards also recognizes individuals as Inspiration Spotlights. This year, nine individuals from around the globe were honored for all the inspiring ways they embodied the spirit of volunteerism and brought the Points of Light Civic Circle® to life through their actions.
Share this post