3 Ways to Participate in AmeriCorps Week (Even if You Haven't Served)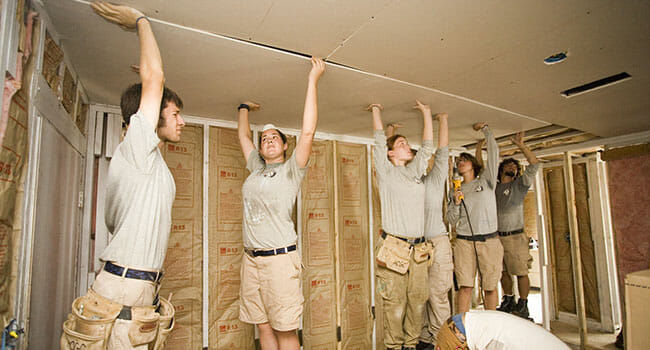 Photo Credit: David Kennerly
AmeriCorps members working with HandsOn Gulf Coast install a new ceiling in a Biloxi, Miss., home damaged by Hurricane Katrina.
In celebration of AmeriCorps Week 2017 (March 4-11), we are recognizing the impact of AmeriCorps members across America. AmeriCorps Week is a time to salute members and alums for their service, thank AmeriCorps community partners, and share stories about the impact AmeriCorps has on communities and on the individuals who serve.
AmeriCorps is a public-private partnership comprised of a network of local, state and national service programs, connecting more than 70,000 Americans each year in service to meet community needs in the areas of education, the environment, public safety, health, and homeland security. Members serve with more than 2,000 nonprofits, public agencies, and community organizations, in full- or part-time positions over a 10 to 12 month period. Upon completion of their service, members receive a Segal AmeriCorps Education Award of up to $5,815 to pay for college, graduate school, or to pay back qualified student loans.
During AmeriCorps Week, Points of Light will be recognizing five of our outstanding AmeriCorps members who currently serve, or who have served, in our ServiceWorks, Ready Corps, Frontline Families, and Financial Opportunity Corps programs, with Daily Point of Light Awards.
Getting involved is easy. Here are three ways you can participate in AmeriCorps Week, even if you have never served:
1. Share your fast facts about AmeriCorps in your state. One of the goals of AmeriCorps Week is to increase overall awareness of the valuable contributions AmeriCorps members make to our communities and our country. The Corporation for National and Community Service provides several fast facts you can share to help elevate the value of national service, using #AmeriCorpsWorks.
2. Share your AmeriCorps pride on social media. Raise awareness of AmeriCorps Week by changing your profile picture this week to this AmeriCorps graphic.
3. Invite someone to apply for AmeriCorps. One of the main reasons why people don't serve is they are not asked. If you know of someone who is looking to make a difference in their community and willing to devote 9 to 12 months to a term of service, encourage them to apply for an open AmeriCorps position.
If you served in AmeriCorps, here are three ways you can celebrate AmeriCorps Week as an alum:
1. Share a picture
Tuesday (3/7) – Share a current photo of you at work using this poster and #DayOfTheA. Write the program and year you served or where you work now in the blank space.
Thursday (3/9) – Dust off your old photos from service and share them on throwback Thursday (#TBT)
2. Share your story. AmeriCorps Alums wants to hear your story beyond AmeriCorps. How were you "Made in AmeriCorps," how are you living out a lifetime of service, and what are you doing now? Submit your story today.
3. Stay connected. Register with AmeriCorps Alums, the only national network that connects alumni of all AmeriCorps programs to the people, ideas, and resources that support their commitment to a lifetime of service. Join for free to gain access to professional development resources, discounts, networking opportunities and policy updates on the state of AmeriCorps.
No matter what your connection, celebrate AmeriCorps Week by sharing your "AmeriPride" with friends, family, and people you come in contact with throughout your day! Follow the festivities with #AmeriCorpsWorks on social media.
Share this post